Top Colombian Chef visits Angliss
Alejandro Cuéllar, one of Colombia's top chefs, took over the Angliss Restaurant kitchen for a very special Great Chefs dinner last week, run in partnership with the Embassy of Colombia in Australia.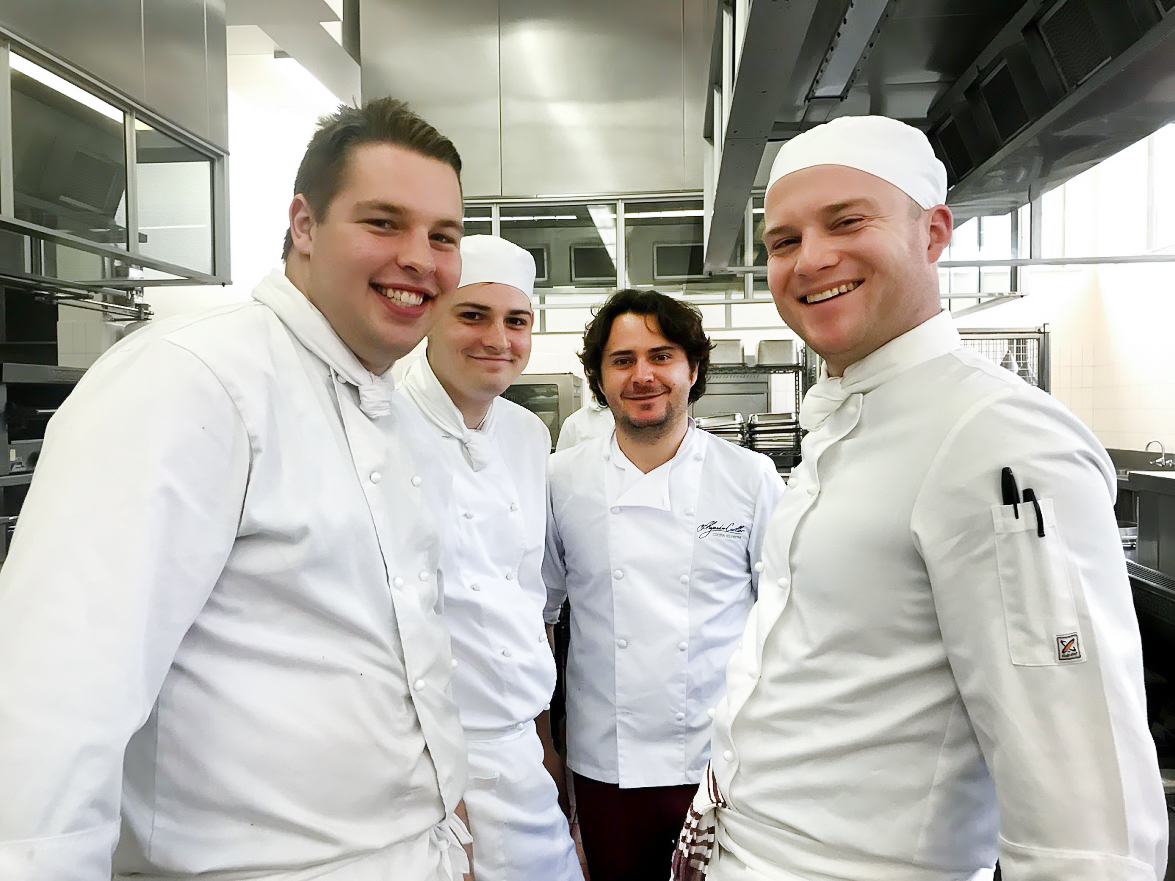 Alejandro Cuéllar is widely recognised as a leading chef in Colombia and an ambassador for Colombian gastronomy worldwide. Alejandro is passionate about creating food that is seasonal, sustainable, delicious, and beautiful to look at. He strongly believes in incorporating history and social, cultural, environmental and artistic elements to all that he creates. Over three days he energetically and generously shared his passion, knowledge and experience with a wide range of staff and students.
The dinner featured five dishes, each focusing on a different region of Colombia. Guests raved about the shrimp cocktail, the 'potatoes in cheese' topped with pork belly and the main course of Colombian style caramelized coconut rice with braised black beef. It was all capped off with a stunning dessert – a golden fish shaped panna cotta.
The one-off special Great Chefs dinner was brought to Angliss by the Embassy of Colombia and the Ministry of Foreign Affairs of Colombia through the Plan of Promotion of Colombia abroad, which facilitates the presence of highly talented and promising Colombian talents in different scenarios worldwide. Students front and back of house worked hard to put on a delightful evening, and the table styling by the Colombian Ambassador's wife was a beautiful touch.
Alejandro extended his time at Angliss offering an exclusive coffee tasting to experience a variety of Colombian beans, and a masterclass where he cooked three Colombian dishes. The 'sold out' Masterclass showcased the culinary diversity of Colombia and was attended by an captivated audience from the Angliss community.
Alejandro is currently the executive chef at Canasto Picnic Bistró, associate chef at El Pantera, and has been a guest judge on four episodes of MasterChef Colombia (and one of MasterChef Poland!).
Colombian cuisine is one of the most diverse and undiscovered in the world. Colombia is the most biodiverse country per square meter in the world, which translates to a huge number of unique ingredients. The Caribbean Sea, the Pacific Ocean, the Amazon Rainforest, the Orinoco Plains and the Andean mountains give Colombian cuisine its varied and flavourful touch.
This article was published on October 7th, 2019. We are deeply saddened to hear of the death of Colombian chef Alejandro Cuellar. We were privileged to have recently had chef Alejandro on campus sharing his expertise and passion for food and Colombia.⁠
⁠