Our definitive guide to smashing Angliss Open DAY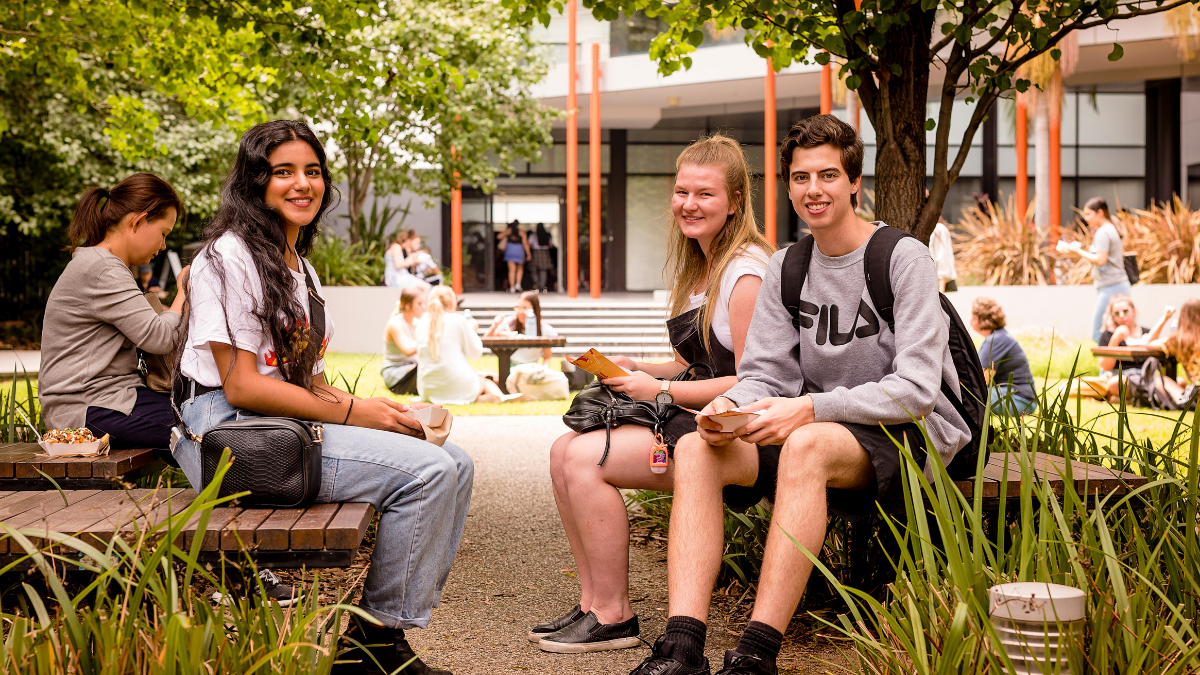 Open Day is big, and sometimes it might feel a bit overwhelming, with demos, talks and information galore. But fear not! A little planning can go a long way, and we're here to help you get the most out of your day. Want some hints and tips? We're here for you. This is our ultimate Open Day guide.
1. Plan out the logistics.
The first step in having a successful day? Starting out right! There's nothing more stressful than realising you're on the wrong train line, not being able to find a car park, or turning up at the wrong location. Suss out Google Maps, check out PTV and make your plan. Don't forget, Flagstaff Station is now open on weekends and we're just off the 30, 35 and 55 tram-lines. Parking in the CBD can be difficult, but lots of places have special weekend rates. The address to aim for – 555 La Trobe St – and the entry is just a few metres up the road.
2. Check out everything to do with your course.

We're going to presume you've already booked in your sessions for Open Day via our website (if you haven't, probs do that now, k?). It'll help you get an idea of what your day will look like, and our *~free~* demos, masterclasses and info sessions are the best way to see and hear what Angliss and a career after study is really all about. But bookings are required, so if you haven't yet, get on it.
Not sure which course is for you? That's even better – what a great position to be in to make the most of Open Day. There's info galore out there, so book in for all the sessions, that's right, anything that remotely interests you, why not give it a go? After all, that's what Open Day is all about.
3. Go beyond the course with our Industry Insights sessions.
It's a big scary world out there, so you don't just want to know what it'll be like while you study, you want to know what it's like in the *real* world too. Luckily, we have you covered for that. Our industry insights panels for foods, events, tourism, hospitality and hotel management are stacked with industry experts at all stages of their career; they're here, they're real, and they're ready to tell you how it really is. And if you ask really nicely, they'll probably answer your questions too!
4. Speak to our friendly staff and ambassadors.
They'll be dressed in black t-shirts with orange writing (we call it Halloween chic) and they're here to help you. Whether you're wondering 'where's the toilet' or 'how can I incorporate international travel into my course', they'll either be able to help you or point you in the right direction.
Which brings us to our next point...
5. Ask all the questions. And we mean ALL the questions.
You know the old saying 'there are no stupid questions'? At Open Day, that couldn't be more true! Don't stop yourself because you're worried about seeming silly – chances are someone else wants to know too (and even if they don't, you deserve an answer).
Whether you're in a formal session, or just wandering round, we really are here to help you (are you seeing a theme?).
Don't want to ask in front of everyone? No drama, introduce yourself after the session. It really couldn't be easier. Have we mentioned we're here to help?
6. Check out our sweet facilities and classes IN ACTION!
Did you know we have a replica airplane cabin on campus? It's not very useful if you want to study food science, but don't worry, we've got the goods for you too.
Open Day is your chance to take a look around campus. And even better, with Open Day on a Saturday this year, you'll even get to see some of our classes happening IRL.
Interested in food? Investigate our decked-out kitchens. Considering a career in hotel management? You'll want to take a look at our replica hotel room facilities (the Soho room is particularly vivid). The LRC (aka the library) will be open, you can see our onsite restaurants and cafes and just soak up the vibe of the place. Picture yourself here. Is it too early to start planning out that first-day outfit?
7. Remember, it's not just about the course.
Our challenge for you on Open Day is to find out about something outside of your specific course information that excites and maybe inspires you. Our suggestion? Head to the LRC (again, the Library) and have a chat to the Student Services team. They're a pretty fun group who can tell you all about on-campus clubs (seriously, we have a wine society, has there ever been a club you're keener for?), ways to combine study and travel, and how we can help you get a job (because really, that's what we're here for).
We've also got great info about going global and student opps on our website, just in case you need a reminder after the day.
8. While you're in the library, get into the nitty-gritty.
You've picked your course, you're ready, you're excited. But what happens next? You'll want to know about fees, potential scholarships, loans, fee help, and how you actually go about applying. We got you. Our team from the Info Centre will be in the LRC and can answer all your logistical questions.
Come up with a great question once you've left? No drama – we're always here to help. Simply email or call us and we'll make sure we get you an answer.
9. Start planning out your future.
Open Day is a great day, but really, it's just the beginning. You'll leave the day inspired, ready to start your journey into the experience industries. Plus, if you have any more questions, we're always around to help, so feel free to come back and visit or get in touch at any time.
We look forward to welcoming you as a William Angliss Institute student.