Anna Polyviou's Pop Rock Tour Masterclass
Get up close and personal with dessert queen Anna Polyviou in an intensive 3-hour hands-on masterclass.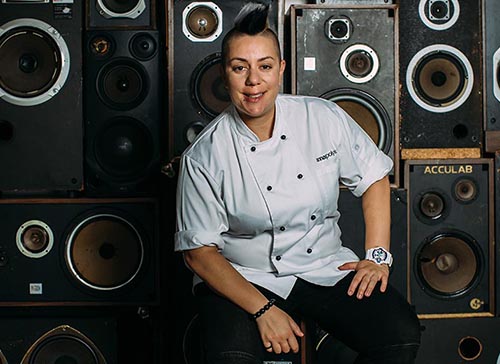 Thursday 27 June 2019 9 AM - 1 PM
Room E113
Building E, Level 1
William Angliss Institute
Snapshot
What You Learn
How to create Anna's 7-layer Popping Caramel dessert masterpiece.
What You Get
A Popping Caramel dessert masterpiece to take home, and a free Anna Polyviou apron (rrp $25)
Dress Code
Appropriate footwear (closed-toe, rubber sole) Long pants Chef jacket
In this intensive 3-hour hands-on masterclass, you will rock it, bake it and sweet create it with Anna Polyviou on her first Australian tour teaming up with Roald Dahl's spectacular new musical, Charlie and the Chocolate Factory to create a delectable dessert inspired by the wonders of Willy Wonka.
Anna's new release "POPPING CARAMEL" is the greatest hits of the finest Belgian Callebaut® chocolate. Milk, caramel and white chocolate are all incorporated into the dessert's Pop-Corn Caramel Crunch, Vanilla Caramel, Salted Breton, Honey Ganache and Milk Chocolate Mousse.