Course Description
A patisserie traineeship allows you to gain a valuable qualification while continuing to work in the hospitality industry, supporting your learning with experiential training.
The art of patisserie is explored in greater detail in this traineeship course. Students can expand all aspects of their patisserie abilities through this industry-leading certificate course. With the Certificate IV you'll continue to develop your patisserie competencies and creativity.
Develop your skills in patisserie through practical sessions on campus and in industry to learn artisan techniques of sugar and chocolate decorative work and modern gateaux.
The Angliss Experience
Extend your expertise in patisserie and the learn advanced techniques
Continue to work in the industry while you gain a valuable specialty qualification
COURSE DETAILS
Course Code
SIT40716
Study Area
Foods, Patisserie
Course Level
Certificate IV
Course Structure
Please note that the order of the delivery of units may vary between campuses. Elective units will also differ and not all units listed below will be delivered at all campuses.
Stage 1
SITXFSA001
Use hygienic practices for food safety
SITXINV002
Maintain the quality of perishable items
SITHCCC001
Use food preparation equipment
SITHCCC005
Produce dishes using basic methods of cookery
SITHPAT003
Produce pastries
SITHPAT004
Produce yeast based bakery products
SITXHRM001
Coach others in job skills
SITHFAB007
Serve food and beverage
SITHFAB005
Prepare and serve espresso coffee
SITHKOP001
Clean kitchen premises and equipment
SITHPAT007
Prepare and model marzipan
Stage 2
BSBDIV501
Manage diversity in the workplace
SITXCOM005
Manage conflict
SITXFSA002
Participate in safe food handling practices
SITXHRM003
Lead and manage people
SITXMGT001
Monitor work operations
SITHCCC018
Prepare foods to meet special dietary requirements
SITHPAT002
Produce gateaux, torten and cakes
SITHPAT005
Produce petits fours
SITHPAT006
Produce desserts
SITHCCC011
Use cookery skills effectively
Stage 3
BSBSUS401
Implement and monitor environmentally sustainable work practices
SITXFIN003
Manage finances within a budget
SITXWHS003
Implement and monitor work health and safety practices
SITHKOP005
Coordinate cooking operations
SITHPAT008
Produce chocolate confectionery
SITHPAT009
Model sugar based decorations
SITHPAT010
Design and produce sweet buffet showpieces
SITXFSA004
Develop and implement a food safety program
FDFRB3004A
Decorate cakes and cookies
Companies who hired our graduates











Recommended Course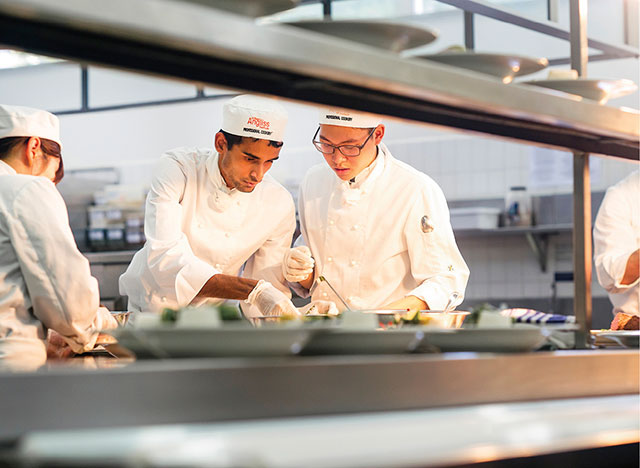 Certificate III in Commercial Cookery
Learn fundamental skills and develop knowledge in a wide range of subjects to become job-ready. This course will provide you with hands-on experience in areas from the preparation and cooking of meats through to cost effective menu development. Graduates will be qualified for employment as a cook or commis chef.
view course