See the world when you study with Angliss. We're going global with incredible study tours, study exchange programs, work abroad opportunities and international scholarship.
Broaden your studies and immerse yourself in new cultures. Through an international network of opportunities, our graduates are better prepared to succeed in this globally connected industry.
Angliss students choose to take their studies global for many reasons. Sometimes it's to experience life and work in an international destination, for others it's to enhance their resume with real-world global experience. No matter what your global goals are, you can find an international Angliss opportunity to enrich your learning.
International study tours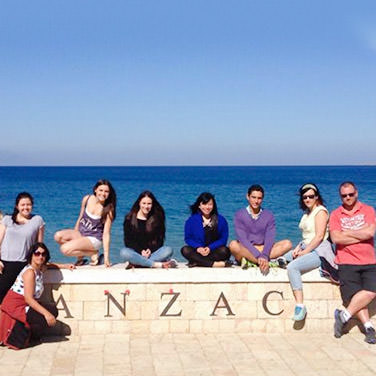 Study Tours can range from two weeks to over a month. They offer a glimpse into an international culture and lifestyle through carefully curated and industry-related sightseeing, work placements, and other discoveries.
For Higher Education students studying a degree, the Study Tour counts as a credit towards their degree. This experience also contributes to the units or learning outcomes for VET students, and is an amazing way to mix study and travel.
Angliss students have toured the USA, France, Greece, Spain, Malaysia, Singapore, China, Turkey, Indonesia, Italy, Thailand, Dubai, and more.
Patisserie students have visited the iconic patisserie schools of Lenôtre and Alain Ducasse, attended a Master Class in Petit Fours, and participated in a structured program of site visits to prestigious Parisian patisseries.
The tour also took them to Wieze in Belgium to the Barry Callebaut Chocolate Academy.


"Students found the study tour experience in Paris an inspiration that opened a world of opportunity, they learnt so much about Patisserie from a global context."
Program Leader, Patisserie, Centre for Foods Trades and Culinary Arts


On another recent tour, Cookery students completing the VET program took a nine-day food tour of Hong Kong. Their visit took them from Disneyland Hong Kong to Macau's casino complex, Michelin star restaurants, produce markets and even the LSG Sky Chefs Flights Operations facility.
Study Exchange
Angliss' Study Exchange program provides degree students with an opportunity to complete part of their course with one of our international partners.
Angliss works with international universities that provide leading hospitality, culinary and tourism degrees in Italy, Spain, and the UK.


"I learnt more about the global hospitality industry and international trends than I could have imagined, the friends which I made along the way were priceless. More importantly, the opportunity to grow and develop personally was by far the most amazing journey."
Grace Collins, graduate Bachelor of Tourism and Hospitality Management, undertook a semester abroad in Malaysia
Student grants are made possible with support from the Australian Government's Australia Awards - Endeavour Mobility Grants program

Work abroad
International work placement opportunities are available to Angliss students during the course of their studies, helping graduates establish truly international careers.
When you live and work internationally, you enrich your study experience by learning about a new culture and work environment, meeting new people and discovering a new part of the world.
Many students find that on graduation, their work abroad experience them gives them a competitive edge when applying for international employment opportunities.
Disney Cultural Exchange Programs
Disney's world renowned International Programs have been a feature of Angliss since 2009. Students from all study areas have jumped at the opportunity to participate in 6 or 12 month paid internships at Disney World®, Orlando Florida.
As part of Disney International Programs, students experience a once-in-a-lifetime opportunity to learn from one of the world's most innovative entertainment establishments. Living and working at Walt Disney World® Resort gives students a chance to connect with people from across the globe and create lifelong memories. Interns gain valuable leadership, presentation and customer service skills – a hallmark of the international Disney brand.


"Everyone comments in job interviews about my internship at Disney. 'That's so cool! What did you do there?'
Disney is known for their fantastic customer service, and bringing that to my new job has been invaluable. It also gave me the opportunity to see other parts of the US. I travelled for four weeks after my program visiting Fort Lauderdale, Miami, Key West, Philadelphia, New York, Boston, Las Vegas and LA."
Ashleigh Romanjuk (Graduate, Diploma of Events), Events and Marketing Manager


Learn more about the Disney program.
The Broadmoor
Angliss also has an international partnership with the five-star hotel and resort, The Broadmoor in Colorado Springs.
The Broadmoor is home to the only five-star, five-diamond restaurant in Colorado, along with 779 luxury guest rooms, three championship golf courses, a luxury day spa, six tennis courts, indoor/outdoor pools, 25 retail shops, specialty tours, and an adventure activities program for guests.
Angliss students have a rare opportunity to complete a six-month placement at the resort (with an option to extend to 12-months). For more information contact careers@angliss.edu.au