52 students awarded scholarships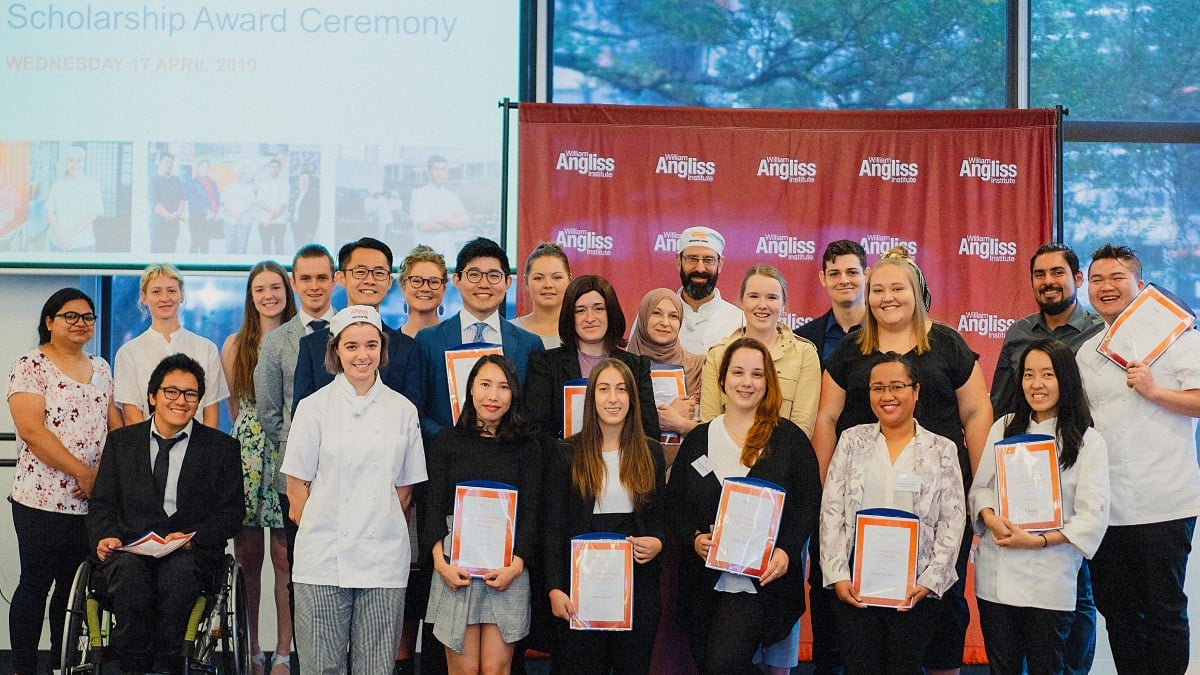 Scholarships were awarded to 52 William Angliss Institute students from 2018 and 2019 intakes at an awards ceremony held today, which coincided with the annual Angliss Hot Cross Bun Day.
The scholarships are generously provided by the William Angliss Institute Foundation and a number of industry partners and sponsors, including Nestle Professional, Hostplus, Fonterra, Bulla, Savvy Academy, Schnitz, LaTrobe Community Health Services and Apromo Trading.
Scholarship money has helped students in different ways but the overwhelming response from the scholarship recipients have been that of gratitude, pride, and passion for their chosen industry.
Recipients were also pleased to sample fresh hot cross buns made by students as part of Hot Cross Bun Day. This Easter tradition has been running for more than 20 years and sees hundreds of hot cross buns baked on the Melbourne campus before being shared with the wider community.
Hostplus Indigenous Scholarship recipient Kellie Anne Willis said, "I have a genuine love and passion for baking and want to start a small business to provide joy and happiness to customers who experience my baked products. This scholarship will help me purchase equipment so I can practice and perfect my craft."
Scholarships are designed to assist students' with their studies and ultimately help them achieve career ambitions, with many already putting them to good use.
"This could not be achieved without the commitment of our industry partners, who choose to support our students and invest in the future of the industry," said Nicholas Hunt, the CEO of William Angliss Institute.
Certificate IV in Commercial Cookery student Fong-Wei Liao, recipient of the Nestle Golden Chefs Hat Scholarship, has won gold in the regional round and silver in the state round of the AusTAFE Culinary Competition in 2018.
He is looking to use his scholarship to reduce the financial stress of being an international student and enter more culinary competitions that ultimately help him develop a new restaurant concept that incorporates Taiwanese, Japanese and Australian cultures.
Franziska Jeike Ciararalla, recipient of the Fonterra Merit Scholarship, has been able to cover her fees, equipment and uniform costs while Annabelle Warnock, who received a Nestle Equity Scholarship, has taken the chance to move closer to the city.
"This opportunity has allowed me to move nearer to the campus, removing a three hour commute and enabling me to focus more on my studies to build my skills and pursue my dream of becoming a chef and one day owning my own restaurant," Annabelle said.
The offers prove to truly motivate students, with recipient of The Hostplus 3 Star Scholarship, Diploma of Food Science and Technology student Monika Chauhan remarking that, "the scholarship has encouraged me to aim higher in the food industry and made me even more passionate about the science related to food."
Applications for Semester 2 scholarships are now open. Visit angliss.edu.au/scholarships or contact studentservices@angliss.edu.au for more information.
Watch the Scholarship video featuring William Angliss Institute Foundation Scholarship recipients Sam, Corinne and Chris here.