Up and away with Global Ballooning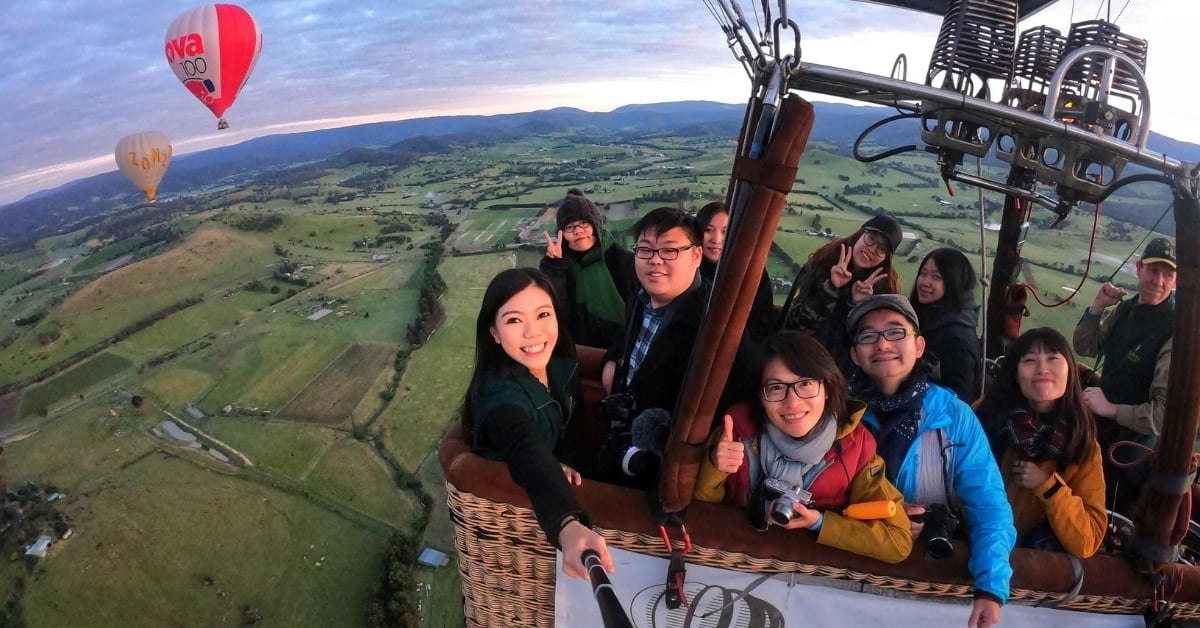 Passionate travel alumni Mandy Ho has realised her dream job, providing clients with the experience of a lifetime hot air ballooning.
After graduating from William Angliss Institute with a Diploma of Travel and Tourism, Mandy was offered a position with Global Ballooning as a Sales and Marketing assistant. Having progressed to the position of Business Development Manager for Eastern markets, Mandy develops strategic plans to achieve marketing goals, conducts product training with local and international agents, attends tradeshows and provides support to the operational team. She also creates engaging content for promotional channels including Global Ballooning's Chinese website, social media, collateral and presentations, using footage from her balloon flights.
During the current environment with balloon travel on hiatus, Mandy is also currently working as a Digital Marketing Manager for Sebel Melbourne Docklands Hotel.
Mandy gained practical knowledge of the local tourism industry during her studies, which was vital to the success of her career launch.
"During my study at William Angliss Institute, I visited many tourist attractions in Melbourne and Regional Victoria, and I developed a range of skills and knowledge through my course work. I really enjoyed studying tour guiding and marketing-the teachers inspired me, as they are very knowledgeable and provide a fascinating insight into Australia's tourism industry," Mandy said.
After initially graduating with a Bachelor of Journalism and Mass Communication and working as a journalist in Hong Kong, Mandy's love of travel became the inspiration for a successful career change.
"A love of travel led me to Australia and eventually to Melbourne. I instantly fell in love with this city. When I was travelling around by myself, I had a light-bulb moment when I thought, I love adventure, I'm really passionate about tourism, so why not make this my career? I want to get up every morning and think, I love going to work," Mandy said.
Word on the street, drew Mandy to study at the Institute, "At the same time, I met Shanan Kovacic, an Angliss Alumni who created his own successful walking tour business in Melbourne. He recommended William Angliss to me, its high reputation, strong industry connections and some of the best teachers and experts in their field."
Determined to learn as much as possible about frontline tourism, Mandy explored working as a tour guide during her studies.
"Half way through my course, I started my career working as a tour guide at Chocoholic Tours and the Queen Victoria Market, providing commentary in English, Mandarin and Cantonese. I really enjoyed working with customers and focussing on giving tourists the best possible experience. My teacher's advice and support helped me to act confidently in an essential frontline tourism role, developing strong relationships with visitors and the local community."
Utilising William Angliss networking events to meet industry contacts proved to be the key to Mandy's success.
"After I graduated from the Institute, I met Kate, (Business Manager, Global Ballooning) at a Tourism networking event. She offered me a job at Global Ballooning as a Sales & Marketing Assistant. I still remembered how thrilled I was when I received the contract," Mandy said.
Mandy's drive and enthusiasm for the industry continues to motivate her, "William Angliss helped me to take the first steps into this exciting industry, provided basic tourism knowledge, and gave me an excellent networking channel to meet industry experts. I would say, never stop learning and always challenge yourself outside your comfort zone. I have been ballooning over 30 80 times and I still enjoy flying. I think you just need to find out where your true passions lie and work hard on them."