Angliss Wins at Victorian Tourism Awards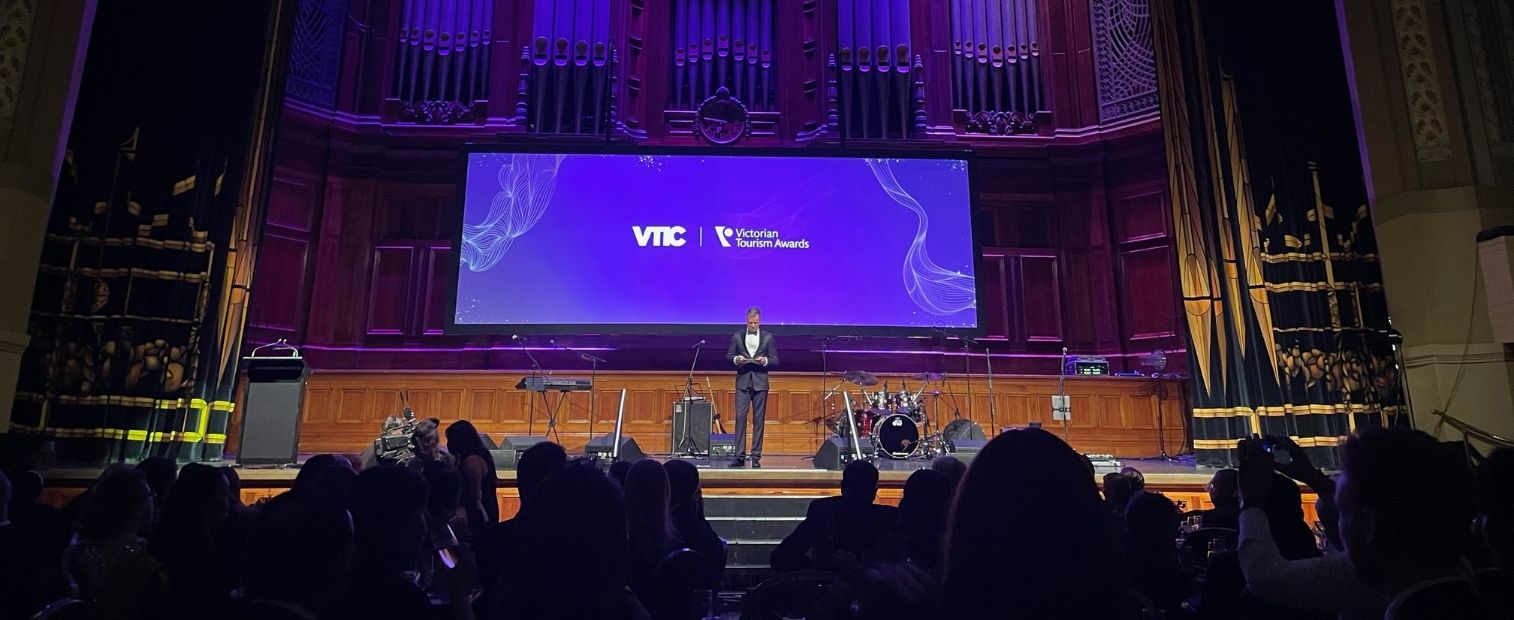 William Angliss Institute CEO Nicholas Hunt was proud to receive the award for Tourism Education and Training at the 2021 Victorian Tourism Awards on behalf of the Institute, its trainers and partners.
Receiving the award, Mr Hunt acknowledged the ongoing resilience of students, dedication of staff and generosity of industry partners in fostering educational excellence for the sector.
"We are delighted to receive this award from our industry peers, recognising excellence, innovation and resilience in the recent challenging times," said Mr Hunt. "The tourism industry has had to adapt, as have our students and staff, but we remain committed to developing quality graduates to support leading tourism practises."
Presented by Victoria Tourism Industry Council, the Victorian Tourism Awards were announced in a gala ceremony at the Melbourne Town Hall on Thursday 3 February 2022 which had been held back to enable a proper celebration of the industry.
Highlights of the Institute's nomination for the award included the specialist nature of tourism training delivered, including the Bachelor of Tourism (Ecotourism), and the Tour Guiding Fundamentals program developed for the Royal Botanic Gardens, specifically for Indigenous tour guides.
The Institute's student outcomes and employer recommendations were also a strength in the judging process. In the judging period, the Quality Indicators for Learning and Teaching (QILT) Graduate Outcomes Survey showed 85.1% of undergraduates had secured employment four months after completing their course, with 70% in full-time roles. Additionally, 86.3% of employers stated that they would recommend the training provider.
"Creating tourism leaders of the future is core to the Institute's operations, and ensures this through the commitment and expertise of our staff, and through our long-standing industry partnerships," said CEO Nicholas Hunt.
William Angliss Institute students are sought after by industry, as evidenced by the exclusive employment opportunities afforded to students. In 2021, along with speed networking events with employers, students also participated in on-campus recruitment with Altara (recruiting for Jetstar and Virgin crew), and the iconic Disney Resorts.
For more information about tourism training for individuals, organisations and agencies, please contact 03 9606 2111 or email info@angliss.edu.au
Published 4 February 2022