Angliss grad is turning heads with her luxury vegan treats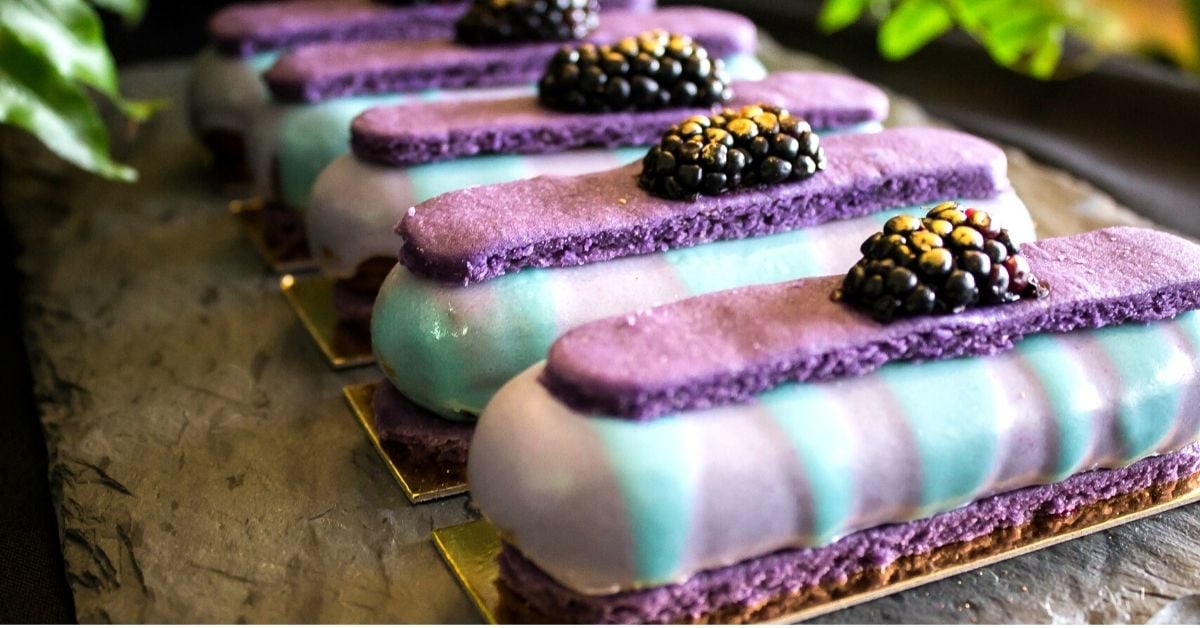 Angliss alumni Alana Benson is going from strength to strength with her unique patisseries now hailed as one of Melbourne's finest artisan vegan patisserie and dessert shops.
Based in Brunswick, Alana started Poly Pop Patisserie to meet a need in the market for luxury well-made vegan treats.
"For years I was making vegan treats for friends and family," Alana said.
"I started getting enquiries about my desserts from people I've never met before purely by word-of-mouth! I thought I would take the plunge and turn my love into a business.
"I settled on the name Poly Pop because I wanted to create not only artisan vegan treats but also tropical-inspired flavour combinations. The word Poly-Pop is short for Polynesian-Pop culture which is the vibe I had always envisioned for my business.
"I think people wanted to try my desserts purely out of curiosity and the fresh flavours have them hooked! I feel that Poly Pop was born exactly when it needed to be and is gaining traction and growing every day!" she said.
Alana took part in William Angliss Institute's first virtual Open Day as part of a Q&A with some other alumni and here we share some of her answers:
Are there a lot of job opportunities for someone who is interested in patisserie?
Definitely! There are always patisserie jobs out there. Patisserie chefs, cooks, bakers, cake decorators, chocolatiers. You have so many options of workplaces as well as cafes, restaurants, bakeries, patisseries, hotels, celebration/wedding cake shops, chocolate shops. Of course, there aren't as many jobs going at the moment due to COVID-19 restrictions and lockdowns but once everything opens up again, I'm sure there will be jobs aplenty!
What are some good things to remember when you are a junior chef?
Mistakes are good! The more mistakes the better in my book because that means you're learning. Pay attention to what the other chefs are doing in the kitchen and ask ALOT of questions. Working in an array of different workplaces is also great for learning because you get to see other chefs' processes and will pick up new and streamlined techniques so you become a more efficient and technical chef yourself.
What is the biggest challenge you have faced in the industry?
There are toxic workplaces out there and you need to be aware that for some places this is part of their culture. It's wrong and if you ever feel uncomfortable in a workplace either stand up for yourself and say something or get out of there! There are so many amazing patisserie workplaces around so you should never feel stuck in one that's making you miserable, even if they are paying you well.
What are some tips to give us an advantage when applying for jobs in the patisserie field?
Always go above and beyond no matter what job you're applying for, whether it be with your resume by adding photos of your beautiful creations or researching your potential employer and catering your cover letter towards the specific job you're applying for. Baking a dessert that is in line with your potential employers' brand and offer it up at the interview to show your skills and techniques.
Offer to create a sample seasonal menu for the business (if that is going to be a part of your job description). Resumes and cover letters get you the interview but meeting with the recruiter is what gets you the job! Be confident but not cocky, be on time, show that you have researched the business and know exactly what they do and what their philosophies are, be yourself and let your personality shine because the recruiter wants to know if you will fit in well with the kitchen team. You will most likely be offered a job trial, once you're in show them exactly why they should hire you!
Is there any advice you would like to add?
The best thing I ever did was quit my well-paying multi-site management job. It was terrifying at first because I so used to the lifestyle I had created for myself and starting again sounded like taking a million steps backwards. Once I started at William Angliss Institute those feelings melted away. I was doing exactly what I was meant to be doing, baking! If your dream is to become a patisserie chef and it's your absolute passion, I say JUST DO IT!
It will be the best decision you've ever made! William Angliss Institute made it so easy to transition into the hospitality industry. The training gives you the basics of everything you need to know and then once you are in the industry you can practice your skills.
I haven't worked a day since I decided to become a chef because if you love what you do, you'll never work a day in your life!