From Angliss student to Head Pastry Chef – Jacinta Shares her career advice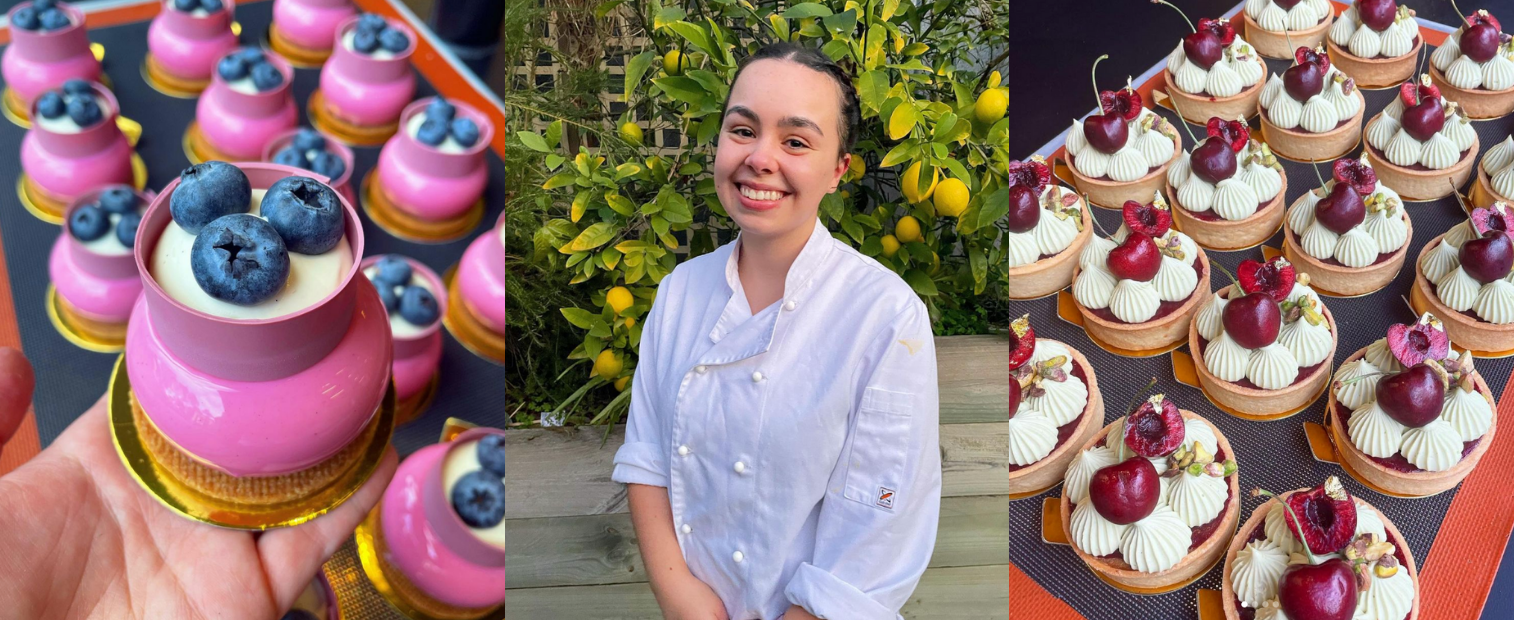 Networking and making the most of student opportunities led Jacinta Tasker on her path to become Head Chef at Nikos in Fairfield. She now has some valuable career advice for those keen to study foods and, in particular, Patisserie.
From fond memories of baking at home with her mum to being inspired by Zumbos (Adrianno Zumbo's game-changing but now closed patisserie), a career in the industry was a no-brainer for Jacinta.
During her time studying Certificate III in Commercial Cookery SIT30816 and Certificate IV in Patisserie SIT40716 at Angliss, two classes stood out to Jacinta. 'Producing Gateaux and Tortes', with trainer Sebastien, was a class she felt was challenging as it involved making desserts with multiple components. "It was always more exciting to learn such a large variety of techniques and to also hone in on time management skills," she says.
The other class that needs mentioning was 'Introduction to Cookery', her very first class, with trainer Graham Dark.
"It made me really excited to begin my career when my teacher was still so passionate about cooking and teaching his students. He made every day fun and shared so much knowledge about food and the industry in general. It's also where I met a few of my closest friends to this day."
Jacinta's time at the Institute taught her the importance of networking, and she recommends making connections while studying. Her advice to those embarking on a future in foods:
Show your determination and passion
Be forthcoming with your expectations
Soak up every piece of information like a sponge
Be involved as much as you can with every opportunity that Angliss provides
Never go anywhere without a notebook
She also shares this tip for William Angliss Institute students: "There are so many events that will introduce you to people that have connections in the industry, and a lot of your teachers have worked with well-known chefs and may help you get your foot in the door".
"Doing work experience really showed me exactly what to expect from working in a commercial pastry kitchen and gave me the experience to add to my resume."
Networking and making the most of her opportunities is how Jacinta secured her job at Nikos, a Greek-inspired patisserie thriving for over 35 years. A friend who regularly bought birthday cakes there suggested she apply, and her resume ended up with Nikos' Executive Pastry Chef who was no stranger. Jacinta had worked with then Sous Chef Michael Germanos while on her Angliss work experience program at Le Petit Gateaux. She'd made the most of her experience and formed great professional relationships while doing her training, and coupled with her skills she secured the job.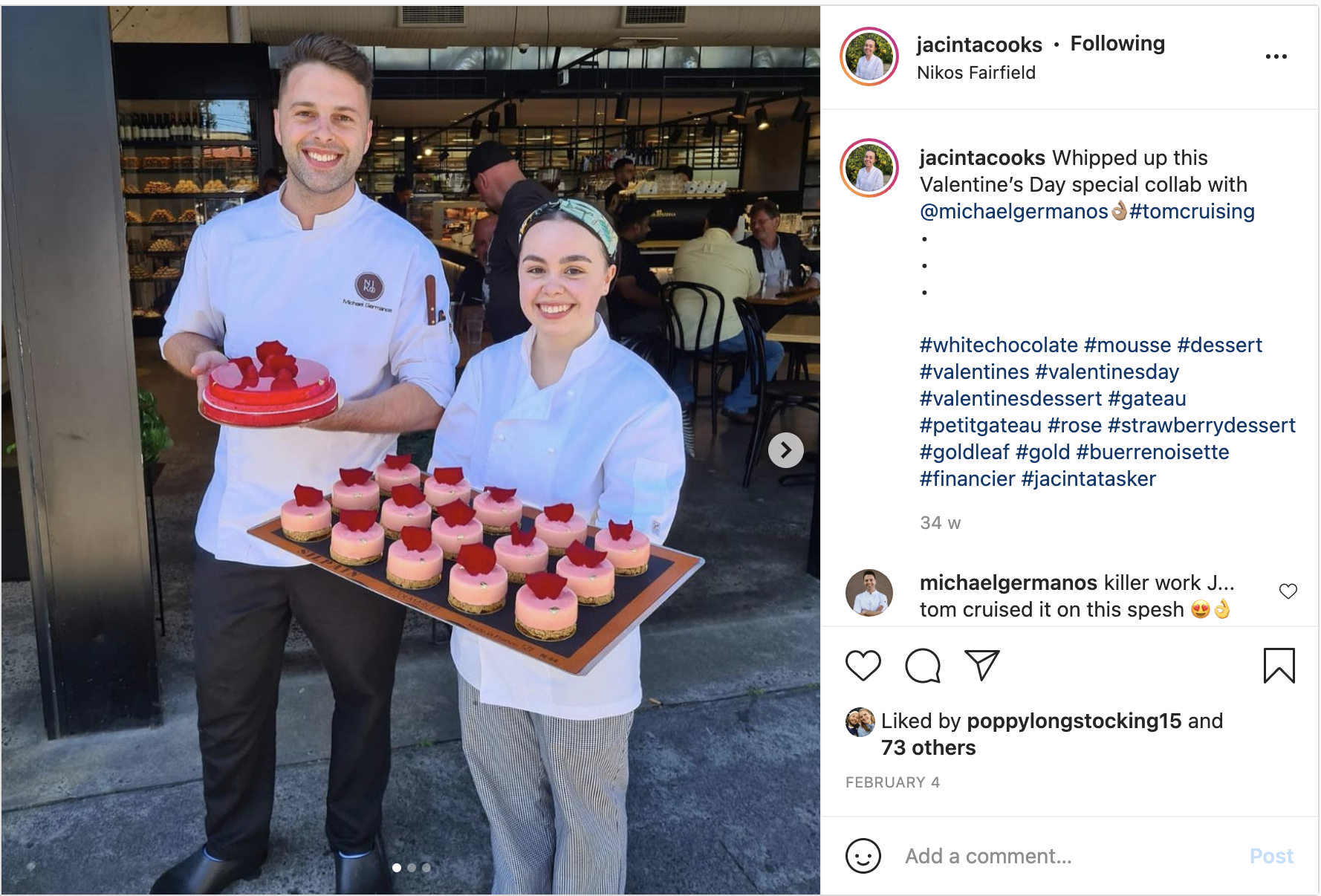 Jacinta with Chef Michael Germanos (Source: Jacinta Tasker Instagram)
"I sent my resume and funnily enough it turns out Michael was the Executive Pastry Chef there! However, it was slightly embarrassing for me as my resume had him listed as a reference."
He became her mentor and, when it was time for him to move on, Jacinta became the obvious replacement, having honed her skills, shown her eagerness to learn and proven her technical and leadership abilities. "In five years' time I aspire to be a name that everyone in the industry knows. I hope to be known for being a kind and fair leader," she says.
Reflecting on her career so far, Jacinta says the most important part about starting in this industry is to make sure your supervising chefs and employers are passionate about their work and are invested in developing your skills. "If you work with people who encourage your ideas then you will have a lot more to gain and room to develop into a highly skilled chef."
Published 30 September 2021