Welcome graduands, friends and family to our Virtual Graduation Ceremony
Join us at 5pm AEST on Tuesday 25 August 2020 when our Virtual Graduation & Special Achievement Awards Ceremony goes live! We're celebrating all our August graduands with a virtual ceremony, and we hope you'll join us in recognising their wonderful achievement.
If you're looking for some ideas on how to celebrate your graduation, we've got a few ideas.
How to watch
View the embedded video below. If you'd like to see it in full screen or cast to a device, open it in a new browser window.
Remember your graduation
Relive this momentous occasion, and download a digital version of your Graduation Program.
Slides moved too quickly for you? View all the graduation slides at your own leisure:
Your guide to an at home Virtual Graduation Party

Organise a tasty celebratory treat
Our amazing Angliss Alumni have organised some special options for you to celebrate your graduation day!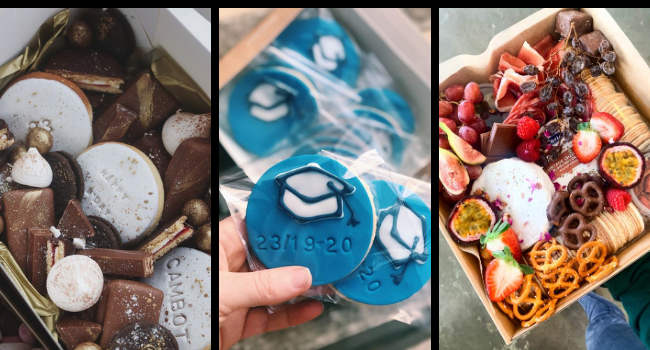 Katie Lous Cakes (Melbourne)
Place an order with Katie Lous Cakes
Did Someone Say Cake (Pakenham)
Cupcake Box - $30 for 6 customised cupcakes (extra: Graduation cookies available to add on
Delivery available within 5km of Pakenham 3810. Contact for delivery costs.
Place an order with Did Someone Say Cake
Five ft One Cafe (Geelong, Melbourne CBD)
Delivery can be accommodated within 5KM of Geelong (3220) for $10 and 5KM from Melbourne CBD (3000) for $20. Anything outside of 5KM of either city will incur an additional delivery fee.
Place an order with Five ft One Cafe
If you're looking for more sweet treats, a graduation feast, flowers, or other goodies, head to our Angliss Alumni Business page to support your community.
Commemorate your graduation with Reed
Interested in purchasing a plaque or frame for your degree? Looking for a cuddly grad bear? Or interested in taking portraits in person once restrictions have eased?
Visit Reed Graduation Services or contact them by email or phone (1300 361 806) to find out more.
Congratulations William Angliss Institute Class of August 2020