Matt is World Butchers' Challenge Winner! (USA)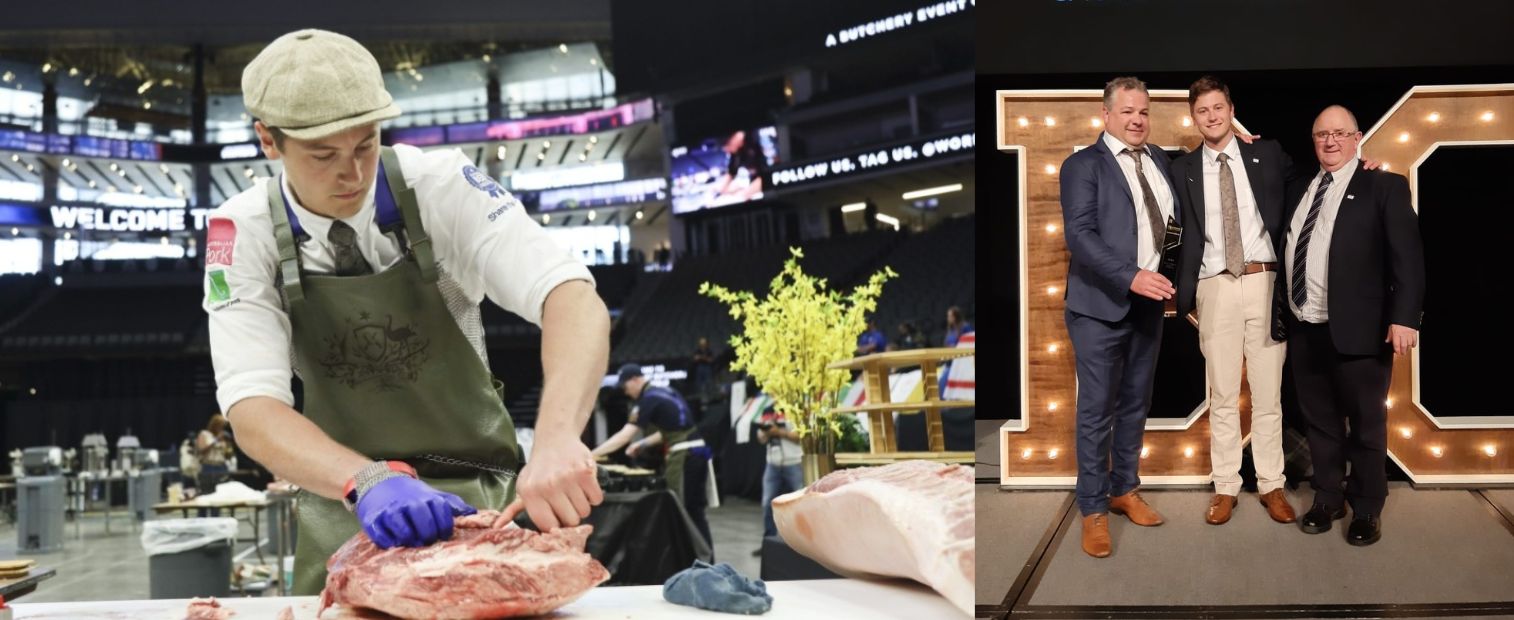 Angliss Certificate III in Meat Processing Retail Butcher apprentice Matthew Tyquin has been named the World Champion Butcher Apprentice at the World Butchers Challenge in Sacramento USA winning the challenge against competitors from all across the globe.
The World Butchers Challenge which is considered the Olympics of butchery saw each apprentice contestant given two and a half hours to create an innovative display using beef rump, a side of lamb, a loin of pork and two chicken fillets. Contenders were marked on speed, creativity and hygiene.
Matthew, who works at Ashburton Meats, said "We had to utilize as much of the animal as possible and be creative with the products."
The event was widely publicised and took place in front of a live audience, so the pressure was understandably high, though there was support all the way.
Matthew's Trainer Peter O'Rourke said, "In supporting Matthew, I attended three apprentice competitions, AMIC Young Apprentice of the Year competition, Meatstock's Apprentice Competition and the World Butchers Challenge, in which I worked with the employer on common goals, general mentoring and creating a positive environment for Matthew."
"The nerves were high before the event but after five minutes, you settle down and relax more. I had to trust that what I was doing was correct." Matthew remarked
Peter said, "In the future, this could lead Matt into worldwide employment opportunities and representation of Australia in the senior team. Angliss students can be confident that William Angliss Institute and the staff will support and encourage their participation. They will be associated with a specialist institute."
Matthew said. "It's opened up a lot of opportunities for me. The network that I've created across the globe are friends for life. I hope what I've done will inspire young apprentices to better themselves – if I could be that role model, that would be special."
The Institute's Food Processing Coordinator Kathy Majstorovic said, "It is great to see such rising talent within the meat industry. Matthew is a very driven and passionate apprentice who always strives for perfection and puts his best foot forward. Matthew's win affirms that through hard work and dedication you can achieve whatever you set your mind to. Angliss has great educators who nurture the development of all students to global standards."
To learn more about Angliss apprenticeships, visit Industry training apprenticeships and traineeships (angliss.edu.au) or call +613 8595 5334
Published 19 September 2022