Course Description
Learn the skills of meat processing and working in a retail environment as a butcher. In an Angliss meat processing course you'll develop specialty skills by working in industry and on campus processing classrooms. You'll refine your technical skills in line with the Australian Meat Industry Council Food Safety Program.
Your training in meat processing will extend to hygiene and safety, ordering, preparing meat cuts, mincing, sausage making and quality assurance.
This apprenticeship program includes predominantly on-the-job training with specialised subjects for on campus training designed to provide you with highly developed skills to work in the meat retail industry.
The Angliss Experience
Become a trusted expert on cuts of meat, preparation and food safety
Learn traditional methods from aging, curing and smoking to boning and marinating
Develop skills you can adapt to a modern retail environment
Gain industry experience in a range of meat processing and commercial environments
COURSE DETAILS
Course Code
AMP30815
Study Area
Foods
Course Level
Certificate III
Course Structure
Please note that the order of the delivery of units may vary between campuses. Elective units will also differ and not all units listed below will be delivered at all campuses.
Stage 1
AMPCOR201
Maintain personal equipment
AMPCOR202
Apply hygiene and sanitation practices
AMPCOR204
Follow safe work policies and procedures
AMPCOR205
Communicate in the workplace
AMPCOR206
Overview of the meat industry
AMPR101
Identify species and meat cuts
AMPR102
Trim meat for further processing
AMPR103
Store meat product
AMPR104
Prepare minced meat and minced meat products
AMPR105
Provide service to customers
AMPR203
Select, weigh and package meat for sale
AMPR212
Clean a meat retail work area
FDFOP2061A
Use numerical applications in the workplace
Choose 1 of the following electives from Group A
AMPR106
Process sales transactions
AMPR108
Monitor meat temperature from receival to sale
Stage 2
AMPCOR203
Comply with Quality Assurance and HACCP requirements
AMPR201
Break and cut product using bandsaw
AMPR202
Provide advice on cooking and storage of meat products
AMPR204
Package product using manual packing and labelling equipment
AMPR205
Use basic methods of meat cookery
AMPR208
Make and sell sausages
AMPR209
Produce and sell value-added products
AMPX201
Prepare and operate bandsaw
AMPX210
Prepare and slice meat cuts
AMPX211
Trim meat to specifications
AMPR206
Vacuum pack product in a retail operation
Stage 3
AMPR301
Prepare specialised cuts
AMPR302
Assess carcase or product quality
AMPR303
Calculate yield of carcase or product
AMPR305
Meet customer needs
AMPR306
Provide advise on nutritional role of meat
AMPR307
Merchandise products, services
AMPR316
Cure, corn and sell product
AMPR317
Assess and sell poultry products
AMPR319
Locate, identify and assess meat cuts
AMPR320
Assess and address customer preferences
AMPR322
Prepare and produce value added products
AMPX304
Prepare primal cuts
Choose 1 elective from Group C and 4 electives from Group C or D
AMPR323
Break small stock carcases for retail sale
AMPR324
Break large stock carcases for retail sale
AMPR308
Prepare, roll, sew and net meat
AMPR309
Bone and fillet poultry
AMPR311
Prepare portion control to specifications
HLTAID003
Provide first aid
Companies who hired our graduates











Recommended Course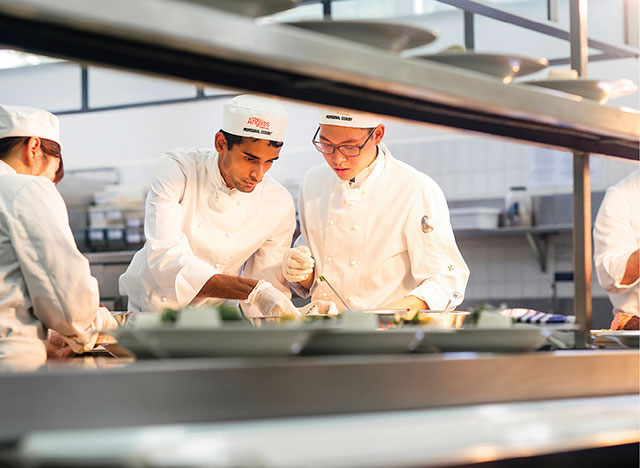 Certificate III in Commercial Cookery
Learn fundamental skills and develop knowledge in a wide range of subjects to become job-ready. This course will provide you with hands-on experience in areas from the preparation and cooking of meats through to cost effective menu development. Graduates will be qualified for employment as a cook or commis chef.
view course