Recreate one of our desserts from High Tea at your next Christmas party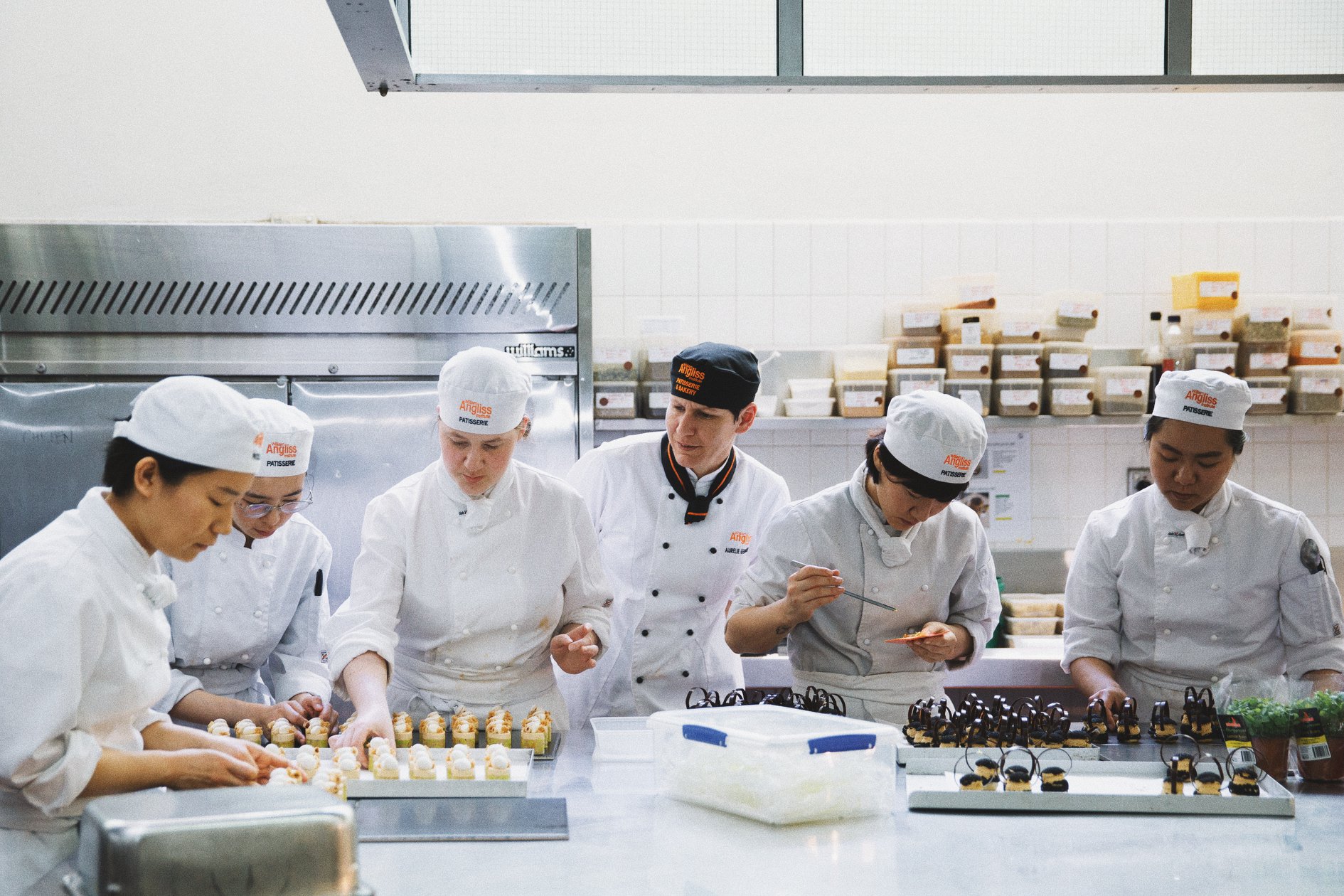 Following the success of our Annual High Tea event, we're sharing one of our favourite creations – our little but mighty, Nutty Lime. In preparation for our High Tea event, teachers and students were able to be as creative as they wanted to be with the support of Les verges Boiron. Boiron provided us with an array of frozen fruit, vegetable purees, and coulis. Integral to the menu we designed, these ingredients were a great and delicious option for produce that was out of season.
A heads up, this recipe is not for the faint-hearted, only for those who are ready to roll up their sleeves and summon their inner patisserie chef.
Here's how you can recreate our high tea at home!
Let's get started
We've grouped the six elements in this dessert, which includes the decorative paste, joconde sponge, olive oil sponge, hazelnut cream, lime crèmeux and hazelnut macarons. Each component will have its own sets of ingredients and directions.

Group 1: Decorative Paste
5 trays
Group
Ingredients
Quantity
A
Pure icing sugar, sifted
Butter
1 cup
½ cup
B
Egg white
Biscuit flour
2 ½ units
⅔ cup
C
Green food colour
As needed
Cream A together then add egg whites and flour alternately until just combined
Add colour.
Spread on a silicon sheet and create the desired pattern
Place in the freezer to set fast.
Group 2: Joconde Sponge
5 trays
Group
Ingredients
Quantity
A
Pure icing sugar
Hazelnut meal
Almond meal
Biscuit flour
5 cups
2 ½ cups
2 ½ cups
1 cup
B
Whole egg
14 units
C
Butter, melted
1 cup
D
Egg white
Caster sugar
12 ½ units
½ cup
Combine group A in a mixing bowl, add B and beat with a paddle until light and fluffy
Melt C and fold trough
Whisk D to a medium peak meringue and fold through
Spread evenly over the decorative paste about 5mm thick
Bake at 220°C until light golden brown in colour.
Group 3: Olive Oil Sponge
2 trays
Group
Ingredients
Quantity
A
Olive oil
Lime zest
1 cup
3.3 tbsp
B
Eggs
Caster sugar
5 ½ units
4 cups
C
Milk
2 cups
D
Flour, biscuit
3.2 cups
Blend A together
Whisk group B together till light and fluffy
Add C slowly than A
Fold D through gently
Pour onto 2 trays and bake at 180C for 10-12 minutes

Group 4: Hazelnut Cream
Group
Ingredients
Quantity
A
Milk
Cream
Caster sugar
3.2 cups
180ml
½ cup
B
Egg yolk
Caster sugar
22.22 units
1 cup
C
Praline paste
360g
D
Gelatine Sheet
40g
E
Semi-whipped cream
3L
Heat A to scalding point
Whisk B till combine
Pour A over B and make an anglaise
Mix C into the anglaise
Soak D in cold water, drain and melt into the hot anglaise
Cooldown to 37C
Fold D carefully into the anglaise and use straight away.

Group 5: Lime Crèmeux
Group
Ingredients
Quantity
A
Boiron lime puree
Caster sugar
720g
2.2 cups
B
Egg
Sugar
5.5 units
0.8 cups
C
Gelatine sheet
14g
D
Butter, melted
1 cup
Soak C in cold water then drain
Heat group A till the scalding point
Whisk group B together
Pour 1/3 amount A to B while whisking continually
Put mixture back to the pan and whisk continually until the mixture is thicker than an anglaise
Pour into a bowl to cool down
Melt in gelatine when the temperature reaches 50⁰C
Mix melted butter (below 40⁰C) and whisk till completely incorporated
Poor into half-sphere moulds and freeze until needed.

Part 6: Hazelnut Macarons
Group
Ingredients
Quantity
A
Icing sugar
Almond meal
Hazelnut meal
Lime zest
4.8 cups
3 cups
3 cups
2 units
B
Egg white
6 units
C
Egg white
Caster sugar
Water
6.3 units
3 cups
½ cup
Sieve group A together
Mix group B together and pour onto A without mixing the ingredients together
Boil the sugar and water in group C to 118C and pour onto the half whipped whites to make an Italian meringue. Keep whisking till meringue reach 50C
Incorporate C into A and B with a spatula until the mix becomes shiny
Pipe mini macarons onto a tray lined with baking paper
Tap the tray very lightly on the bench to eliminate the points
Let the macaron shell dry for at least 20 minutes
Pre-heat oven at 180C and bake at 165C for 12-14 minutes
Open quickly the oven door once after 8 min of cooking and once at 10 min to eliminate steam thus drying the biscuits outer layer
Slide the macarons on the baking paper of the tray to stop them from cooking.

You're almost there!
Cut joconde sponge to fit 2/3 of the mould, fit tightly in each mould.
Cut the sponge base, fit in the bottom of each mould and pipe hazelnut cream halfway.
Lay a cremeux insert, pipe more cream on top, and smooth the top.
Garnish with a baby macaron, roasted hazelnut halves, candied lime zest and green sugar decoration.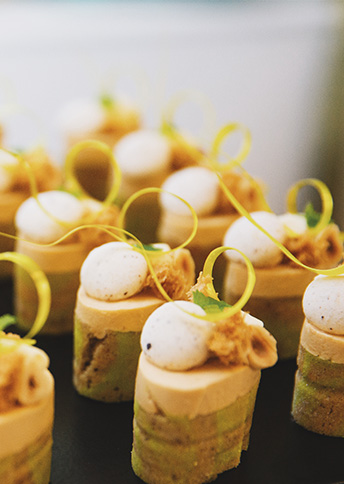 Voila, you've done it! You've earned yourself a trophy, a glass of vino and endless praises that will last you until next Christmas!