A call to celebrate Hot Cross Bun Day at home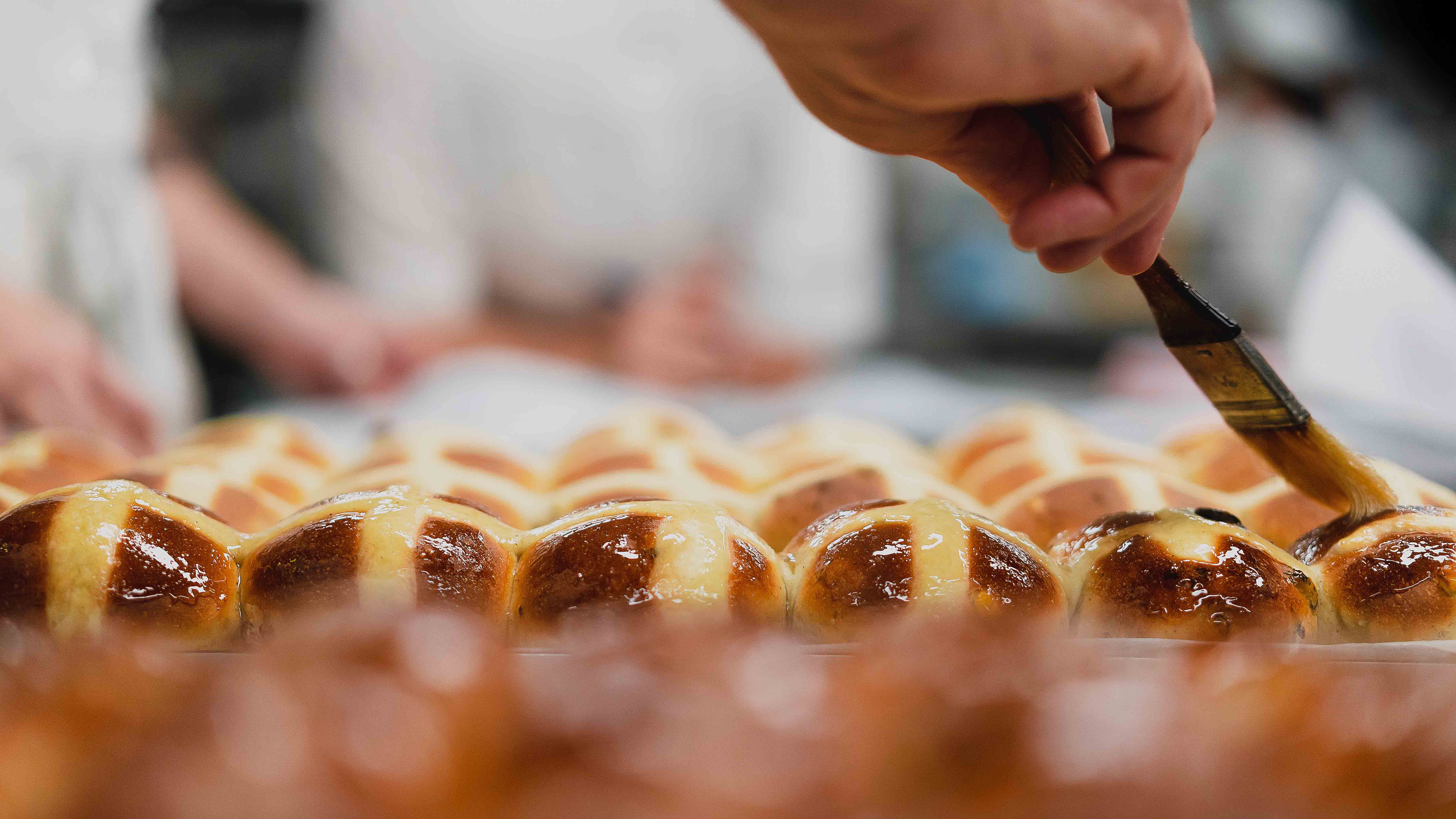 For over 20 years, Easter has been a highlight of Angliss's annual calendar. Teachers and students from Baking and Patisserie have made thousands of delicious hot cross buns over the years.
We're still keeping our (20 years in the making) recipe a secret, but here's another (pretty close!) home version that you can make for your family. It takes some time to make, but hey, isn't this a perfect time to slow things down for some mindful baking.
What you'll need to make 12 delightful Hot Cross Buns
¾ cup of warm water
3 tablespoons of butter
1 tablespoon of instant skim milk powder
¼ cup of milk
¼ cup & 2 tablespoons of white sugar
1 teaspoon of salt
1 egg
1 egg white
1 egg yolk
3 cups of all-purpose flour
1 tablespoon of active dry yeast
¾ cup of dried currants
1 teaspoon of ground cinnamon
2 tablespoons of water
½ cup of confectioners sugar
¼ teaspoon vanilla extract
2 teaspoons of milk
Let's get baking
Incorporate warm water, butter, skim milk powder, ¼ cup of sugar, salt, eggs (1 egg & 1 egg white) flour and yeast and work the dough for 10-15 minutes.
When there are 5 minutes left in your kneading time you can add the dried currants and cinnamon. Leave the dough to rise for 1 to 1 ½ hours.
Punch down on a floured surface, cover and let rest for 10 minutes.
Shape into 12 balls and place in a greased 9 x 12-inch pan. Cover and let rise for 35 to 40 minutes in a warm place till they double in size.
Mix egg yolk and 2 tablespoons of water. Brush the mixture onto the dough.
While you wait for the buns to rise, preheat the oven to 190 degrees.
To make crosses; mix together confectioners sugar, vanilla and milk. Pipe the desired shape onto buns.
Bake at 190 degrees for 20 minutes.
Ready to bake? Share a photo of how you're enjoying your hot cross bun this Easter and tag @williamanglissinstitute to share your moment!
Looking forward to baking for you again next year.