Our Caramelised Apple Crumble Recipe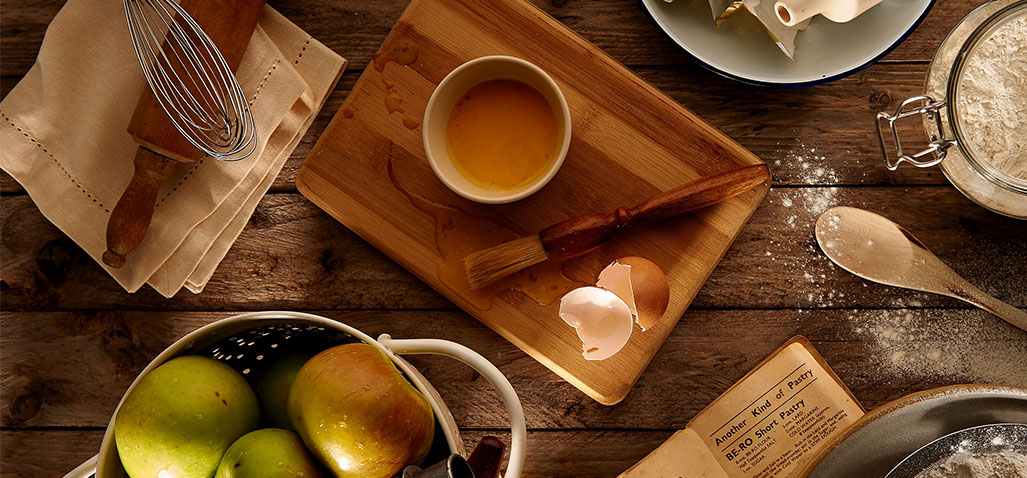 Who doesn't love a caramelised apple crumble? It's always a crowd favorite. And we're excited to share our recipe, the same recipe our students use in class, with you. Impress your family and friends with this chef-approved recipe!
What you need to prepare
Bowl A - Sweet Short Pastry
¾ cup of butter
½ cup of caster sugar
1 egg
To taste - vanilla essence
2 cups of biscuit flour
Cream butter and caster sugar (do not over cream)
Mix egg and vanilla essence, and add slowly to creamed butter sugar.
Add the biscuit flour and mix until just combined (be careful not to over mix)
Shape and wrap in cling film and let rest in the fridge for 30 minutes
The pastry must rest for at least 20 minutes to relax the gluten, this will make the pastry easier to roll and prevent it from shrinking.
Bowl B
⅓ cups of toasted hazelnut
Bowl C
4 large Granny Smith apples
½ cup of caster sugar
½ tbsp of lemon juice
30g of butter
Peel, core and slice apples into wedges (1.5 cm), using lemon juice to avoid discolouration
Melt sugar dry in a saucepan to a light coloured caramel, then add the butter immediately add the diced apples to the mixture and sauté until the apples are lightly coloured and soft
Cool apple mix
Bowl D - Butter Crumble
1 ½ cup of flour
¾ cup of light brown sugar
⅓ cup of granulated sugar
¼ tsp salt
¼ tsp cinnamon
¾ cup or 170g of chilled unsalted butter cut into pieces.
Mix butter, flour and sugars together
Mix salt, cinnamon and vanilla essence on a separate container then slowly add to the first part of the butter crumble mixture.
Let's assemble!
Roll out bowl A to 3mm thickness
Line tartlet cases
Sprinkle lined pastry with cold hazelnut meal
Fill the cold apple mix in a dome shape into the lined pastry cases
Top with the butter crumbles
Bake at 190°C until baked through.
For fun - serve this caramelised apple crumble with a dollop of cream on the side.
Note - If the apple-mix is too runny, it can be adjusted by adding hazelnut or cake crumbs.
We'd love to know how you go with the recipe. Take some snaps when it's fresh out of the oven and tag us on @williamanglissinstitute.
Good luck!