Angliss International Hotel School, the perfect course for a new generation of hoteliers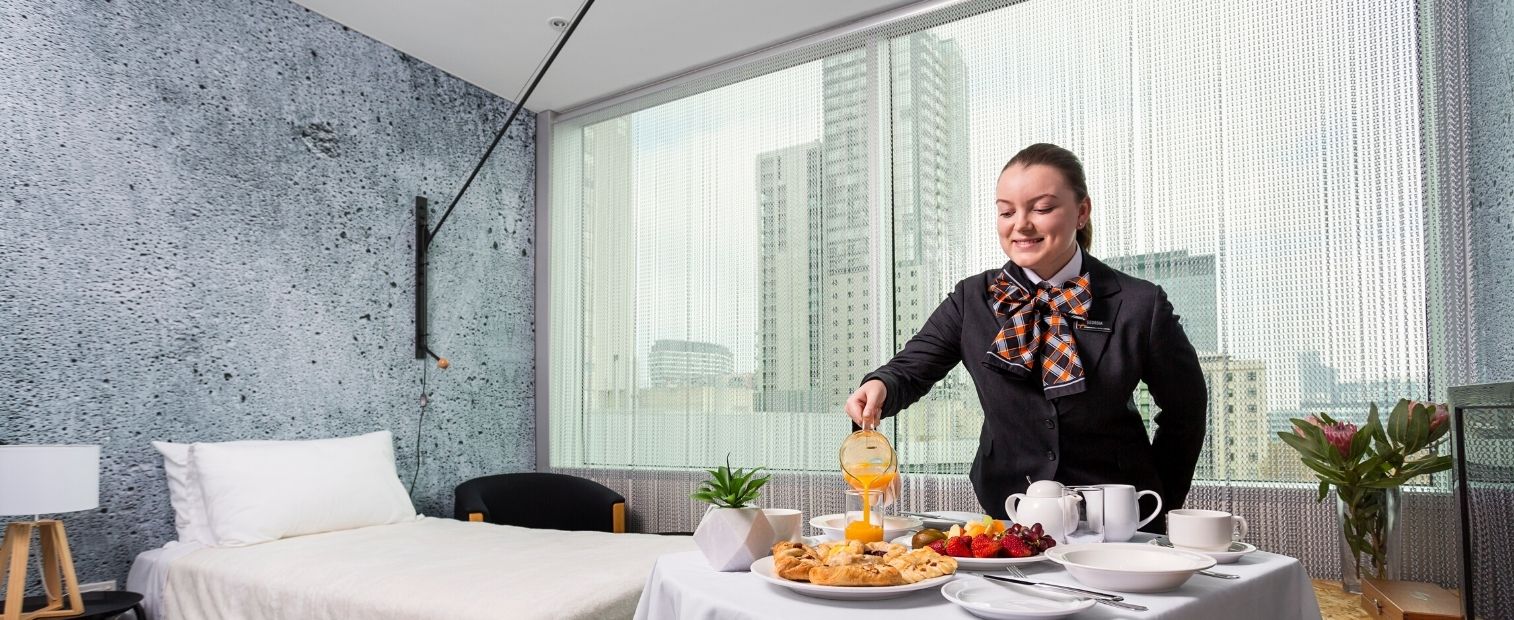 The Angliss International Hotel School (AIHS) Diploma of Hospitality Management (SIT50416) offers students the opportunity to receive the best training and skills, preparing the next generation of hoteliers to a revived and exciting industry.
This one-year diploma includes a guaranteed work placement, meaning students get valuable work-based experience to make them highly employable when they graduate. It also includes exclusive masterclasses and an optional study tour exploring some of Australia's best hotels.
Acting AIHS Program Leader Carolyn Nielsen said the unparalleled learning and work experience of AIHS allows students to get into the industry as soon as possible, taking their service delivery skills to the next level and helping meet staff shortages in the industry.
"Currently, in order to continue to deliver industry-based skills, we have changed our course to include an 18-week Industry Mentoring Program aligned with the industry placement program, until in-person placements are possible again," Carolyn said.
In late 2021, William Angliss Institute will open new hotel training facilities, including flexible, interactive learning spaces to complement the existing simulated hotel facilities and hotel reception training spaces.
AIHS offers four exclusive masterclasses per year. Students learn from esteemed hoteliers and accommodation professionals, with knowledge of the latest international accommodation trends, Food & Beverage & Sales and Marketing. Over the years, AIHS students have gained insights about such diverse topics as Gin and Whiskey, People and Capability, Cuisine Masterclasses and more.
"With our Australian Study Tour, students can opt to explore some of Australia's iconic hotel destinations – this is an opportunity for our graduates to experience major international hotel brands, a range of different properties and hotel categories.
"Students also gain first-hand experience in connecting with General Managers, Hotel Managers, Directors of Sales, People and Culture, Learning and Development, and Directors of Food and Beverage," Carolyn said.
As Australia begins to open up, the demand for tourism is expected to skyrocket, and there's no better time to study. There are around 12,900 rooms scheduled to open in Melbourne in 2022. It's also predicted that the industry as a whole is hoping to see occupancy rates returning to 2019 levels by 2023 (Deloitte Access Economics, 2021) - just in time for 2022's graduating students.
For more information, visit angliss.edu.au

Published 27 October 2021