Thinking of launching a side hustle while you're studying? Kate Hudson, currently enrolled in Angliss' Certificate IV in Patisserie, knows what it takes to run her own small business while working towards a qualification.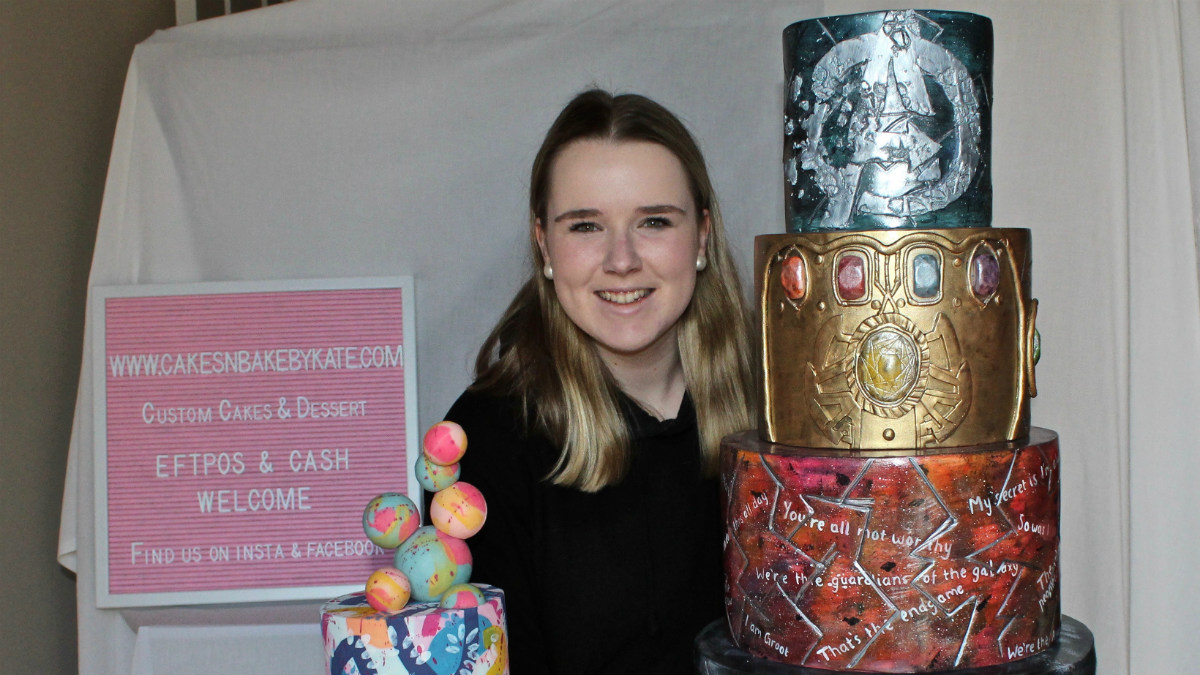 "Creating a business is a major investment financially, mentally and physically," said Kate.
"I still have so much to learn and so much I want to achieve but I'm very proud of the progress I have made over the last few months."
It was a visit to the New Jersey-based Carlo's Bake Shop, the home of the TV show Cake Boss, which provided Kate with the final inspiration for starting her own business. She'd been a fan of the show since childhood and dreamt of making cakes for a living.
Returning from the USA to continue her studies, the aspiring baker launched Cake 'N' Bake By Kate in November 2018. Juggling the demands of a business alongside those of her course, Kate quickly learnt to use her time wisely.
"My commute varies between 4-5 hours a day and I use this time to complete homework, catch up on some sleep or even post my latest cake on my social media pages," she said.
It may sound like a hectic lifestyle but Kate's enthusiasm for cake-making keeps her motivated.
"My business enables me to channel my creativity and passion to transform what might have been an ordinary cake or dessert into a unique work of art for someone's special day," said Kate.
She's also energised by the encouragement she receives from her clients.
"I always find that positive feedback fuels me to keep striving towards my goals and reassures me that I'm doing a pretty good job at what I love," said Kate.
Kate has some valuable advice for students who want to start a side hustle. Chief among this is creating your own opportunities and she's been doing this by selling wholesale macarons and cupcakes to selected local cafes.
The young baker also recommends enquiring with your local council and ensuring your business is registered. Producing all her baked goods from home, Kate obtained registration and certification through her local council to ensure her kitchen was suitable for commercial use.
Kate also believes it's important to know your limits and resist the temptation to overwork yourself.
"The key to balance for me is organisation and planning – I find in any situation the more prepared
and organised I am, the better the outcome," she said.
Kate has plans to open her own cake studio and acknowledges there's much to be done before she can achieve this goal. But her passion for cakes continues to grow.
"The thing I love most about the cake industry is there's always potential for growth and always something new to learn."