Chocolatory life for Angliss graduate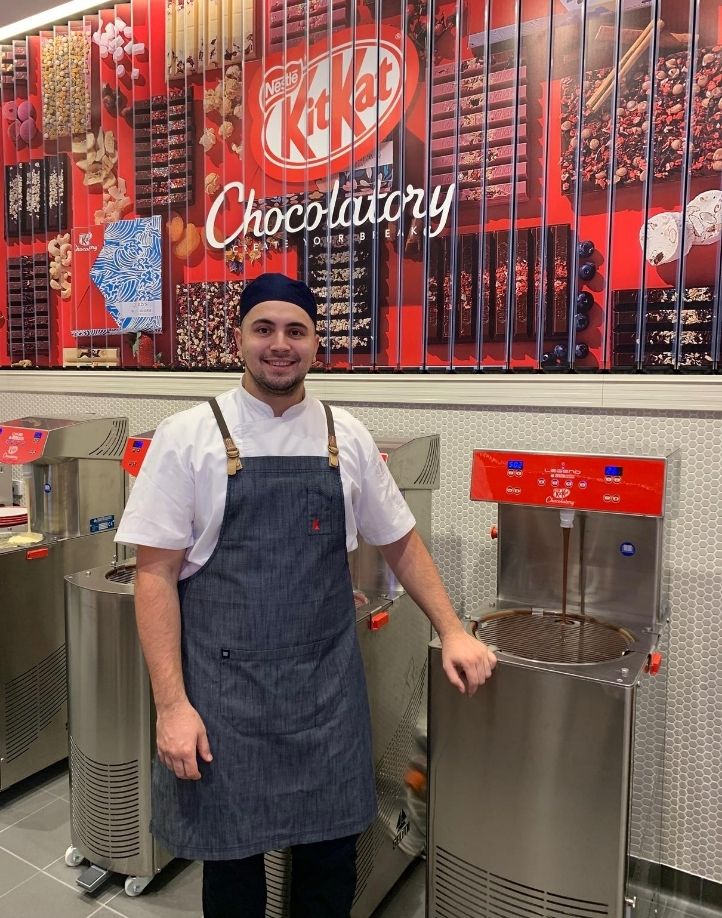 Pastry chef Francesco Ferrante has continued to set the bar high from working among Michelin-starred chefs at Icebergs Dining Room and Bar- to now managing the kitchen at the Nestlé KitKat Chocolatory which is due to open in July 2020.
Francesco Ferrante graduated from William Angliss Institute's Sydney campus in 2015 with a Certificate III in Patisserie. Having studied hospitality at school and countless hours of cooking at home, Francesco wanted to advance his knowledge of culinary techniques which lead him to enrol at William Angliss Institute.
Studying patisserie can take graduates around the world, working in boutique kitchens and patisseries producing sweet treats to delight customers. Students are trained in innovative techniques and are provided with the expert knowledge in patisserie creations required by the hospitality industry.
Francesco's highlight during his time at Angliss was a vocational placement at a KitKat pop-up shop. Francesco and his team created more than 55,000 KitKat bars in just one month. The program provided him with invaluable industry experience, as well as allowing him to develop his chocolate tempering skills.
Currently working as Kitchen Manager at the KitKat Chocolatory in Sydney, Francesco says he is very fortunate to be working in a role which involves his passion for chocolate.
"Stepping into the KitKat Chocolatory is like entering a chocolate wonderland. Our guests can personalise a unique KitKat with our Create Your Break. With 30,000 combinations available, I get to work with chocolate day-in and day-out. We also have a number of specially crafted KitKat Creations which I have the pleasure of designing," Francesco said.
"Studying at William Angliss Institute helped me to get my first job in hospitality at Catalina Rose Bay. Since then, I have worked at some of Australia's most prestigious restaurants. Without the help and connections that I made at William Angliss Institute, I wouldn't be where I am today," he said.
He advises the future generation of chefs and hospitality leaders to "be prepared to put in all you have", but ultimately, if you "study hard, a fulfilling career could be your reward."