Comfort food we're devouring right now
What pops up in your mind when you hear the words comfort food? Mac and cheese, french fries, a tub of cookie dough Ben & Jerry's? Maybe. Comfort food is deeply personal, often tied with a memory, a person, or a moment. We asked our community about what brings them comfort and joy during isolation and here's what they had to say.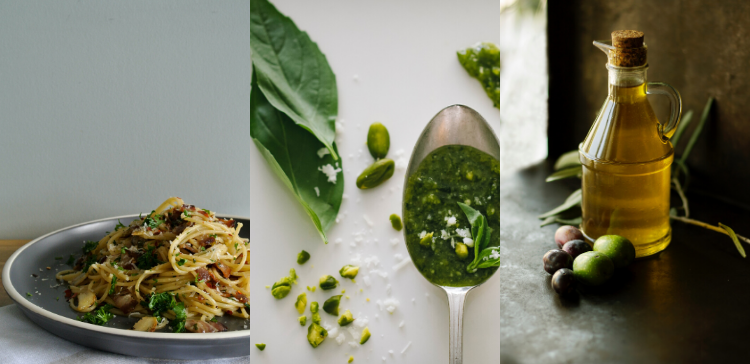 Homemade Goodness
Luke Rogers, our Professional Cookery teacher, is very grateful for his homemade pesto paste from his father. The jar of pesto was gifted back in February, a tradition started many summers ago. He's also making sure his pantry is all stocked up with Otway pasta (perfect pairing with his pesto), crispy chili oil to stirfry with dumplings, sriracha, couscous, harissa, passata and a one of a kind Sri Lankan spice mix from a former Angliss colleague.
We often go to Angela Tsimikilis for baking recipes, but when asked about her comfort food, she's nowhere close to being a sweet tooth. Her go-to comfort food is equally delicious as it is easy to whip up. "I love a classic Spaghetti with olive oil, parsley, fresh lemon juice, garlic, chili with salt and pepper. Of course, grated pecorino to finish, quick, delicious and easy!" What's the secret to a good Spaghetti Aglio e Olio you may ask? Generously salt your pasta water and don't be stingy with your cheese!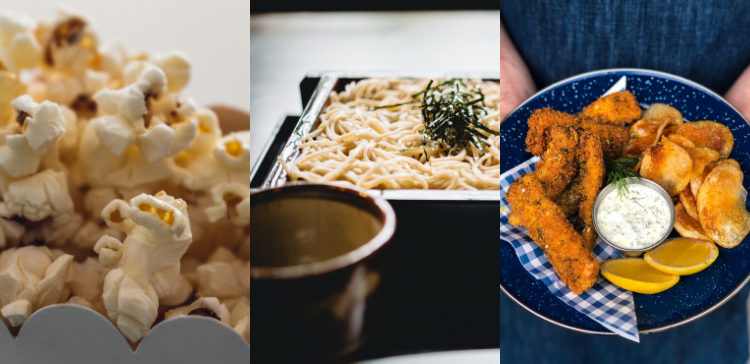 Quick & Easy treats
If you spend most of your time in our Melbourne campus, you'd probably recognize Olivia Soekirno and Sophy Cohen, our Student Opportunities Coordinator and Alumni Engagement Officer. They're responsible for all the fun activities such as orientation, workshops, industry talks and also the important ones like graduation and our annual networking event. Their comfort foods are much like them, efficient and creative!
Sophy's top choices:
McCobb's Cheddar Popcorn paired with an episode of Married at First Sight.
Frozen grapes (washed and picked off the stems) for a refreshing low calorie icy cool treat!
Arnott's Mint Slices (try not to eat the whole pack in one sitting)! The gooey center is the hero of the snack. Whatever you do, don't try freezing them - it loses the experience.
For Olivia, instead of listing her comfort food, she listed her pantry staples that can bring a sense of comfort when you know you have them.
Miso paste, perfect breakfast or snack. To up the ante, you can add some scallion, seaweed, and tofu.
Chilli flakes
Spaghetti
Frozen dinosaur nuggets.
Rice, of course.
Lastly - toilet paper. Not for your pantry necessarily, but we hope you have some to last for a week or two!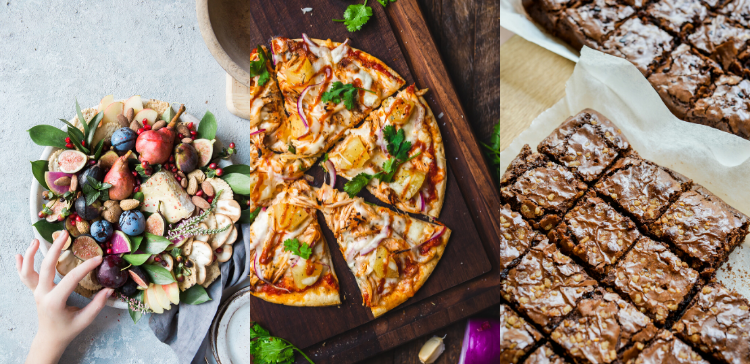 Healthy...ish
For our last round, we have Sara Jaffer and Erika Munoz, who you might've met during a campus tour or at an educational expo. Sara, our Marketing and Future Student Coordinator, has a gluten intolerance and has all sorts of clever hacks when it comes to tasty treats:
Homemade pizza with a GF base, sauce of your choice and lots of cheese!
Air fried french fries
GF and flourless brownies by Kez's Kitchen. If you're dabbling in GF snacks, Kez's Kitchen line is a great place to start.
And don't overthink it, a cup of tea, biscuit enjoyed with a good show to binge.
Erika's top picks are also easy to get and can be shared with your family or housemates.
A platter of cheese and crackers
Cheese toastie with tomato, avocado and pesto
TeeVee snacks, especially the orange box (Malt Sticks) – very addictive.
Greek Yogurt with honey + granola and lots of strawberries or frozen yogurt.
What's your go-to comfort food? Whether you get it delivered now from your favoruite restaurants or have a recipe of your own - share them with us on Instagram and we'll feature you on our stories!
Published 14 April 2020
Images via Unsplash