Cookery student finds joy stepping out of her comfort zone
Cookery student and recent Bake Off Competition winner Henny Puspita has been doing her training online - including the practical aspects
Before the pandemic hit, Henny was working in one of Melbourne's iconic laneway restaurants, CODA as their Pastry Chef. There she met many talented chefs who pushed her to broaden her culinary skill sets. It wasn't an easy decision, but Henny gathered the courage and enrolled in our Certificate IV in Commercial Cookery course. "I've loved every second of it, and it made me realise that there is so much to learn and experience in this industry," she said.
Typically, a cookery student would be busy mastering various techniques in Angliss's kitchens. However, when remote learning became mandatory, Henny worked on understanding the theory portion of her course delivered via Zoom. With four classes a week, it's been keeping her busy and helps her connect with her classmates.
"At first it was challenging, but I think we are getting on top of things! It's sad not seeing each other in person, but I'm very grateful to have supportive classmates and teachers. My teachers Gabi McCarthy and David Gilligan have done an amazing job in helping us get through this difficult time together," Henny said.
To get students like Henny engaged, teachers are coming up with exciting ways to keep the learning fun. This has included a vegetable garden tour, food challenges and having quizzes based on the dishes featured on Netflix's Emily in Paris.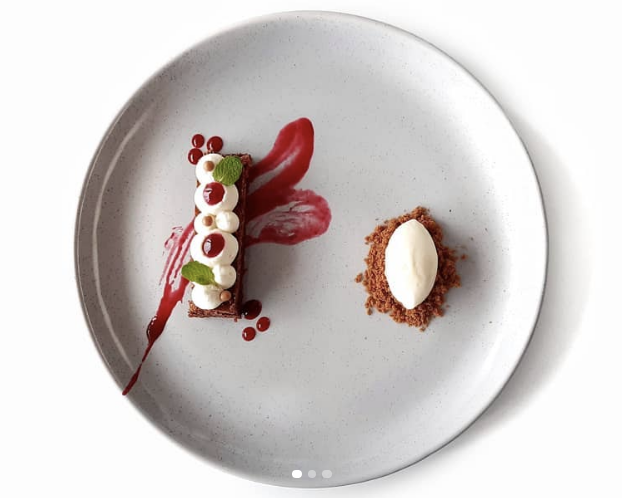 Class challenge - rhubarb, strawberry, caramelized white chocolate mousse, basil oil, pate sucree.


Quick Questions with Henny Puspita
Are you involved in any student clubs at Angliss?
I've joined PPIA – Perhimpunan Pelajar Indonesia Australia (also known as the Indonesian Student Association). I've met new friends from all over Indonesia, and I really recommend Indonesian students to join the club!
We love seeing your creations online, what's next on your list?
I would love to join more competitions or create more content and tutorial videos on my Instagram. I'm experimenting on different techniques, and flavour combinations so stay tuned and follow creme.et.sucre if you haven't!
What brings you joy during this challenging period?
The pandemic has been really challenging, both mentally and financially. As an international student, I rely heavily on working part-time to support my expenses here in Australia. So I'm really grateful for all the help I've received from both the Institute and the government. This moment in time has brought me closer to my family and friends. It has also given me some time to rest and try new recipes at home.
Now that restrictions have eased, what's on your list of places to eat?
I am really looking forward to dining in Melbourne's best restaurants and to catch up (safely) with friends who live further away. The restaurants I would like to visit are:
CODA
I only worked there for a couple of months before COVID-19. During service, my co-workers would give me a small taste of the menu items, and they were amazing! I'm hoping to dine in there for my birthday!
Korean BBQ
I don't have a specific restaurant in mind yet because there are too many Korean restaurants in the CBD! I just love a good Korean meal with their generous side dishes and a glass of soju perhaps.
Brunch
I can't wait to dress up on the weekend and have brunch with my friends. My favourite so far would be Humble Rays with the Egg Benny, but I feel like exploring other places too!