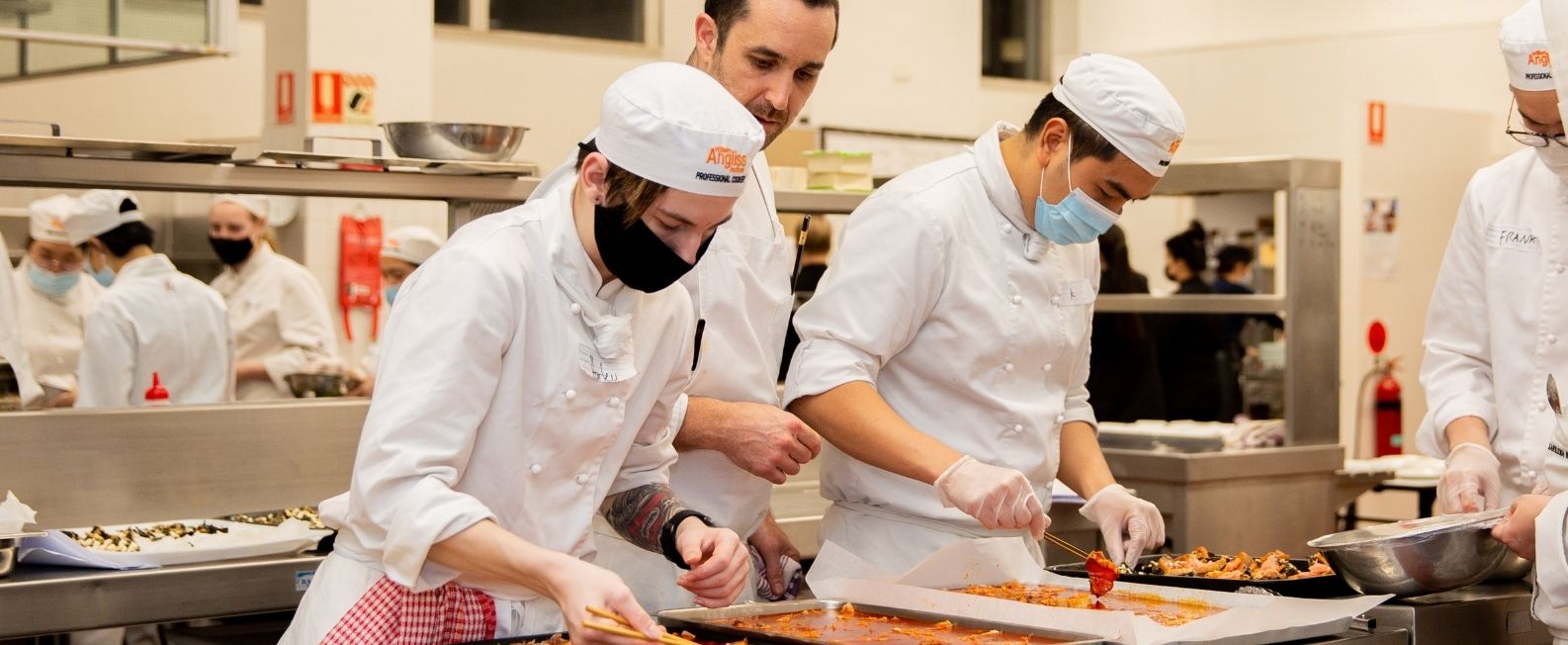 The renowned William Angliss Institute Great Chefs program is back in 2021 with chef Ben Pollard sharing his expertise with students in the first event of the season.
The Great Chefs program first commenced in 1994 with industry-leading chefs and restauranteurs coming into the Angliss Restaurant to give professional cookery students first-hand experience and exposure to the latest techniques and cooking methods being used by the best in the business.
Chef Ben Pollard's menu for the evening included an entrée of Jerusalem artichoke and kale and for main a soy braised chicken with prawn eggplant and shaanxi vinegar, drawing on his experience working as Culinary Development Chef across the entire suite of Andrew McConnell's Trader House Restaurants (including Cumulus Inc., Supernormal and Gimlet at Cavendish House).
Ben's creative skills and extensive knowledge are currently put to use spearheading the development of new dishes that span a slew of different cuisines, from gastro-pub to contemporary Asian and modern Australian.
"Throughout my time in Melbourne I would often dine in Andrew's restaurants, so when I returned home from working in China, I was drawn to the consistency and success of such an established collection of restaurants. To be a part of that continued success is something I am really excited about," Ben said.
Great Chefs events are a way for many Angliss students to gain practical experience with a live event on campus. Diploma of Events students manage the event and styling while hospitality students work front-of-house managing the wine and drink pairing with the menu.
Many industry-leading and celebrity chefs including Jacques Reymond, Guy Grossi, Scott Pickett, Frank Camorra, Annie Smithers and Ben Shewry have all designed menus and cooked with Angliss students to deliver four-course meals matched with wines for guests as part of the program.
The chefs who attend the events each bring their own menu to cook with the students, sharing their tips and techniques. The food is then matched with wines suggested by the Institute's wine education teachers, in collaboration with the students.
Twenty-five years on, Great Chefs continues to be the most successful program of its type in Australia, fostering communication, connections and networks between students, teachers and the hospitality industry.
For the next Great chefs event visit angliss.edu.au/restaurants-events/great-chefs/