Angliss grad joins iconic Mya Tiger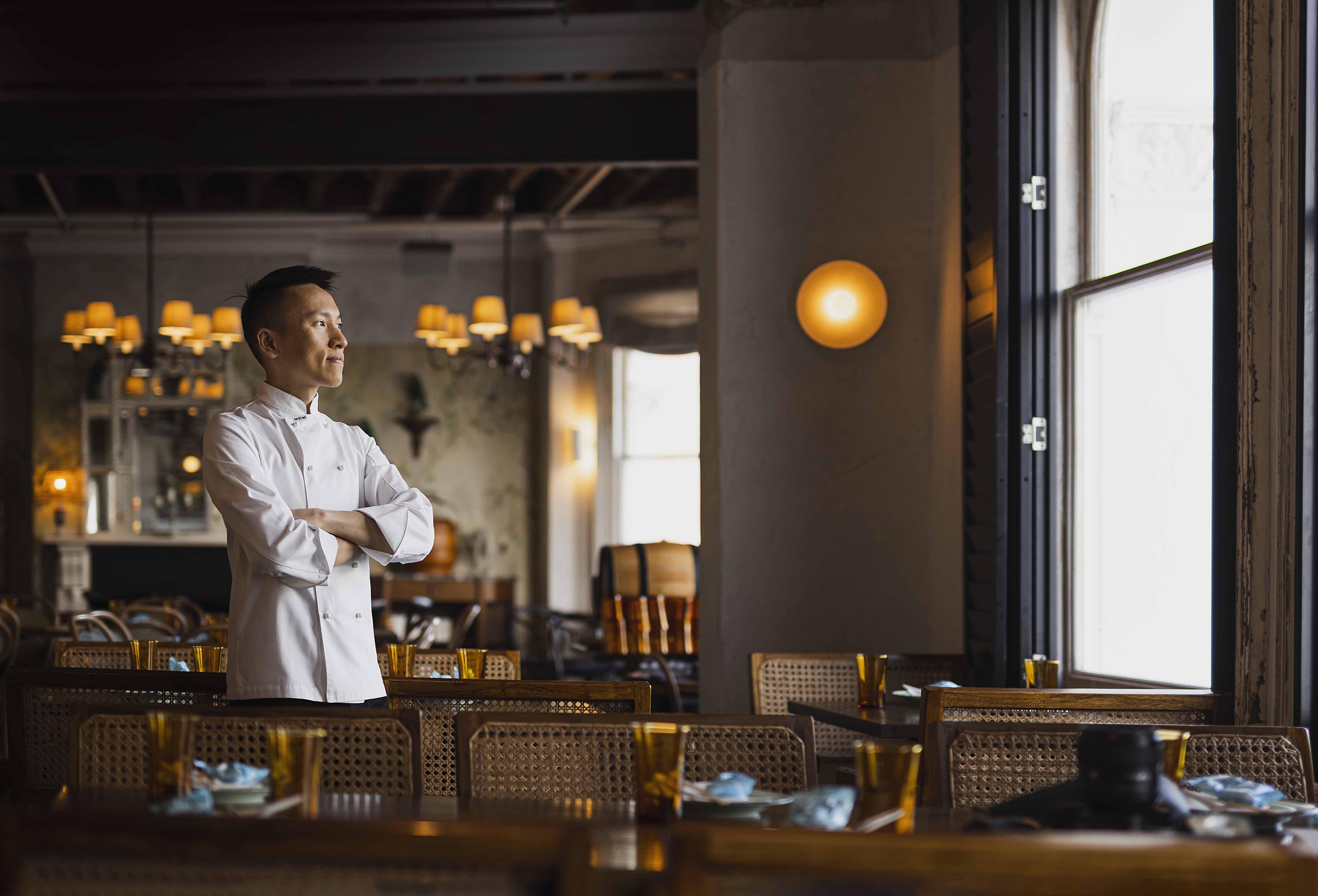 Henry Pun is a young chef forging his way through the trying but ultimately rewarding career of hospitality. The buzzing Mya Tiger in the newly refurbed Espy Hotel St Kilda is a far cry from Henry's former work as an accountant. We spoke with Henry about his experience of campus life during his Certificate IV in Commercial Cookery and Certificate IV in Patisserie, his role as a student representative, and his current Commis chef role with a dynamic team.
Henry, how did your course prepare you for working in the hospitality industry?
There are many passionate instructors at William Angliss who have been or are still currently in the industry, sharing their experience and knowledge with students.
The teachers put a lot of effort into making sure that we, as students, understand both the practical and theoretical side of being a chef. Being able to be trained by them has very well equipped me with the skills and knowledge needed to enter the industry very smoothly.
How did you make best use of support from Student Services while you were at Angliss?
If there wasn't a student service centre, I don't think I would have made it through my course. They have been one of my supporting anchors throughout my studies. They have always welcomed me to just relax in their office and catch up for some chit chat, answering questions regarding scholarships and opportunities, assisting me with starting my own student club, and helping me excel in every aspect of leadership and personal growth. I am very thankful for them.
You were a student representative at Angliss. What did this role involve and did it help you to prepare for working in the hospitality industry?
I took upon the role of VET Student Representative for the year 2018 which involved reaching out to the VET student body of the institute, collecting feedback on what they would like to see, collaborating with teammates to set up student activities such as movie nights, bowling and laser tag, planning the End of Year Ball and many more. I also had the opportunity to sit among industry leaders and school boards to report and discuss institute related topics. I was in charge of driving a more successful student involvement for years to come by acting as the voice of the VET students.
I wanted to do something out of my comfort zone and taking on this role helped push me in the right direction. Being able to see results and make new friends along the way was a very satisfying part of this new journey. This role has strengthened my confidence to transition into work in the hospitality industry.
You now work at Mya Tiger in the famous Esplanade Hotel as a Commis Chef. Tell us about your experience there.
Working at Mya Tiger has been a blast for me! I work alongside with a great team of chefs and since many of us are new graduates, we tend to work very well together, supporting each other, learning from each other, and helping each other grow. Since the reopening of The Espy, we've been given a lot of opportunities to experiment and get creative with new dishes as we're continually tinkering with the menu. The Espy's parent company, Sand Hill Road, also encourages career growth and staff involvement, so there is always a training session or masterclass where we can sign up for and pick up new skills.
What are some of the highlights of working at Mya Tiger?
Our great team of chefs here at Mya Tiger includes many fresh graduates, so there's no high egos lurking around. Everyone is on the same playing field and everyone is helping each other, supporting each other, and growing together. This makes the working environment very positive. We are very well taken care of and the company provides us with a lot of room and opportunities for growth and advancement in our career. We all know how to have fun and enjoy ourselves in the kitchen as well as working hard when the time requires us to push.
What do you find challenging about working as a chef?
You will be standing and lifting heavy things all day long. Tensions will run high when the service is not going smoothly and at times it can be a struggle to keep up the pace. You will have irregular hours and with any extra time that you have, you will feel like sleeping in and getting as much rest as you can. I wake up every morning looking forward to going to work – and even though it's challenging, it is the most satisfying feeling after the dinner service is done and you know that you have brought a lot of joy to your customers.
What are your top 3 tips for working in a commercial kitchen?
Keep yourself mentally, physically, and spiritually in shape. The tension of working in the hospitality industry will creep up on you and if you break down, not only will your health go, but the team will also lose a valuable player.
Take every opportunity as a learning experience and be excited about it! The worst attitude is to keep holding onto negative baggage.
Whatever you do, work at it with all your heart. Form good habits, work hard, and have fun.
Published 22 January 2020