IRON CHEF INSPIRES STUDENTS IN WAGYU MASTERCLASS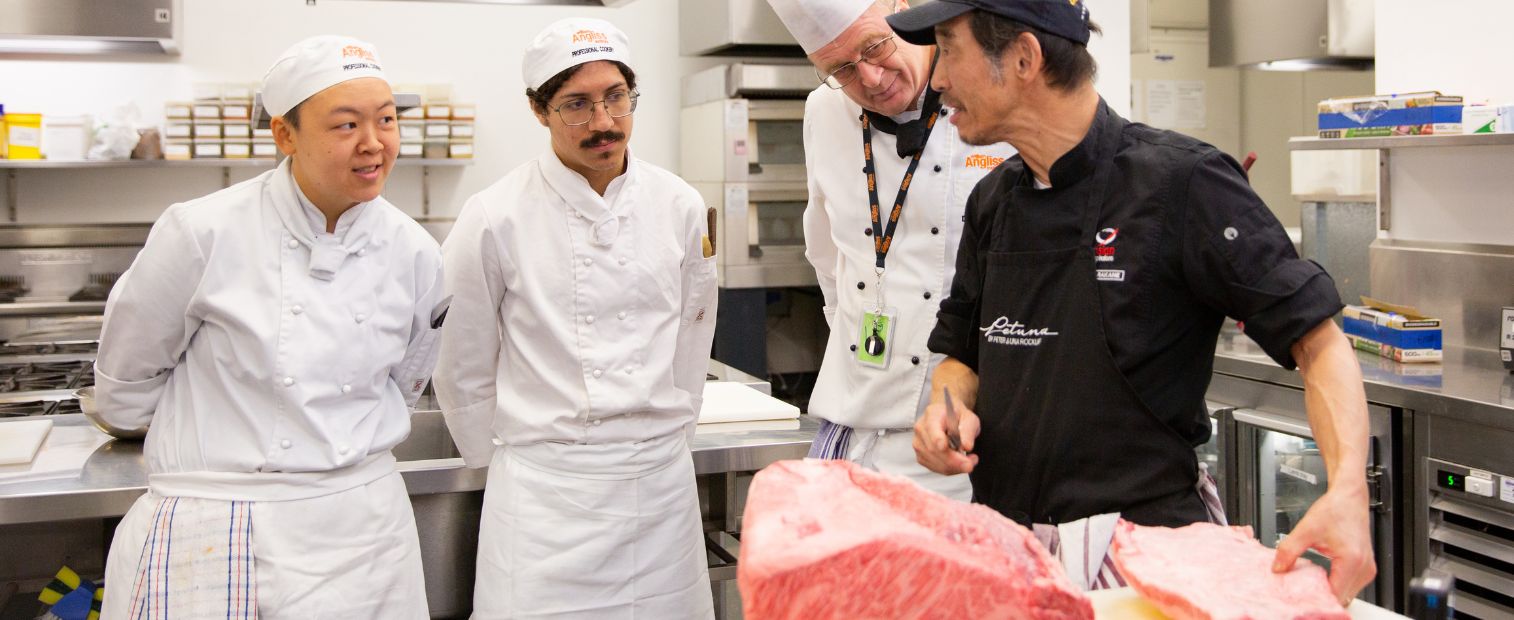 Having the opportunity to see, touch, slice, cook and taste premium imported Nagasaki Wagyu Beef under the guidance of world-renowned Iron Chef Ikuei Arakane was a highlight of the Nagasaki Wagyu Masterclass and Tasting Reception.
With a career spanning over 30 years, the Iron Chef also known as Chef Kinsan was very impressed with Angliss students saying, "They showed their passion for learning and cooking and asked many questions showing their enthusiasm to learn about how to prepare and cook Wagyu beef."
Run by professional Cookery teacher Chef Dale Lyman, the masterclass enabled cookery students to experience Nagasaki products in creating dishes including: Nagasaki Wagyu Yakiniku Style and Nagasaki Wagyu Beef Stew Doria.
"Having such esteemed Chefs teaching our students, shows that Angliss is current and relevant to industry and that we value extra learning opportunities for our students," said Dale.
'Nagasaki Wagyu' is a general term for Japanese beef cattle breeds produced in Nagasaki Prefecture. The secret to the deliciousness of the beef is in the marbling or juicy fat found in the soft texture. Wagyu beef is a premium product with a premium cost as it is rare and very expensive to produce.
Chef Kinsan added that it's important for aspiring Chefs to learn how to use Wagyu Beef from Japan. "In Australia, beef like porterhouse or eye fillet is delivered already cut. This Masterclass showed students how to clean a cut of meat, prepare, cook and then how to present it as well."
Certificate III in Commercial Cookery student, Jose Cardona, was excited to attend due to the high reputation of Chef Kinsan and the quality of the product. "I knew this masterclass was all about Japanese cuisine, which is one of my favourites, and I wanted to learn more about my passion," he said.
He added that Chef Kinsan has a lot of wisdom and knowledge about his cuisine, techniques, ingredients and flavour combinations. Asked what else he learnt, Jose replied, "Towards the end of the class, he talked to us about being a chef and explained that you must feel good working in the industry, and look for a place that fits your needs, and most importantly be happy doing it."
Van William, who is also Studying Certificate III in Commercial Cookery explained, "It was a rare opportunity to be able to learn how to cook Wagyu beef from an Iron Chef plus he gave us many tips on how to work in a kitchen."
Consulate General of Japan in Melbourne Mr Junji Shimada was also in attendance and welcomed guests to enjoy the Nagasaki products and tasting menu. Chef Kinsan is a 'Japanese Cuisine Goodwill Ambassador' assisting the Consulate General in promoting Japanese foods.
This Nagasaki Wagyu Masterclass and Tasting Reception was organised by the Nagasaki Prefecture, Tryber Pty Ltd and Angliss.
Masterclasses that link elite chefs and students are a regular feature of the opportunities at Angliss.
Enrolments are currently open for the July intake. Visit Cookery to enrol, contact us at +613 8595 5334 or enquiry@angliss.edu.au
Published 4 April 2023