Iron Chef excites in the Angliss kitchen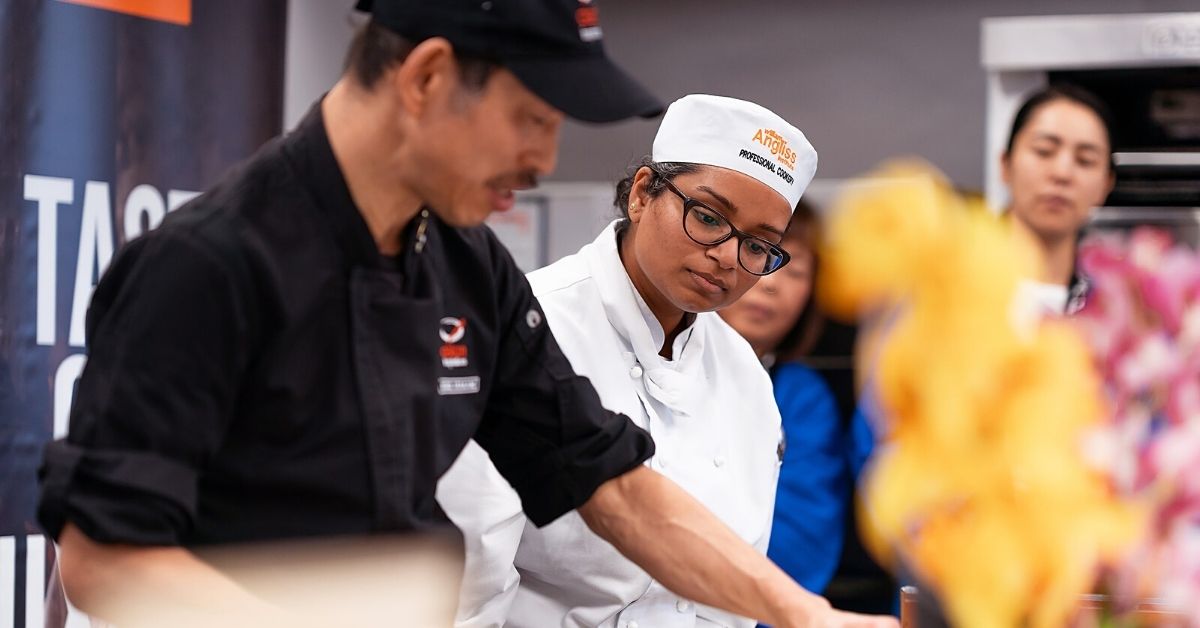 William Angliss Institute welcomed world-renowned Iron Chef Ikuei Arakane to its Melbourne campus as he put on a masterclass in Japanese fusion cooking for our culinary students.
With a career spanning over 30 years and the mastermind behind some of Australia's most successful venues, the charismatic chef known as Kinsan delighted students by producing delicacies using unique Japanese ingredients from the Tokushima region of Japan.
Famous for his modern and innovative takes on Japanese cuisine and his active promotion of Japanese culture, Kinsan enjoyed sharing his expertise with the select group of budding chefs. "Sharing food, culture and knowledge with the next generation of chefs is very satisfying for me – when those sharing my food are happy, then I'm happy. Food has no border so sharing Japanese style to Australian food culture is important", he said.
Also in attendance was the Consul-General of Japan Mr Junji Shimada who sampled the menu, featuring Japanese citrus and Sake paired with oysters, octopus and pizza. Live crosses to Japan allowed the audience to meet the growers, farmers and producers of the unique ingredients while Kinsan, the brains behind The Glass House in Tasmania and Koko and Taxi Dining Room in Melbourne, demonstrated his creative prowess.
Director of International and Business Development Wayne Crosbie said it was a wonderful demonstration of the hands-on opportunities our students experience. "The Institute has enjoyed many years of collaboration with award-winning Chef Kinsan and it's a pleasure to host such a high calibre chef offering valuable insights to our students. We are also grateful for our long-standing relationship with Japanese food importer Tryber, making events like these possible," he said.
Professional Cookery Teacher Chef Dale Lyman orchestrated the masterclass with students Claudia Milano and Clea Fernandes shadowing Kinsan. "Kinsan is very generous with both his knowledge and his food. He took the time to teach us about the ingredients, utensils and techniques and shared amazing recipes with us," Clea said.