(Japanese) Strawberries and cream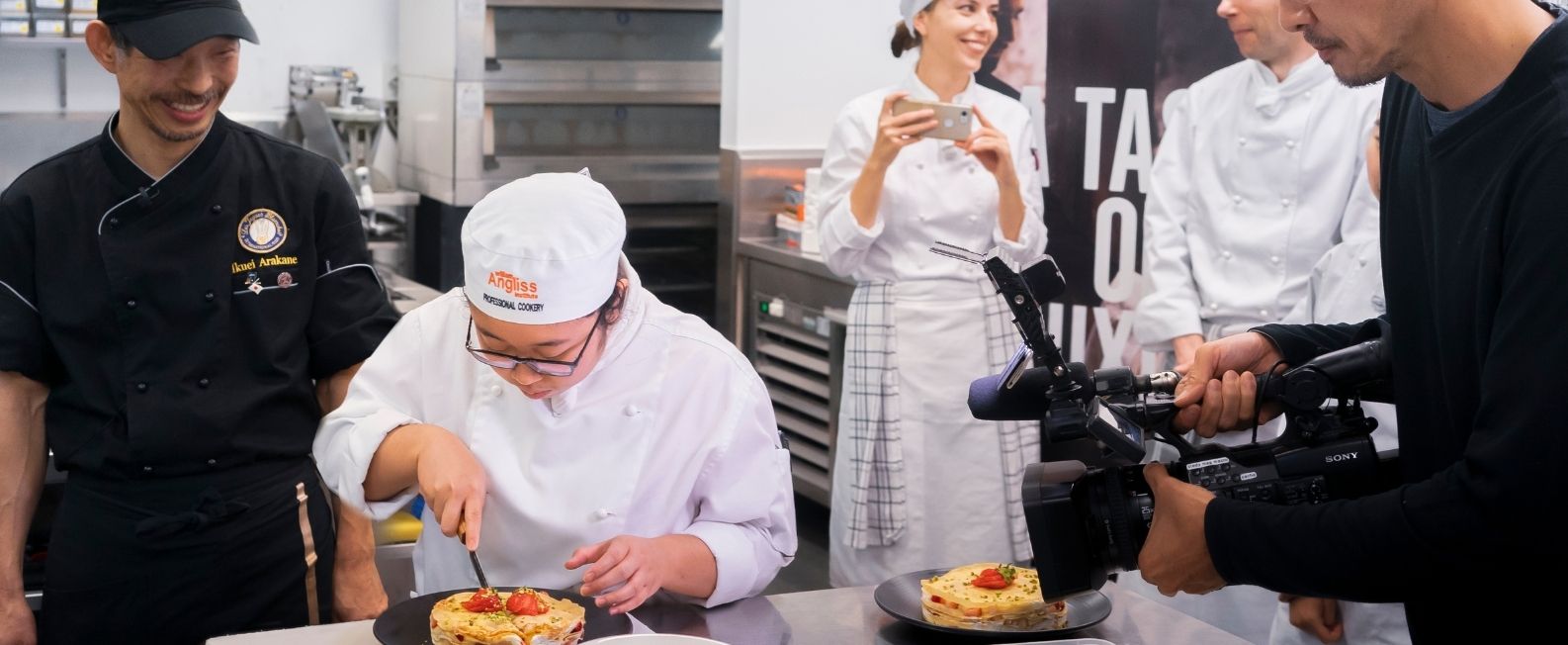 The Bistro at the Melbourne campus was beaming with a class full of culinary students and a Japanese film crew as Iron Chef and William Angliss Institute favourite Kinsan plated up some amazing dishes in front of the camera.
Armed with a fresh import of prized Japanese strawberries, Kinsan returned to the Angliss kitchen producing decadent delights as a Japanese television crew filmed the Iron Chef in action for the famous TBS channel in Japan. Set to air in Japan on a popular morning television programme, Asa Chan, the segment features Mark Normoyle and the Angliss students and highlights the demand for succulent Japanese strawberries in Australia.
Studious budding chefs from the certificate III and IV commercial cookery class watched on as the world-renowned chef shared skills and techniques, showcasing his signature fusion flair to produce a strawberry crêpe mille-feuille and strawberry peppercorn flambé. Final year commercial cookery student Sinead Holmes said watching Kinsan in the kitchen was incredible. "He is so fast and skilful, it's eye-opening and so beneficial to our classes", she said.
William Angliss Institute's relationship with the highly-skilled and generous Chef spans over 15 years. "Kinsan is one of the best chefs I've worked with, his attention to detail and quality are unmatched," said Professional Cookery Teacher Chef Dale Lyman. "Being so knowledgeable and always friendly, patient and generous with his time, Kinsan is a favourite with our students."
The high-quality strawberries, originating from the Gifu prefecture of Japan, differ from local Australian strawberries and boast full, soft flesh and an intense sweet flavour. The strawberries will be available for purchase in Australia in the coming months from Japanese speciality food stores.