Live Speed Networking builds industry connection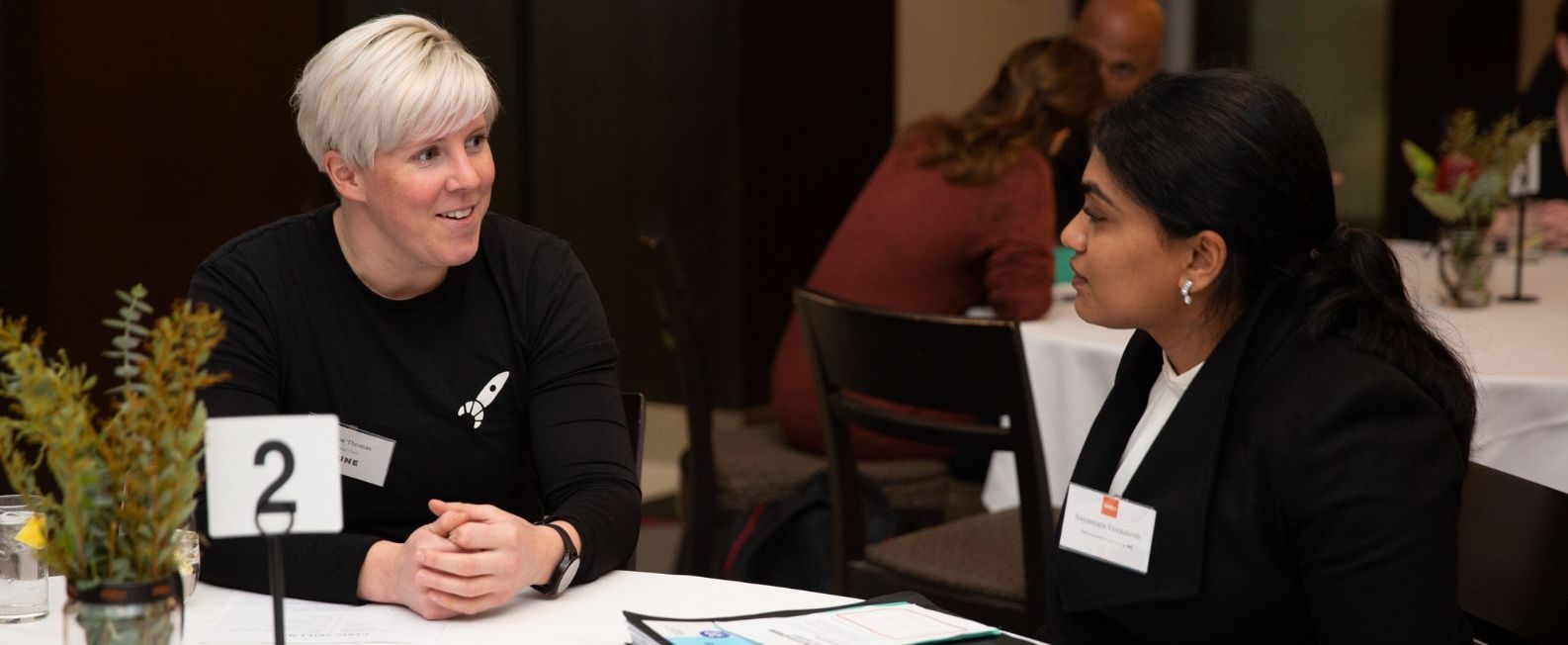 Two nights of speed networking in the Angliss Restaurant gave students the opportunity to rub shoulders with the best of the best in industry. Speaking directly to directors, business owners, recruitment managers and specialist staff, many students gained new insights into their future industries, and built on their professional networks.
The events provided students enrolled in the food, hospitality, tourism and event specialisations with opportunities to meet some of the industry's biggest players.
Students met with industry representatives from more than 30 companies including Altara, Barcats, City of Melbourne, Lucas Group, Delaware North, Federation Square, Park Royal and The Big Group.
Armed with resumes and advised to dress to impress, students participated in structured networking sessions designed to provide them with insight into professional experiences, career pathways, and recruiter mindsets.
Industry representatives shared their insights into how to start a career across a variety of fields and expressed interest in meeting individual students for a range of job opportunities.
Fetching Events & Communications founder Georgie Stayches said, "Curiosity is one of the most important soft skills for event managers and it was out in spades at William Angliss Institute Speed Networking event. It was great to chat to the event stars of tomorrow and answer their questions as they start out on their careers. The questions people ask can tell you a lot about them and there were some fabulous ones tonight!'
City of Melbourne prosperous partnership officer Bennett Pascoe said it was great to be back at William Angliss Institute supporting the next generation of future tourism stars.
"It's so critical we have higher education pathways into tourism, events and hospitality right here in Melbourne to fill the skills gap and support our recovery! Based on the calibre of students tonight, the future is bright,' Bennett said.
Students left the event with a range of professional contacts and a sense of excitement regarding their career paths.
Cookery student Shelantha Fernando said there were a wide array of diverse industry representatives which helped broaden his existing knowledge about potential career pathways.
"After the event, I took a step back to think of other potential career opportunities in the food industry. I got to learn more about the different work practices and operational structures, making me think of which type of organisation will best suit me for the future. I also met some fantastic representatives who were eager to get me on board in their teams!
"What I learnt was to never limit yourself to only one goal. It is great to have an ultimate goal but make sure to have back up plans or goals that can be altered or amended along the way - I also learnt that connection is key simply on the basis that many of these representatives were Angliss graduates too," Shelantha said.
Angliss' Careers Coordinator Jia Song was pleased to see the event back on campus after the virtual events on 2019.
"At Angliss, we differentiate ourselves with these events which are designed to connect our students with industry," said Jia.
Students can participate in additional networking opportunities through the year, including on Thursday 9 September at the Careers & Employment Expo.
This is our biggest annual careers event providing an opportunity for students to meet industry, explore career pathways and apply for jobs. With around 30 employers on campus, students have a chance to network, ask questions and explore a range of career options.
Visit angliss.edu.au to register for the event.