Melissa's love for travel sparks a dream to change the tourism world for the better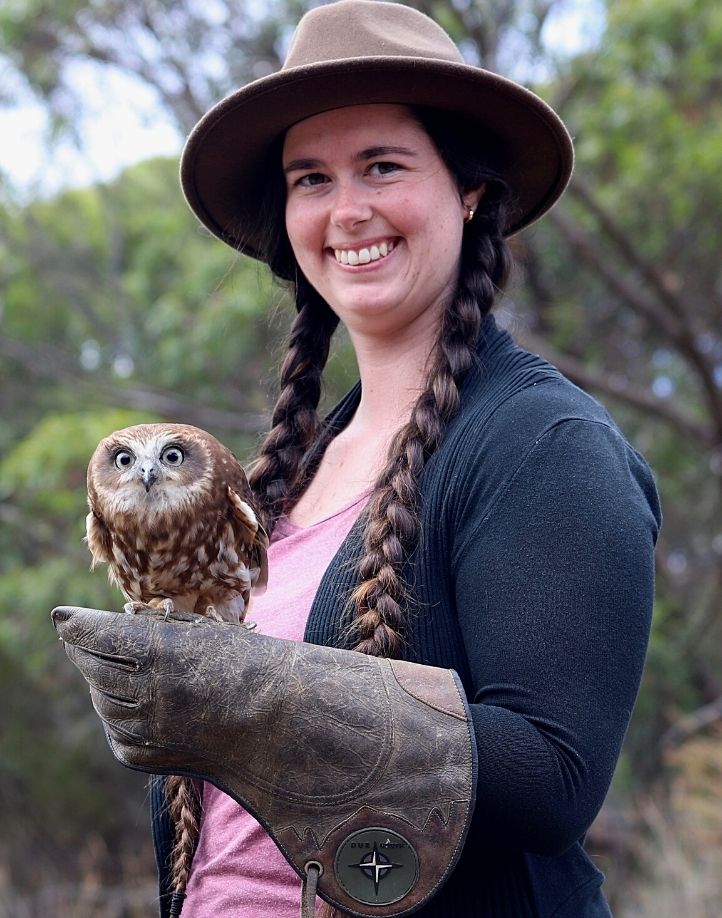 Bachelor of Tourism (Ecotourism) student Melissa Adamson caught her first long-haul flight when she was a 1-year-old baby and the travel bug's never left her!
For many, travel is all about visiting idyllic glossy destinations, but for Melissa, a discussion at high school during a geography class about the dark side of tourism changed her perspective. After peeking behind the curtain, she knew if she were to pursue her passion for travel, she wanted to be involved in creating an enjoyable and ethical travel experience.
"I was very naïve going into this unit, as I never really considered how tourism could ever be perceived as 'bad'. In class, we discussed the negative impacts of cruise ships on developing countries' local economies. This left a long-lasting impression on me - that many countries would be much better off without foreign operators and investors. Instead, we can improve this by making sure their revenue stays within their local economy with tourism activity remaining locally empowered by local residents," said Melissa.
Melissa thinks this is a win-win for both the visitors and the destination as a whole.
"I'd love to see more concrete changes through regulation or education within destinations that are vulnerable to having their tourism assets being taken advantage of. This can lead to improvements in many areas, such as peoples' livelihoods and support around their own tourism operations".
It's no secret that some parts of the tourism industry require a massive overhaul. Organisations such as Intrepid are paving the way to make ecotourism and ethical tourism popular and accessible. Angliss students learned about this at length when Co-Founder of Intrepid, Geoff Manchester spoke to them about Intrepid's role in reshaping elephant tourism in Thailand.
Apart from being busy with studies, Mellissa is also part of the Young Tourism Network (YTN) as their Marketing & Social Media Coordinator. YTN is a hub for young Victorians with a passion for tourism, travel, hospitality and the events industry. The perfect organisation for students and young professionals to network and collaborate.
"Since becoming a YTN member, I can finally see myself working in the industry. Particularly during a turbulent year like 2020, it has been incredibly inspiring to meet and listen to friendly individuals who have already established themselves in this industry. I also gained my first tourism-related experience as YTN's Committee Observer."
As YTN's Marketing & Social Media Coordinator, Melissa's busy writing reports, reading articles, curating content and interpreting YTN's analytics. And don't forget, Melissa's also studying full-time, so juggling all of this is definitely no small feat!
"To avoid burnout, I make a conscious effort to allocate time towards activities that fuel my creativity. For instance, I start every morning by being active (i.e. doing yoga, a workout or going on a walk) and end the day reading a book (fiction is my chosen genre). I also love to create art, photography, spend time in nature and write out my ideas in a journal."


Rapid-fire questions with Melissa Adamson

Top three places on your bucket list and why, go!
Greenland – for its remote and rugged beauty, spectacular glaciers and ice sheets, to learn more about Greenlandic Inuit culture and see the aurora borealis (Northern Lights).
Great Barrier Reef – so that I can witness and immerse myself in the world's largest coral reef system. I'd particularly love to do so on a liveaboard scuba diving course that takes you to the reef's private sections to dive.
New Zealand – Extremely diverse natural landscapes, various amazing hikes and more affordable skiing - what else can you ask for?
What's you top three places you love to recommend in rural Victoria?

Seeing I'm a little indecisive, I'll give my recommendations for three different landscapes everyone must experience in Victoria:
Coastal
90 Mile Beach
Wilson's Promontory
Great Ocean Road
Mountainous
The Grampians
High Country/Alpine region
Rainforests
Any advice you can give to someone who's thinking about pursuing ecotourism?

Keep an open mind about what you want to do after you graduate. It is very tempting to decide on one specific position, however, you'll potentially reduce your options if you choose a niche position too early. Tourism is a vast industry, and you may overlook a potentially perfect role you've never heard of before.
Don't limit your thinking of ecotourism to just nature tourism and sustainability. Ecotourism is much more than just looking at environmental impacts. It's about the interconnection between ecological, socio-cultural, and economic factors. No destination can be truly 'sustainable' if they ignore any of these factors, so neither should you if you're pursuing a career in ecotourism.
Stop considering yourself as a 'tourist' and start treating every holiday or destination you visit as a potential case study. You learn a lot about the tourism industry when you're travelling, especially when you adopt a student's curiosity.