Menu-based learning gives students real work experience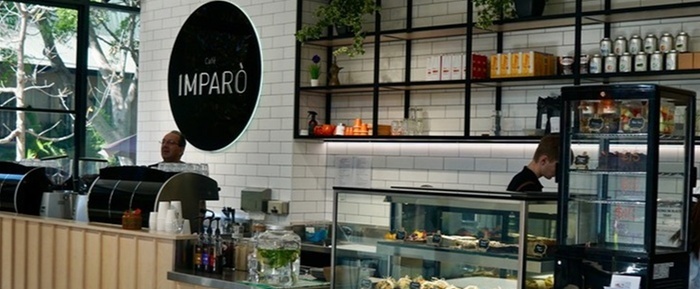 William Angliss Institute's Café Imparo on Bowden Street in Sydney could be considered a classroom like no other.
Here, Stage 1 commercial cookery and patisserie students are serving up a storm with delicious menu items like chocolate mud cake, vanilla slices, pasta of the day, pumpkin and goat cheese salads, and even the sumptuous Reuben sandwich.
The student-run cafe, which is also open to the public, has been developed by William Angliss Institute's team of trainers to give its students real-life experiences, which quickly prepares them to be ready to start their career in industry.
Chef Josh Michel, currently Acting Head of Campus NSW said,"At the Sydney campus, we have developed a menu for our cookery and patisserie students that directly links to the customer service experience in our Café Imparo. The café's menu is mapped to the learning outcomes of the training package, which ensures all students are working towards real-world solutions."
Every item on the menu is taught as a part of the learning program's structure. Menu-based learning such as this provides all students with the opportunity to practice and refine their skills, while building their portfolio of evidence.
Josh continued, "This learning philosophy is replicated in Stage 2 of the 18 month Certificate IV programs, where the students move forward and learn more delicate and difficult menu items that are akin to restaurant fine dining experiences. The students in Stage 2 work towards three weeks of service periods in Restaurant Rubric, which again allows them to replicate and apply their menu-based learning principles for real customers with a five course degustation menu mapped to units such as specialised foods, meat, poultry and seafood."
To celebrate diversity, Café Imparo has the Student Special, which is a unique opportunity for the students to showcase a dish from their homeland or a classic dish they have grown up with. Some classic dishes have included nasi goreng, Massaman curry or Greek pasta bake pastitsio.
Josh remarked, "For the sweet tooths, our Stage 1 patisserie students showcase fresh pastries or assorted gateaux, tortes and cakes. We are becoming famous for our carrot cakes and pork and fennel sausage rolls."
Some other skills that the patisserie students have garnered through menu-based learning, are amazing petit fours, artisan chocolates, as well as the creation of croissants and Danishes.
All of these scrumptious menu items are frequently for sale at Café Imparo on the ground floor of William Angliss Institute's Sydney Campus, 11 Bowden St, Alexandria NSW 2015.
Menu-based learning is considered the very latest in training designed to simulate real work-based outcomes. Josh concluded, "Students are gaining employment sooner through menu-based learning after they graduate. The feedback from employers is that students are more in touch with the current industry climate, where the hospitality world is crying out for skilled workers such as these."
Enrolments in Sydney are currently open for courses in foods. Visit www.angliss.edu.au/open-day/sydney or call 02 9125 5111 to learn more.
Published 1 June 2022