Michael Cole wins chef of the year again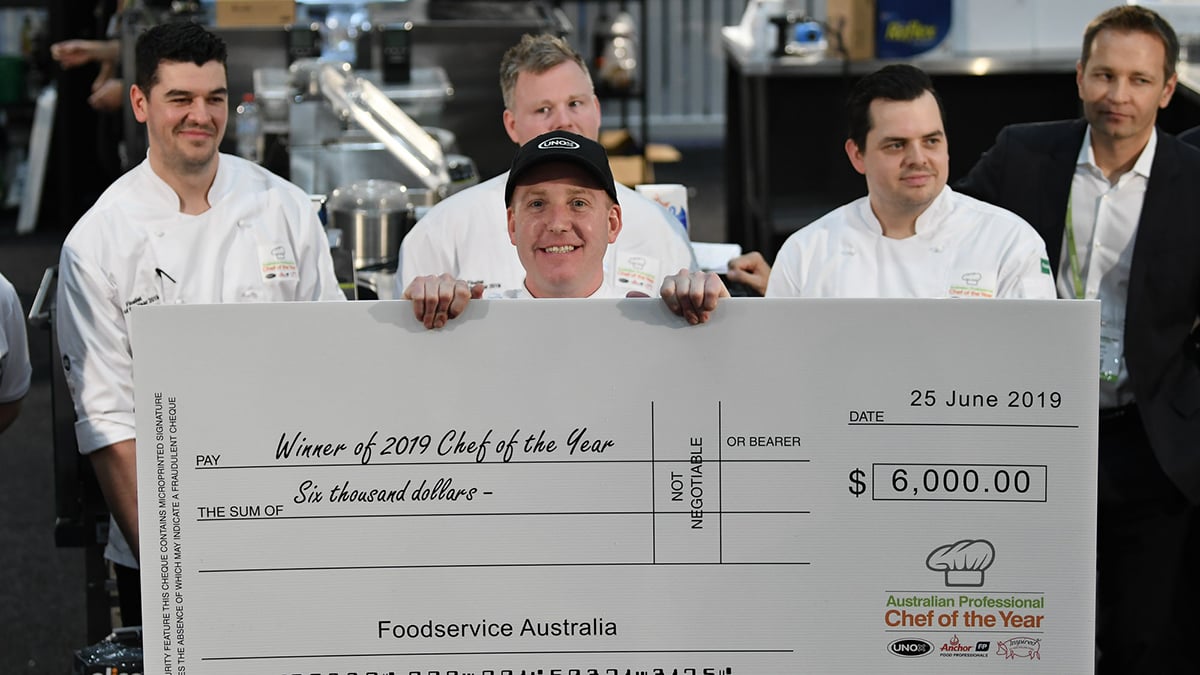 Michael Cole, acclaimed chef and Angliss alumnus, has won the Foodservice Chef of the Year award for the second time.
One of Australia's most respected awards for professional chefs, the competition requires participants to prepare two signature dishes over a one-hour period, using a mystery box of sponsored ingredients.
Head Chef at the Flinders based Georgie Bass Café & Cookery, Michael previously won the Foodservice Chef of the Year award in 2017.
"It's absolutely fantastic to win for a second time!," said Michael. "I'm so pleased with the results and very glad that I entered. I was actually humming and hawing for so long before applying. I knew there was some serious competitors in this year's event and they would be all gunning for me. The expectations for myself to perform were very high after having won it previously and also recently returning from Bocuse d'Or Australia."
Competitors were required to cook with Murray Valley Pork products, chicken breast, kingfish, scallops and crabmeat from PDF Food Services, butter and cream from Anchor Food Professionals, and finger limes, raisins and red elk mustard cress.
A smoking gun from Sous Vide Australia also had to be used during the cooking process.
Michael impressed the judges by creating a dish of lightly cured kingfish with pickled peas, chervil and pea sauce, crab and finger lime salad.
The award-winning chef also created an assiette of pork featuring glazed pork cheek, roast pork belly, smoky liver with parmesan crush, raisins and mustard jus.
"It's a great feeling to have won this, I had put a lot of pressure on myself and I really wanted to see how I have grown in the two years since winning previously," Michael explained.
"The prizes are fantastic for competing but to be completely honest I do these comps to test myself, it's a great way to benchmark your creative talents and ability to perform under pressure."
Angliss graduate and Bean Smuggler café proprietor Jack Lee, who took out the award last year, was also a finalist in the competition.
The Foodservice Chef of the Year competition is held annually and offers a prize pool of $10,000.