Nestlé Golden Chef's Hat Award finalist announced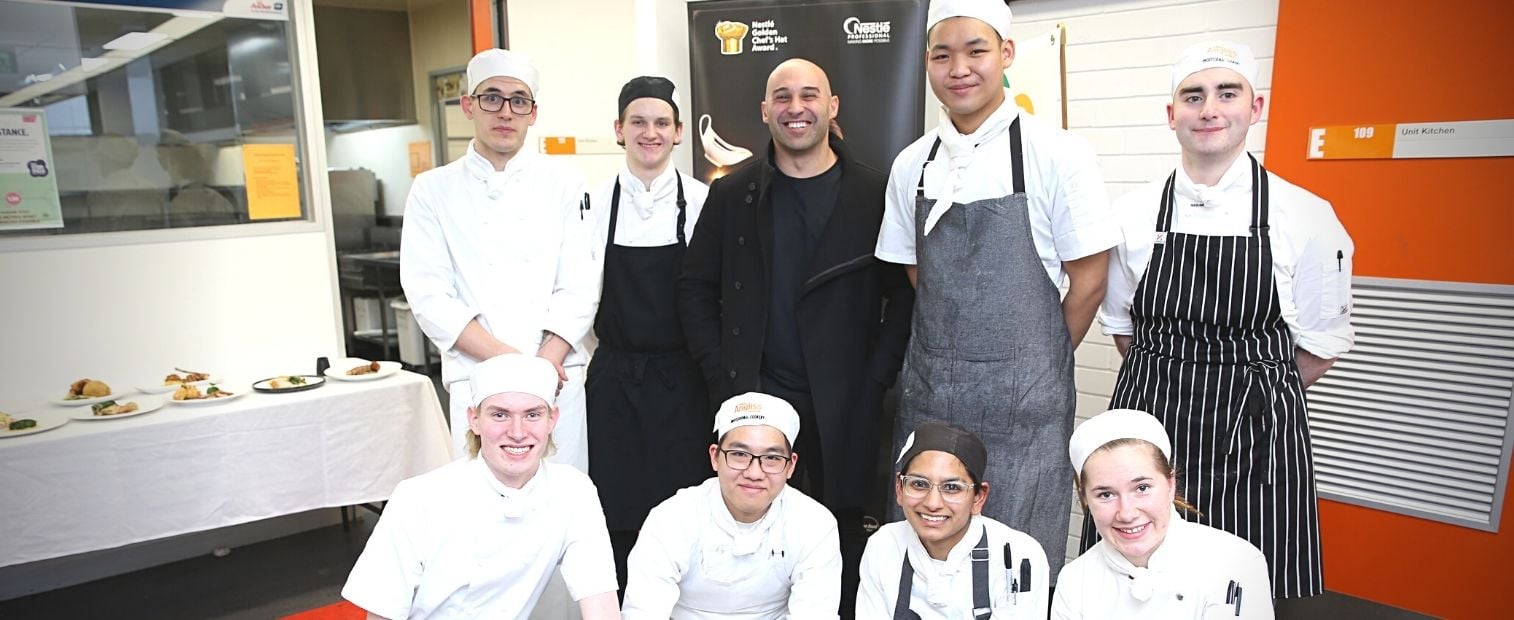 Shane Delia Founder of Maha Restaurant and contestants
The Nestlé Golden Chef's Hat Award offers apprentice and young chefs a unique opportunity to improve and showcase their skills, opening doors for their current and future career prospects.
At 19 years of age, Maha Restaurant apprentice and Angliss first-year cookery student Max Burke wowed the judges with his two course menu of well-balanced roast pork cutlet, pork neck malfouf (Middle Eastern stuffed cabbage leaves), encrusted celeriac with shiitake mushroom jus, and baked flan with star anise, caramelised apples, pears and toasted pecans to take out the Victorian Regional Final of the Nestle Golden Chef's Hat Award.
This exciting challenge for young chefs allows them to develop their skills and knowledge. To be eligible, participants need to be working in the culinary field and be between the ages of 16 and 25. If eligible, they will be invited to compete in the regional finals. The top-scoring chef will then go on to compete in the National Finals in September, in front of a live audience at Fine Food Australia at the Melbourne Convention & Exhibition Centre for a $10,000 Grand Final prize and be crowned Golden Chef of the Year.
Nestlé Communications & Sustainability Manager Karlie Durrant said, "It's a unique experience to inspire the next generation of chefs to take it to the next level and push themselves to see what they can do."
Maha Restaurant founder, TV presenter and Managing Director of Delia Group, Shane Delia, attended to show support for Max, who is an employee at his Maha Restaurant.
"This event is about being part of a chef community, meeting new chefs and connecting with the broader industry. It's a great way to show potential employers how passionate you are and gain credentials - the competition is judged to globally recognised standards", said Karlie.
Max said the best parts of his job are, "Working with highly skilled and talented chefs – and there's a lot to learn."
Max plans to pursue his goal of working with a great team to create delicious food.
"I plan to travel once I am qualified and go overseas to work in Michelin star restaurants to keep learning and acquiring knowledge, then I want to open a restaurant."
For anyone wanting to get into the industry, he said, "Work hard and always keep moving forward or aim to. I try to keep my eye on how I am progressing."
Congratulations to Max and we wish him all the best for the September Grand Final.
If you're interested in studying commercial cookery, visit www.angliss.edu.au/cookery or email enquiry@angliss.edu.au to learn more.
PUBLISHED 3 AUGUST 2022