Vegan healthy products win innovation awards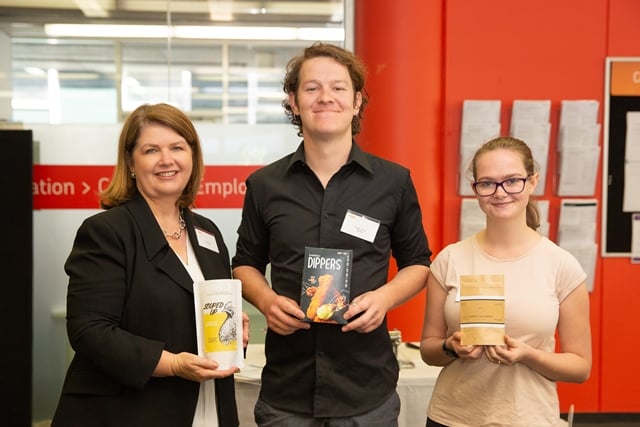 Vegan and healthy food alternative trends featured at the 2019 Student Product Development Showcase for Diploma of Food Science and Technology students at William Angliss Institute.
All final year students from the Diploma of Food Science and Technology participated in the student product development showcase which is a major assessment piece, and assessed by a panel of industry experts.
Products developed ranged from cauliflower fettucine, organic vegetable soup to rhubarb apple chutney and high-protein chocolate hazelnut spreads.
Three products also featured dehydrated ingredients, including asparagus spears and a dehydrated concentrated dissolvable vegetable stock cube.
The overall winner sponsored by the Australian Institute of Food Science and Technology (AIFST)
and the People's Choice award was Gregory Duke with his vegan gluten-free, nut-free, soy-free snacks crumbed and deep-fried.
"My initial idea started with the idea of a deep-fried mozzarella stick which I wanted to make a healthy alternative that vegans and all could enjoy –"Gregory said.
Runner up was Danika Elley with her heart-shaped dissolvable tea portions to brew tea without any sort of packaging like the traditional tea-bag.
A delicious chicken, corn and quinoa soup was awarded third prize for its healthy organic ingredients and clever packaging made by Lisa Foster.
Food processing coordinator Kathy Majstorovic said she was very impressed with the students' hard work and results.
"Although this project is focussed on the actual product innovation, every student also developed sustainable packaging for their new food," Kathy said.
Students displayed their products, offered samples and talked about the process of developing their product from idea through to final delivery.
They were assessed based on the entire scope of the project, including whether the product had the potential to succeed in the marketplace and if they had delivered sufficient description of the manufacturing equipment and well as completing a shelf life test. They also had to complete a cost analysis and a mock-up of the package with labelling requirements to meet FSANZ standards.
During the launch event, industry judges then assessed the products on innovation, sensory acceptability, market potential, presentation and packaging.