Future of food systems
To consider bigger ideas and approaches to food systems of the future, we believe you should talk to those who work with food systems now.
We met with Deri-Ann & Tim Wyatt from @angelicaorganicfarm in Glenlyon.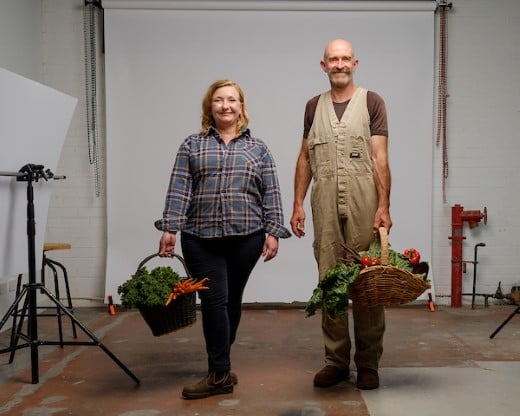 As vegetable farmers, you're at the coalface of the importance of a strong, solid food system.
What do you think the keys are to maintaining a healthy food system?
A 'healthy' food system is a fair and transparent food system through all the 'system's' steps, from the farm paddock and farming practices to farm gate prices paid, to farming and food processing regulations, to other government policy, to freight and distribution, to the end user and/or eaters, be it restaurants, shops or home cooks and thus all consumers.
This includes ethical food production, i.e. the treatment with respect and utmost care of every aspect of the ecosystem, including the food plants and animals via site appropriate regenerative farm practices and best humane animal handling e.g. regenerative stocking numbers for stock, sound crop rotations, maximum soil building (organic matter + microbiome) via organic and biodynamic methods, gentle animal handling and so on.
A healthy and therefore fair food system also includes the understanding and respect in practice of the true value of food & its production and who &/or what is paying the real price – the environment, the animals, the farmer, consumers (chefs, shops and eaters), future generations. It is essential for food producers to help educate consumers and governments and for consumers and governments to be open, proactive and committed to educating themselves in honesty about the real value of food and in practice consistently supporting that reality so sustainable and regenerative farming can survive and thrive for the highest true benefit for all involved. This ultimately involves genuine understanding, appreciation and the willingness to over throw the 'grow more, pay less' (at any cost!) mentality and being prepared to pay what it actually costs to grow this food. Consumers need to insist on food system transparency and help nurture it to being the new (old) normal. In a proper democratic and transparent food system, no one misses out, farmers earn a dignified living, the 'hard up' and vulnerable are looked after and fed properly, irrespective of the price of the food and everyone community member in between receive a fair deal too.
For more info about our Masters of Food Systems & Gastronomy