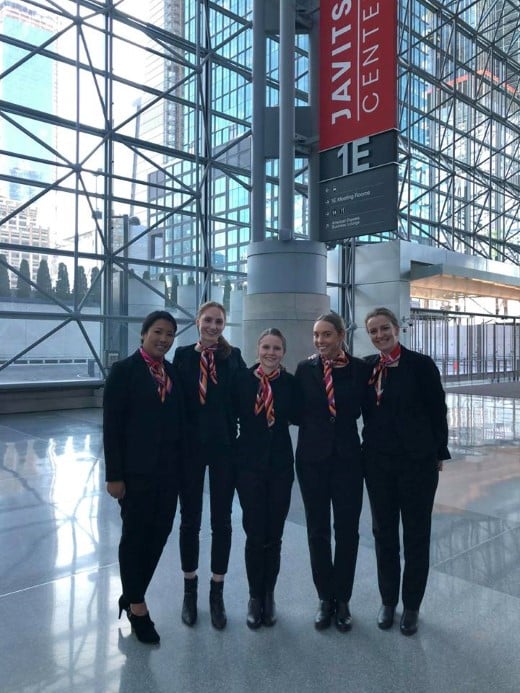 William Angliss Institute's Higher Education student team were finalists in the prestigious STR Market Study competition held in New York, USA in mid-November.
The five-member team, consisting of Georgia Danaher, Breanna Anderl, Philipa Shearer, Tayla Mangles and Lucinda Yu received sixth place in a fierce competition against 23 global teams.
It is the best result for William Angliss Institute since 2016.
To complete the market study, students analysed data provided by STR as well as other industry sources such as Tourism Australia. Advice was also provided by current hotel practitioners and investors. Students had looked at the Hobart hotel market and data-mined the STR data to provide useful and practical advice to current hotel practitioners and investors.
"It is amazing to see our team to be with the best of the best in the world," student Georgia Danaher says.
Fellow competitor said Breanna Anderl says, "Initially when I heard that we were in the final I was shocked and could not believe it. We performed well and confidently at the final".
"It is a time to celebrate the achievement of our students and is a good example for other students to follow and enter international competitions like this, closely associated with the hotel industry in Australia," the Associate Director of Higher Education & Quality Dr Paul Whitelaw says.
Ms Emma Gronow, the only STR qualified CHIA lecturer and practitioner in Australia says William Angliss Institute has a competitive advantage in this area, in which students complete a CHIA certification and learn with real data to conduct a hotel market study.
"It is a group effort with three lecturers providing support and advice to the team along with input from industry experts," Lynn Richardson the Resort and Hotel Management program coordinator says.
As the lecturer taking students to the New York for this year's competition, Marcela Fang says it was an eye-opening trip for the students who took the opportunity to visit a number of prestigious hotels in New York and received first-hand information about the New York hotel market.
"It was a fantastic opportunity for the students. They learned a lot through this nerve-wracking competition and as the lecturers, we have also learned a lot about this competition, which will make us better prepared for next year's performance".
The students and staff wish to acknowledge that the travel and accommodation was paid for by the William Angliss Higher Education fund to encourage engagement in real-world hotel industry learning.