25 years of Angliss Great Chefs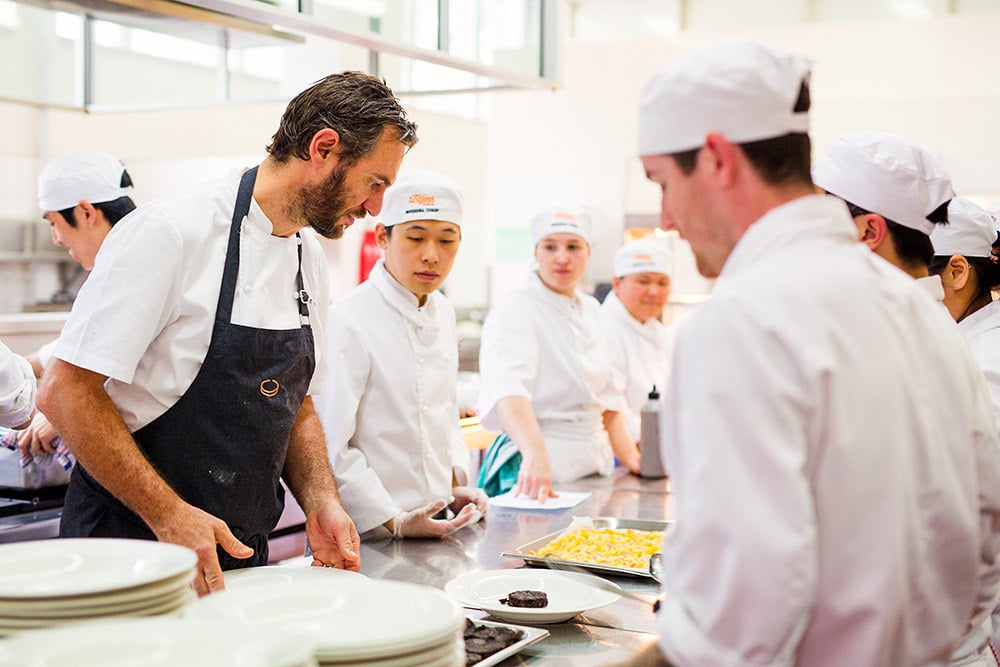 Many restaurant industry icons including Scott Pickett, Adrian Richardson, Nicky Riemer and Tony Twitchett will work with William Angliss Institute students and showcase their latest skills and techniques as part of the Great Chefs program 2019.
Commencing in 1993 and celebrating its 25 year anniversary in 2019 this activity continues to be the most successful program of its type in Australia, fostering communication, connections and networks between students, teachers and the industry.
Held in the Angliss Restaurant at William Angliss Institute, industry leading chefs and restaurateurs give students first-hand experience and exposure to the latest techniques and cooking methods being used by the best in the business.
At the same time, hospitality students get first-hand experience performing front-of-house duties for guests, gaining experience with wine-matching, mixing cocktails and customer service.
More than 100 Great Chefs have contributed to this program since 1993 - some are William Angliss Institute graduates and many now employ apprentices from the Institute.
Fifteen chefs will participate throughout 2017, with Scott Pickett from the newly reopened Estelle - leading the charge on the 27 and 28 March showcasing his love for produce and food excellence with a four-course dinner.
In May French Saloon chef and restauranteur Ian Curley will headline and mentor students to produce a specially designed four-course dinner menu based around his signature European style.
In 2018 a Great Chefs event was held off-site at the Grand Hyatt with Chef Jason Camillo designing a grazing menu with students featuring live cooking stations.
William Angliss Institute Manager-Centre for Food Trades and Culinary Arts Mark Agius said an integral part of the Institute's approach to education and training continues to be our close partnerships with industry.
"This training approach seeks to ensure that students have the expertise that makes them graduates of choice in a dynamic industry," Mr Agius said.