Graduate joins TOP events company, Peter Jones Special Events.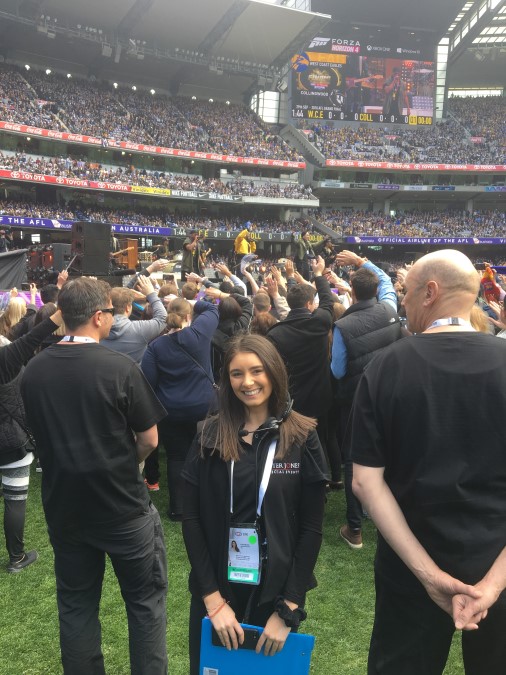 One of our graduates, Ashlee Brazier, has kicked off her events career in fine form joining one of Australia's leading event management companies, Peter Jones Special Events.
Hired as an event coordinator, Ashlee works closely with the company's event producers, including Angliss graduate Emma Hedin, to help coordinate events of all sizes. Ashlee's experience to date includes large public events such as the AFL Grand Final and more intimate events such as product launches and gala dinners.
Making the decision to enroll in our Bachelor of Event Management was an easy choice for Ashlee, as she was focused on her passion for events.
"Angliss was the only Institute that offered a Bachelor of Event Management – other universities could only offer me a business degree with a major in events," said Ashlee. "I also wanted to study at Angliss because it has a strong international profile – the Institute is highly regarded in the hospitality and events industry both in Australia and overseas."
Ashlee's three-year degree provided her with a detailed grounding in all aspects of event management, from designing and selling to planning and implementing events. The course also gave her essential skills required to operate in such a fast-paced industry and provided her with strong industry links.
Participating in one of our mentoring programs proved to be a highlight of Ashlee's studies. Angliss was able to pair Ashlee with an industry leader who ran her own event management business.
"The time I spent with my mentor was invaluable. Seeing first-hand how she dealt with logistics and all the different aspects of running an event management business really opened my eyes to how diverse this industry can be," said Ashlee.
In addition to her one-on-one mentoring, Ashlee also valued Angliss' standard of teaching. Her lecturers all had experience working in the event management industry and were keen to share their knowledge with students.
"One of the main differences with Angliss is that all the teachers are speaking from experience – they bring their personal experience into the classroom. This made my classes engaging and it also helped me learn from my teachers' mistakes and triumphs working in events," said Ashlee.
Looking forward to building her skills and creating her own unique events, Ashlee is now focused on progressing her career with the Peter Jones team. She's also enjoying the adrenaline rush that comes with working in the events industry.
"One of my favourite things about working in this industry is the feeling you get right before an event is about to commence," said Ashlee. "It's an amazing feeling knowing you've helped to create an event, which hundreds or even thousands of people are going to attend and enjoy."
Apply before 7 February 2020 to join our upcoming intake. To learn more about our Events courses click here. You can also tour the campus with one of our Future Student Advisors, to book an appointment, click here.