Angliss team brings home Asian Cup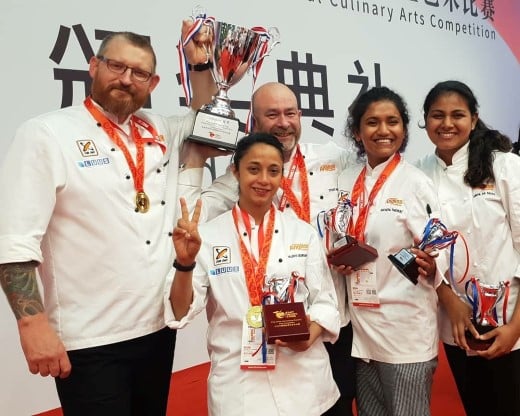 A team of William Angliss Institute students and staff won the Asian Culinary Cup at Food and Hotel China's Global food and Hospitality Expo in Shanghai. It is the first time an Australian team have won this accolade.
Cookery students Anya De Silva and Ruchita Thorat worked with professional cookery teacher Andrew Ballard and associate director VET and chef Stuart Walsh with patisserie teacher Valerie Georgopoulos.
The Australian team competed against five teams – including a number of professional competition teams - from China, Korea, Indonesia, Taiwan and Malaysia.
Anya, an international student from Sri Lanka, said she learnt the importance of organising yourself for a competition as it is not possible to create beautiful food without the initial preparation.
"Being exposed to a culinary challenge at an international level, I also learnt to work with a multicultural team and with chefs who had different levels of experience all while exploring a country which I've never been to before. The culture and food was interesting, plus I got to visit Shanghai Disneyland and see the culinary skills of such a huge organisation," Anya said.
"Our menu theme to meet the criteria was about carrots which we presented in 30 different ways including pureed, liquid, dehydrated."
The team had to present twenty portions for each of the below requirements:
Buffet table -4 tapas style
Seafood Platter with salmon and seafood
A salad
Hot duck main course
2 x different plated desserts
The team had five hours preparation on the day, with one and half hour of service and four hours set up on the day before.