Bush adventures a dream for Angliss tour guide
Brett Howell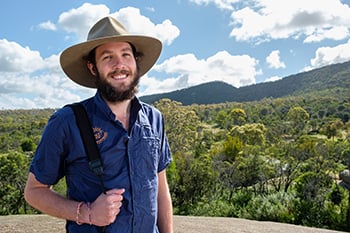 Wildlife enthusiast Brett Howell has found his ideal career guiding visitors on the ultimate nature-lover adventures in his new nature guide role at Echidna Walkabout tours.
Advanced Diploma of Travel and Tourism graduate Brett Howell studied at William Angliss Institute because of its hands-on approach to learning, choosing electives of tour guiding and wine tourism.
Brett started the tour-guiding course wanting to show people the local natural beauty and wildlife and guide people walking in the bush.
"Now I have just finished my training as a nature guide for Echidna Walkabout taking guests into the bush to experience our wildlife in its natural environment. I couldn't have wished for a better outcome, " Brett said.
Echidna Walkabout tour specialises in offering visitors the ultimate wildlife experiences in our local environment, including along the Great Ocean Road, the You Yangs and many locations renowned for their wildlife diversity.
"I found the elective for Tour Guiding especially useful as it offered a practical approach where we actually created tours of our own to showcase the class which definitely helped me.
"Also the lecturers' extensive knowledge of the industry really helped, as well as introducing us personally to industry staff - I would not have the network I do now without them.
"My ultimate goal is to continue developing my knowledge of wildlife and just enjoy the role of a Nature Guide for a while. It's the best!
"I believe the hands-on approach to learning is key in this course, as it enables students to feel confident about their place in the tourism industry and give them the skillset to go out and succeed," Brett said.