Creating patisserie dreams at Glacé
Patisserie student, Ken Liew Weng Hong is already on the way to achieving his career dreams, and is completing work experience at Glacé, an artisanal frozen dessert store recently opened by renowned pastry chef Christy Tania.
Popular Masterchef guest and former executive pastry chef at the Langham, Christy opened this shop in Windsor, featuring creative ways of enjoying ice-cream in a myriad of inventive forms.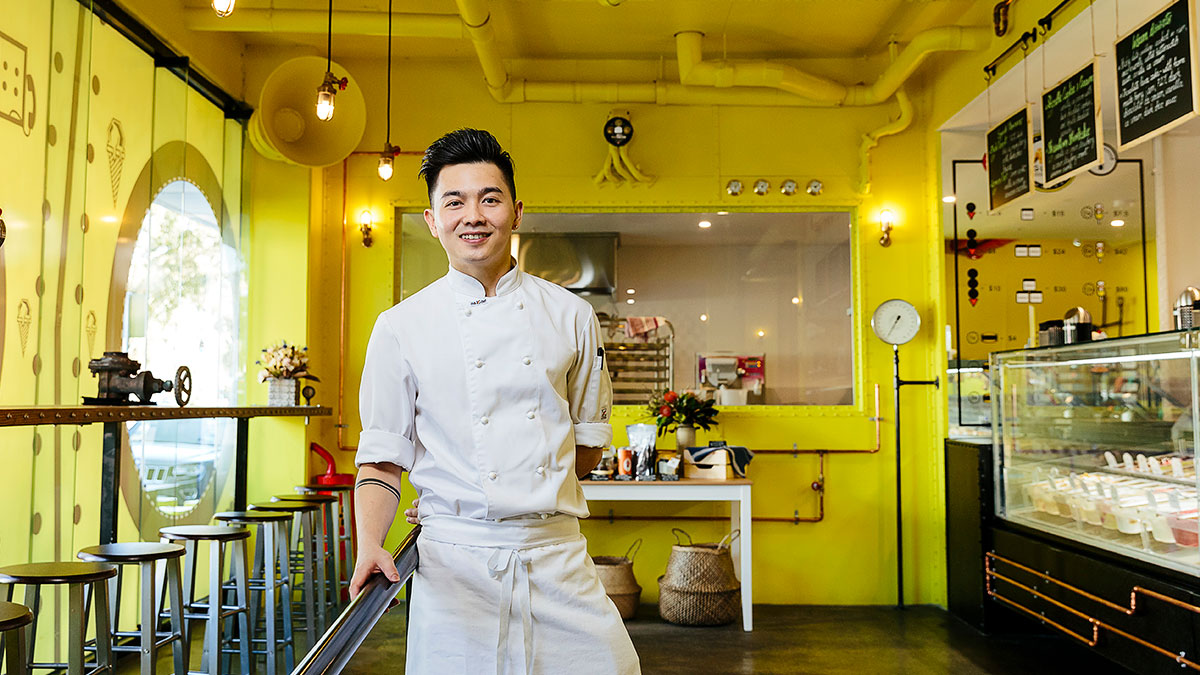 Ken initially met Christy when he volunteered at the William Angliss Institute 2017 Open Day, working at Christy's demonstrations and was shortly offered work experience at Glacé. Currently studying stage three of the Certificate IV in Patisserie, Ken's passionate drive and commitment has lead him to early success.
"I wanted to pursue my dream of working in patisserie and William Angliss Institute has the reputation of being the best in the industry. I found the teachers at William Angliss Institute to be very experienced, helpful and informative," he said.
Gaining the confidence to pursue his passion and develop his talents has been the foundation for Ken's achievements. "I found all of the practical classes at William Angliss Institute, very helpful. The course is a combination of theory and practical which helped me to learn the fundamental industry skills that I needed to step out confidently into a career in patisserie," Ken said.
William Angliss Institute Patisserie teacher Belinda Clements said, "Ken has been an absolute pleasure to teach and I know he is capable of amazing things. He has had a positive impact during his time at the Institute. Ken always works extremely hard and demonstrates strong leadership skills, high academic achievements and has been pivotal in supporting the community of practice within his classes."
Ken's ambition continues to climb as he gains valuable industry skills through his mentors Christy and Luke Johnson, Head Chef at Glacé.
"Doing my work experience at Glacé with Christy and Luke is amazing. Both of them are great mentors, they kindly share their expertise and train me without any reservations. After graduation, I would like to open my own patisserie shop and eventually establish a chain of stores," Ken said.
Work experience at Glacé has opened Ken's eyes to future possibilities and with Christy alongside as a mentor and consultant, he is planning to open his first shop in Malaysia at the beginning of 2018.
"Until I worked with Christy, I'd never thought about ice-cream and gateaux, but this experience has shown me so many creative possibilities," he said.