Lunar New Year in Melbourne with Vietnamese student Helen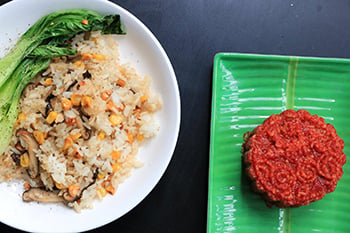 The Lunar New Year (Tet) in Melbourne."
Tet means family reunion after a year away for studying or working. The most important days of Tet is the first 3 days, which emphasise the close-knit relationship in the family. Family members will gather and exchange the wishes for the new year, the elderly will give lucky money for the children and then they will enjoy the meal together.
I have not gone back to Saigon on Tet holiday for 3 years because of busy working schedule and expensive travel tickets. The Lunar New Year in Australia is a normal working day, so I have not had a chance to celebrate it as I did in Saigon. Although many Asian communities also celebrate it, the Tet for me has a special meaning.
The Vietnamese culture shares many similarities with the Chinese culture in term of Lunar New Year, such as the lunar zodiac or ancestor worship, but we have different food to eat during this time. For me as an international student to enjoy the Tet overseas, I try to cook the simple dishes such as sticky rice or fried rice, because most of the food for Tet have complicated recipe and most of the ingredients are not available here. Several Vietnamese restaurants here can serve the specific food in Tet but the taste is different, so Tet in here for me is a fusion. Also, going to the temple is part of the Tet's tradition. Last year, I visited the Quang Minh temple in Sunshine with my friends and enjoyed the firework at the Lunar New Year's Eve, and it was fun. I also made video call to my family at home and exchange wishes with them. Even though we are at different time zones and geographic locations, every member in the family believe that keeping Tet in part of our heart is the core value of maintaining the family relationship.
Tips:
Join some Vietnamese/Chinese community activities during this time, such as traditional Tet market, flower market or dragon dance.
Come together at a Vietnamese friend's house and bring a dish to share/cook some food you prefer, people from different parts of Vietnam have different food for Tet. Play boardgames together.
Spend time for family: update information, leave them a message, or make video call, or ask them to share some photos about Tet at home..."