Angliss grad prepares for cookery Olympics
Victorian chef and Angliss graduate Michael Cole is prepping for the cooking competition of his life against twenty-three other countries at the final of the Bocuse d'Or 2019 gastronomic Olympics in Lyon, France.
Michael and his commis chef Laura Skvor have lots of training and practice planned in the lead up for the big competition, including in the Angliss kitchens, under the guidance of a committee of distinguished chefs including Bocuse d'Or President Tom Milligan and Vice President Philippe Mouchel.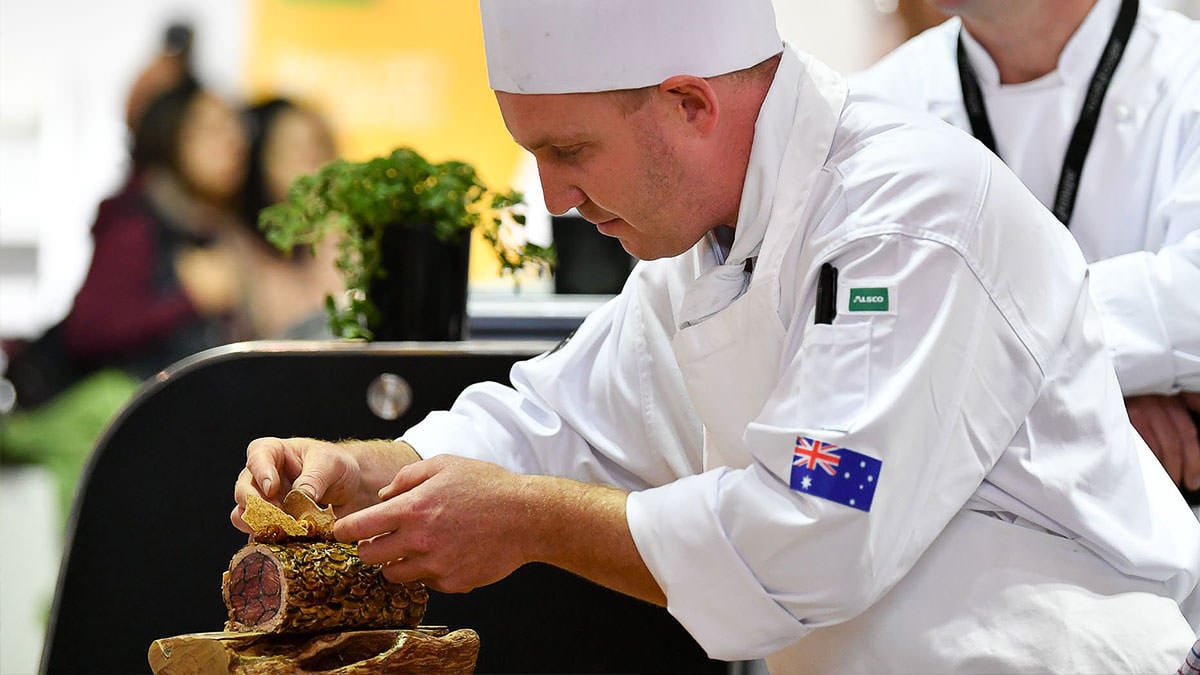 The team originally won the Bocuse d'Or Australian Selection at the Foodservice Australia 2017 trade show, qualifying them to compete in the Bocuse d'Or Asia Pacific heats. Michael went on to win the Chef of the Year Grand Final on the same day at Foodservice Australia, the first time any chef has won both titles.
Named after the late ground-breaking French chef Paul Bocuse, the Bocuse d'Or is a biennial world chef championship that has been running since 1987. Frequently referred to as the culinary equivalent of the Olympic Games, the event is the world's most prestigious cooking competition, where preparation and cooking of all dishes is performed in front of a live audience.
Having completed his training and apprenticeship at William Angliss Institute, Michael is now Head Chef at the highly successful George Bass Flinders Hotel and he also runs cooking classes at Georgie Bass Café and Cookery in Flinders, Victoria.
The Asia-Pacific selection was held in Guangzhou China with eleven countries competing and six continuing on to represent the Asia Pacific in Lyon, France in 2019, during the Sirha trade show.
Every two years, the Sirha trade show, the World Hospitality & Food Service event, brings together 208 000 professionals and showcases worldwide novelties and trends of more than 3 000 exhibitors. Held every January of odd years, it hosts this prestigious contest, the Finales of the Bocuse d'Or and the Coupe du Monde de la Pâtisserie (International Pastry Cup).
In the Chef of the Year competition Michael had one hour to prepare his best dishes from a mystery box of ingredients.
The Bocuse d'Or competition took five hours which commenced at 6am in the morning. Michael and Laura prepared a fish dish, raw Port Phillip Bay scallops, blanket of barramundi, fish bone glaze, native finger lime and sea succulents, which was followed by a meat dish, a mosaic of Angus Beef wrapped with the forest floor.

Visit bocusedoraustralia.com.au or angliss.edu.au/greatchefs for more information.