Shanan walks this way with Angliss training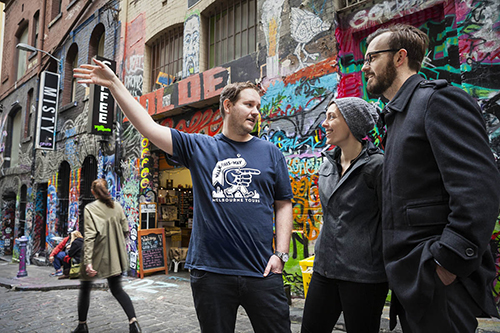 Tourism graduate Shanan Kovacic is going from strength to strength with his new business, Walk This Way Melbourne which offers walking tours around the city of Melbourne.
After completing his Advanced Diploma of Tourism and Travel at William Angliss Institute in 2015, Shanan started his own business to offer unforgettable walking tours, driven by incredible stories, and quirky experiences.
"Most of all we aim to offer walking tours with a personal touch: an 'in-the-know' experience that only passionate locals can offer. Next year I am planning to offer walking tours three days a week with three main tours available in both English and Mandarin. This includes a foodie tour, cultural tour and one that is designed for immigrants and people new to Melbourne and Australia.
Shanan said he chose to study at William Angliss Institute because of its strong reputation specialising in tourism and strong industry links.
"This industry is all about networking which has also helped my business, plus the course gave me the flexibility to continue working while I studied.
Since completing his Diploma, Shanan has also received a promotion at his fulltime employment at Greenhouse Backpackers to Duty Manager.
"Studying my tourism qualification gave me lots of help in my career including the business and marketing subjects. Also using Excel for accounting and business spreadsheets has been critical to the success of my business.
"Also I still use the business plan I wrote at the Institute and continue to update it,"
"After travelling abroad in search of new culture and experiences overseas, moving back to Melbourne made me realise that one of the world's best-kept secrets was right here in my own backyard. The city's world-class café culture and street art cemented this love affair, a great career in the local tourism industry helped me make Melbourne home for good.
"At William Angliss, it was also wonderful to have teachers who care about their students and want you to succeed in your career and some of my teachers are still mentors for me today," Shanan said.