Students swipe right for speed networking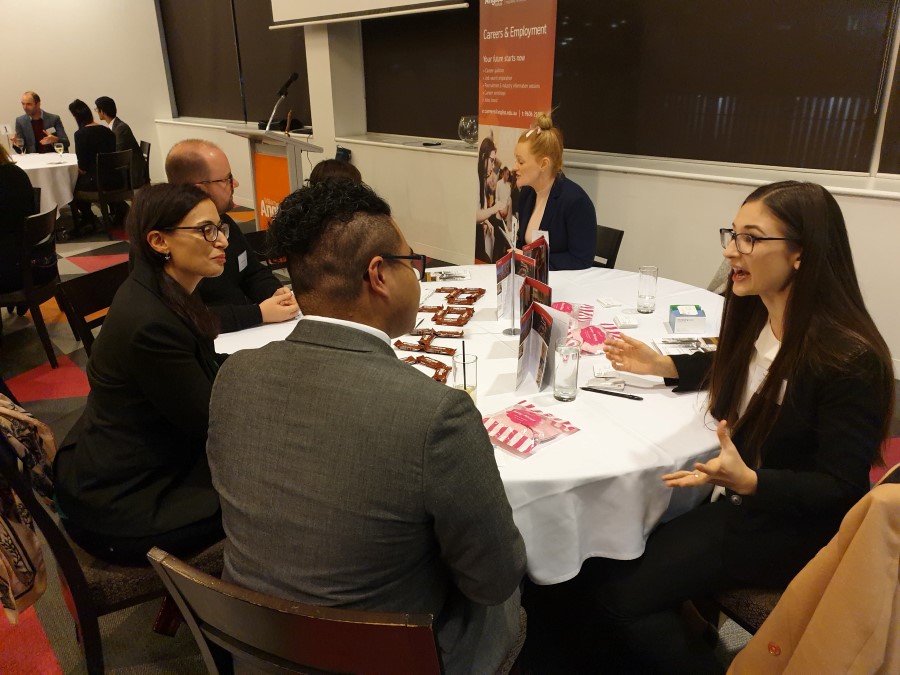 More than 140 students participated in speed networking events held at our Melbourne campus.
The events provided students enrolled in the food, hospitality, tourism and event specialisations with opportunities to meet some of the industry's biggest players.
Students met with industry representatives from Altara, Andrew McConnell Restaurants, Grand Hyatt Melbourne, Koko Black, Marriott and Oriental Teahouse, Abercrombie & Kent, Altara, Pac Pacific Hotels Group, Peter Rowland Group, and STA Travel.
Armed with resumes and advised to dress to impress, students participated in structured networking sessions designed to provide them with insight into professional experiences, career pathways, and recruiter mindsets.
Industry representatives shared their insights into how to start a career across a variety of fields and expressed interest in meeting individual students for a range of job opportunities.
"[It was] wonderful to meet new and upcoming industry professionals and share experiences with them," said Katie Doyle, Human Capital & Development Executive, Pan Pacific Melbourne.
Students left the event with a range of professional contacts and a sense of excitement regarding their career paths.
Angliss' Student Opportunities Coordinator Elysia Corallo was thrilled at the success of the events.
"By connecting students with industry we are able to inspire the next generation of industry leaders," said Elysia. "It was fantastic to see students relish the experience and opportunity to meet with so many industry greats."
Students can participate in additional networking opportunities on Tuesday 27 August when our Careers & Employment Expo takes place.
This is our biggest annual careers event providing an opportunity for students to meet industry, explore career pathways and apply for jobs. With around 30 employers on campus, students have a chance to network, ask questions and explore a range of career options.
Visit Careers & Employment Expo to register for the event.