Longest Lunch gives students chance to shine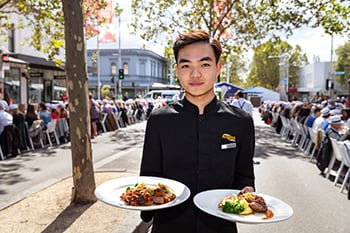 More than 80 William Angliss Institute students and staff helped work alongside the Melbourne Food and Wine Festival (MFWF) to provide events, cookery and food and beverage support for the World's Longest Lunch.
More than 1,600 festival fans attended the lunch with the three-course menu designed by Antonio Carluccio and brought to life by Peter Rowland Catering.
The decadent Italian feast was inspired by Carluccio's new cookbook, Vegetables, and was served at the record 600-metre-longtable on Carlton's Lygon Street.
William Angliss Institute has a long-standing relationship with MFWF with students gaining hands on, valuable experience in this major event.
Associate Director VET Stuart Walsh said this real world experience is a wonderful addition to the students' on-campus simulated training environments.
"In keeping with our specialist centre status, this type of active engagement with industry at such a large scale event is such an invaluable experience for our students."