Sky's the limit for aviation graduates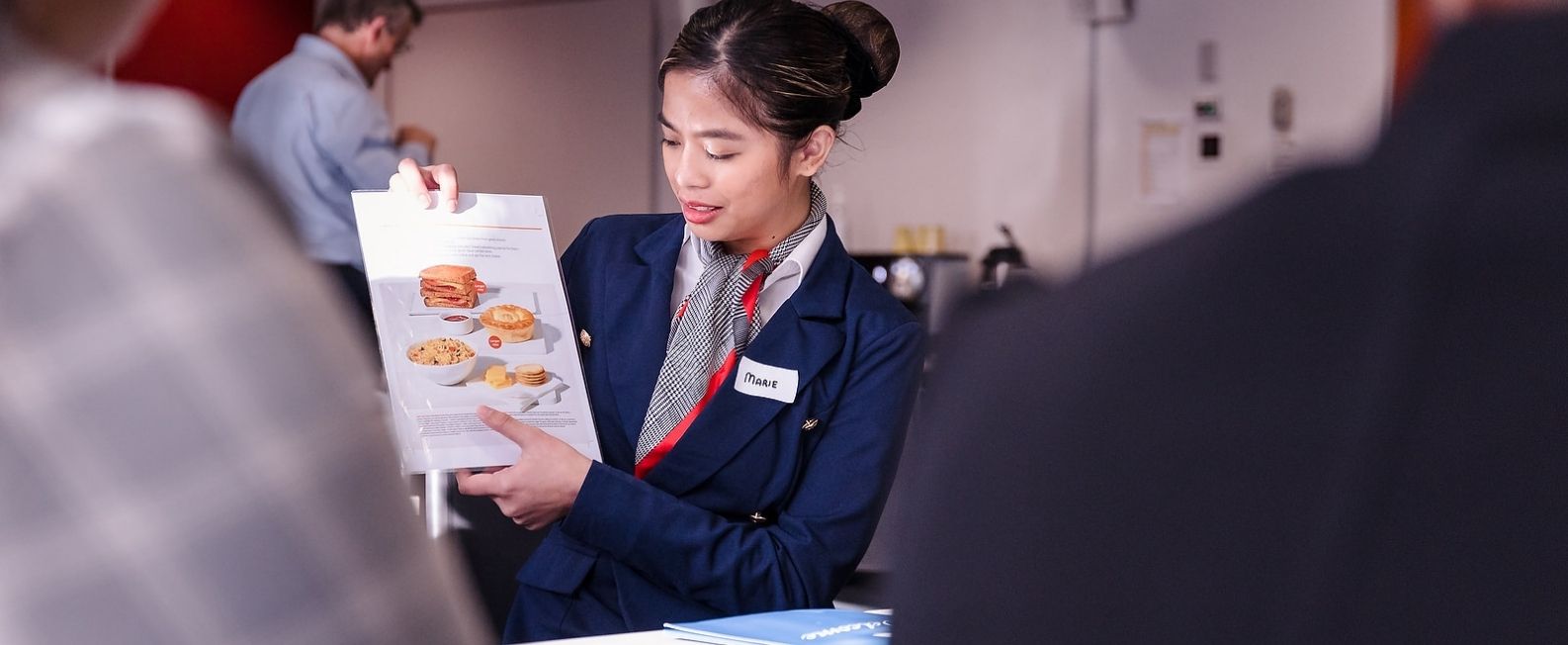 With 30 William Angliss Institute students completing the Certificate III in Aviation (Cabin Crew) in Semester 1 2021, already 19 will be shortly starting Ground School at Jetstar and Rex Airlines.
The Altara Group held its first in-house recruitment session at William Angliss Institute's Melbourne campus, interviewing both semester one students and alumni from 2019-2020. Altara is a leading recruiter for the aviation industry and was impressed with the calibre of students trained at William Angliss Institute.
"Working closely with Australia's leading airlines and industry recruiters, we know that our graduates are highly respected and go on to build thriving careers in the aviation industry," Angliss Careers Coordinator Jia Song said.
With the course developed in collaboration with Altara, the Certificate III in Aviation (Cabin Crew) has received widespread support from the airline industry.
Successful student Roya Hussaini said it was stressful and also a good day as she received acceptance into Jetstar ground school.
"I loved how we as Angliss aviation students we had this opportunity that Altara and Jetstar would interview us. Everyone was friendly. I haven't been to an interview before so I didn't have an idea about what it would be like in an interview. I also loved how we got an update of the application the next day," Roya said.
Angliss Aviation Course Coordinator Steve Markotis said, "Altara were so happy with the outcome, the way the interviews were set up and having input from the three Aviation Teachers to ensure Altara/Jetstar were recruiting the highest standard of Cabin Crew Members.
"As we have been with the students for 18 weeks, we can provide that insight in regards to who meets all the standards required to be successful Cabin Crew. The final decisions were made by the Altara/Jetstar Recruitment Team with our feedback in mind. Altara and Jetstar thought it was a worthwhile in-house recruitment day, they would love to do it again and said they can't wait to meet our next cohort of students for Semester 2, 2021," Steve said.
In addition, for the students who were not successful, Altara provided feedback to the Angliss Aviation team, to help those students know what they need to work on to become successful in the future.