Study tour travels to Da Nang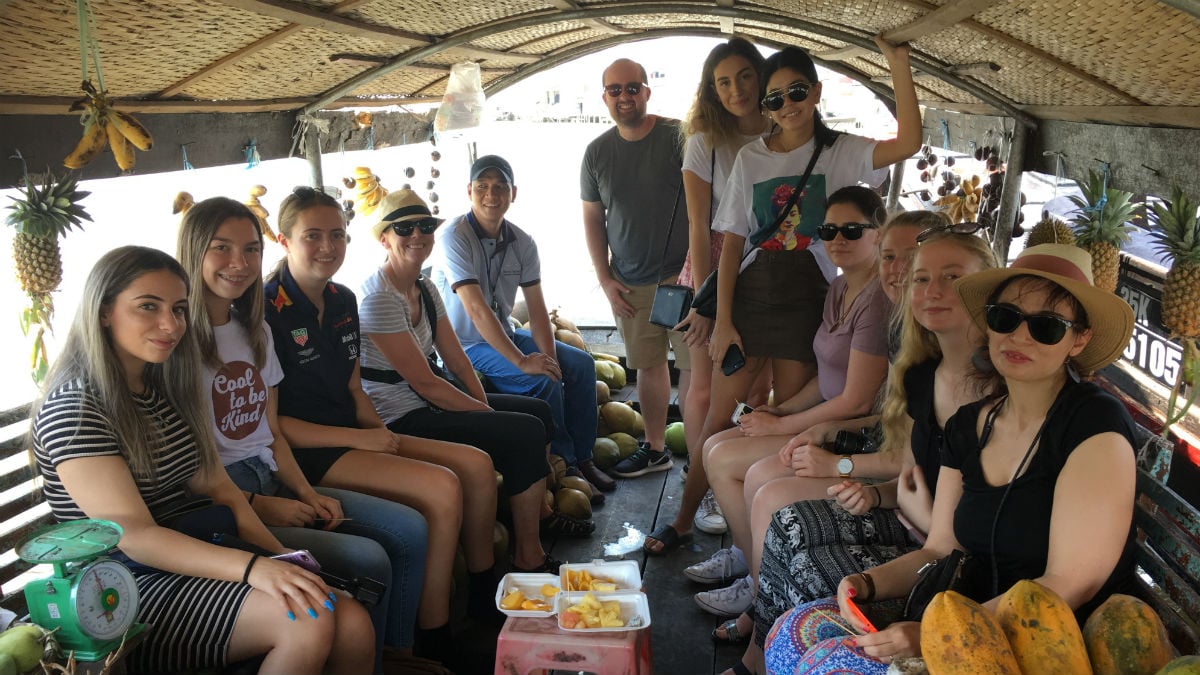 Last month, 11 students currently undertaking certificates and diplomas in Tourism and Events at our Melbourne campus travelled to Vietnam for a study tour, where they experienced the country's thriving tourism and hospitality sector.
Touching down in Vietnam's largest metropolis, Ho Chi Minh City, the students received a personalised tour of the accommodation and event spaces at the Sofitel Saigon Plaza.
This was followed by a two-hour bus ride to the Cai Be floating market in Tiền Giang province, where students witnessed fresh fruit, vegetables and agricultural products being sold from boats.
Accompanying the study group was Angliss staff member Corinne Maxfield, Program Leader, Events, Travel & Tourism.
"While Cai Be's floating market is a daily event inVietnam, it's an unfamiliar experience for our students, who do most of their grocery shopping back home at supermarkets," said Corinne.
After visiting the market, the students stopped at a nearby house where locals were hand-crafting traditional Vietnamese treats such as coconut candy, rice paper and rice wine.
"I'm confident that I speak on behalf of the entire study group when I say we thoroughly enjoyed sampling the coconut candy," said Corinne.
Arriving in the ancient southern kingdom of Champa, students visited My Son Sanctuary, a UNESCO World Heritage site. Situated in a lush green valley, the site features dozens of red brick towers and sanctuaries built between the 7thand 13thcenturies.
Next up: a visit to Marble Mountains (Ngu Hanh Son), translated as five elements mountains, where stunning natural caves, a Buddhist pagoda, and a mountain top view all made for a postcard-worthy moment.
Arriving in the port city of Hoi An, students were able to soak up the charming atmosphere of the Old Town with its historic French, Japanese and Chinese architecture, before participating in 'The Duel in Hoi An'.
A treasure hunt offering a novel way to discover some of the city's most iconic sites and surrounding countryside, the duel required students to put their navigational, investigative and negotiation skills to good use.
A visit to the picturesque Tra Que Village, established over 300 years ago and located 3kms from the Old Town, gave students first-hand insight into how the township manages to supply an abundance of fresh produce to the local hospitality industry.
"Tra Que is a brilliant example of how a small village can make such a significant contribution to the local hospitality sector – the fresh herbs and vegetables that come from this township are used by some of Hoi An's leading restaurants and hotels," said Corinne.
A study tour wouldn't be complete without a visit to Angliss' Vietnam campus, located in the rapidly developing city of Da Nang. In addition to receiving a tour of the Da Nang campus, the students also met with some local university students for a cultural exchange.
"It was fitting to end our trip at the Da Nang campus," reflects Corinne. "It may seem far from our Australian outposts but this campus also features the world-class training and skills that Angliss is renowned for. It's wonderful to know the Da Nang campus is benefiting the next generation of Vietnam's experience industries."