Join us for Sydney Campus Open Day 2022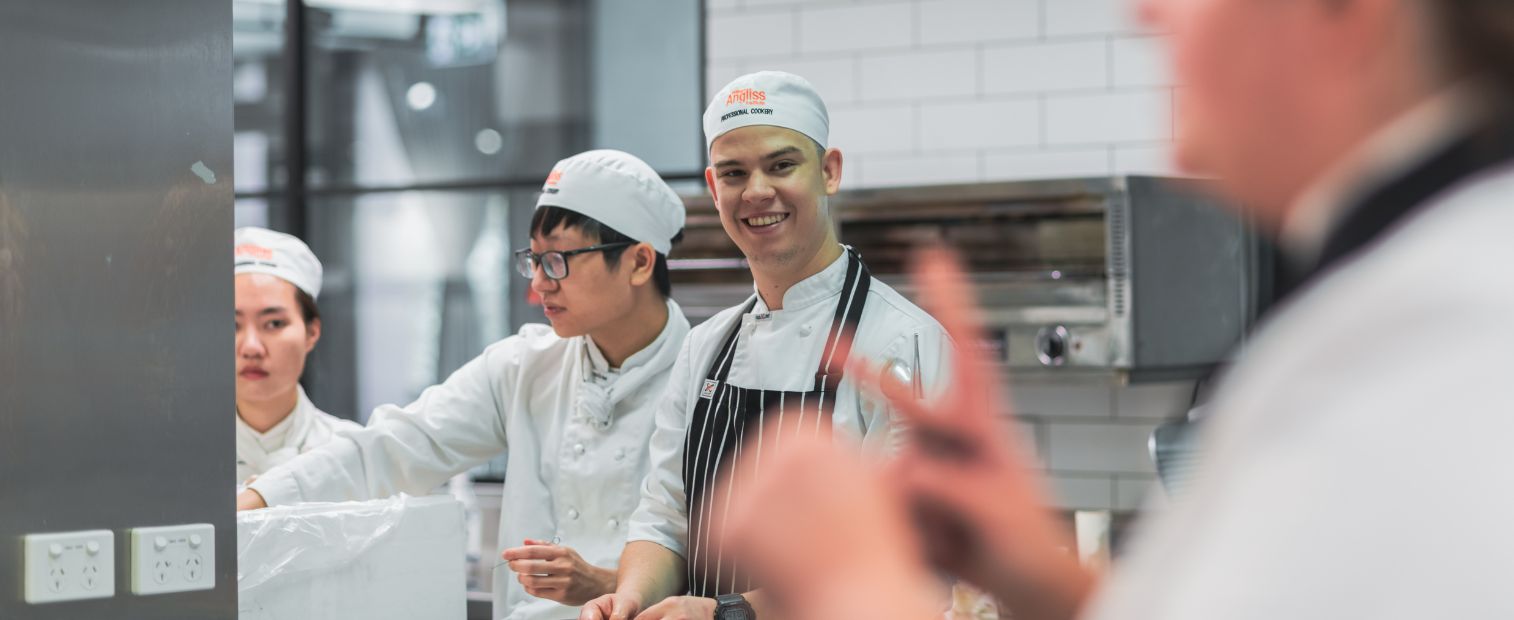 We're back! And excited to invite you to our purpose-built Bowden St campus, located only 4kms from Sydney's CBD in Alexandria, for the annual Open Day on Saturday 27 August.
This is a unique opportunity to engage with industry professionals, Angliss staff, current students and graduates to learn about the courses on offer at the Institute.
With the rise of plant-based diets, we are seeing a surge of vegan sensibilities and pioneers, and the Sydney campus is excited to embrace this at Open Day 2022. You will learn about the environmental and nutritional benefits of plant-based diets, as well as how easy dishes are to make.



Cookery Masterclass
10:30 – 11:15AM and 12:45 – 1:30PM

Experience all the fun of working in a commercial kitchen and completing a dish with our skilled chef and industry experts!




Edible Garden Demo
10:30 – 11:45 AM

See which herbs, leaves and flowers are edible in this demo




Patisserie Masterclass
10:30 – 11:15AM and 12:45 – 1:30PM

It will be hard to resist these patisserie sessions where you'll learn how to craft chocolates, desserts, and pastries in our Sweet Release kitchen. The workshops would not be complete without a tasting of the delectable treats!




Bar, Barista and Latte Art Demo
11:30AM – 12:00PM

Shake up unique and delicious Angliss mocktail recipes behind the bar or enjoy expert demonstrations in Latte Art and gain hands-on experience with coffee!




Vegan Sliders Demo
11:50AM – 12:20PM

Angliss Chef Glenn Wildman will create nutritious, delicious and super easy teeny-tiny sliders, for you to try at home




Tofu Cheesecake Masterclass
12:25 – 1:05PM

Join Julie Meredith, who will show you how to make delightful vegan chocolate tofu cheesecake

Stir Fried Vegetable Demo with Goanna Hut
1:10 – 1:55PM


Goanna Hut will tantalise the senses with an Indigenous-themed cooking demo, fusing modern cuisine with traditional native ingredients. You will learn about how these delicious Australian ingredients are regarded as superfoods. A must see!




Plate Like a Chef Demo
1:10 – 1:55PM

It's widely understood that we eat with our eyes and in this masterclass you'll learn how to transform a simple meal into a visually spectacular dish, fit for any fine dining establishment. Plate-up like a pro with our esteemed Angliss chef!
There's so much is happening at Angliss' Sydney campus and it's easily accessible by public transport with three train stations nearby, a regular bus service, and a bike path all servicing the Institute.
Limited spaces are available so make sure you Register today!