Sydney students observe the hotel industry in a new COVID-19 world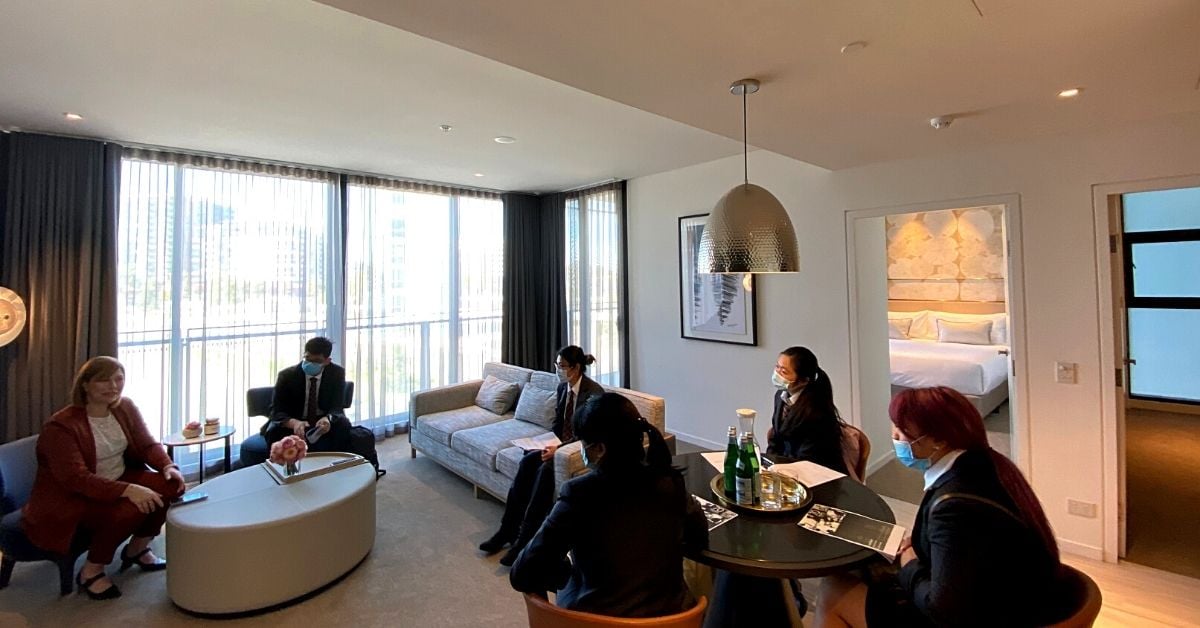 What is it like to work in a COVID-19 normal world? Our hotel management students in Sydney addressed this question by visiting the newly opened five-star Skye Suites. The people behind Skye Suites have been kind supporters of Sydney's on-campus training cafe - Cafe Imparo, so when the opportunity to visit the hotel and meet the General Manager, Felicity Arthur came about, they jumped at it!
Felicity explained to students that before opening the doors to the new Skye Suites property, just like any grand opening, there was much preparation to be done. However, when new COVID-19 restrictions were implemented, these plans had to quickly and creatively pivot. They decided to focus on the 'staycation' market, and fortunately, many local people still have the desire to travel and plan staycations whenever and wherever it's possible and safe to do so. Having worked through other challenging times such as the Global Financial Crisis in London, Felicity is confident that the industry will bounce back stronger than ever.
Other than revising the strategy, the Skye Suites property staff implemented many COVID-19 safe protocols to ensure the safety of their guests and staff. These included paperless check-ins, frequent cleanings in all public areas and QR readers for visitors for fast and easy tracking of travel.
During the excursion, our students also heard about Felicity's career journey and how she came to be General Manager at Skye Suites. Felicity said she thoroughly encourages our students to be open to new opportunities and rise to the challenges when they come along!
"Sometimes it takes a step back in position, or a side step to a new department to enable ten steps forward", she said.
Overall, our students walked away with newfound inspiration and excitement.