William Angliss Institute Celebrates 80 Years of Education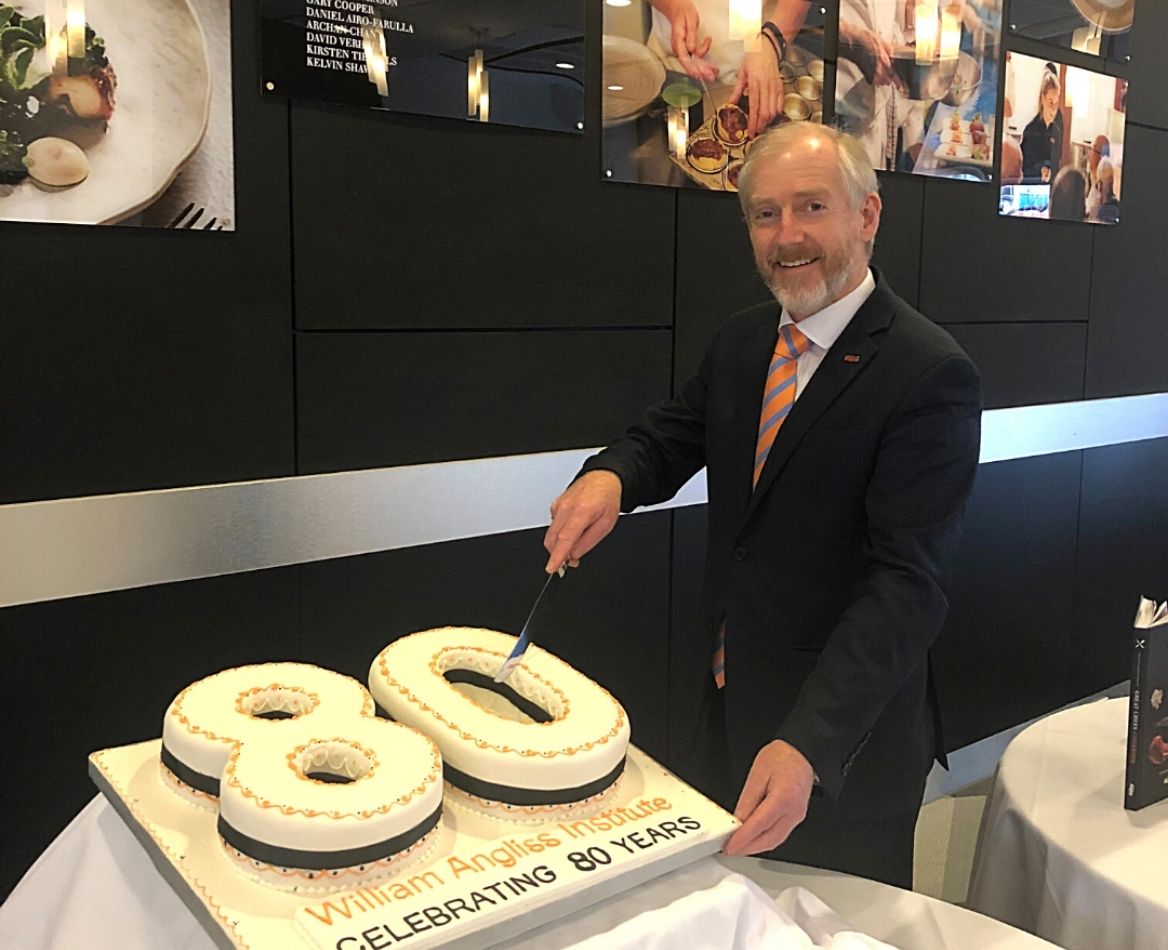 CEO Mr Nicholas Hunt marked the occasion by cutting an
80th cake which was a chocolate mudcake masked with ganache, covered with pettinice fondant icing and decorated with ribbon and royal icing.
On 18 September 1940, a crowd of over 500 people, many connected to the food industry, gathered on a warm spring day in Melbourne. Major Melbourne events were just weeks away, but this occasion was the opening of The William Angliss Food Trades School, Australia's first specialist trade college dedicated to providing training for the hospitality and food industry.
In response to increased demand for trained chefs, cooks, butchers and professionals in the food trades needed to meet the growing population and hospitality industry in Victoria, the William Angliss Food Trades School was established as a state of the art facility, for students eager perfect their skills.
The organisation's vision ‒ created through the need for technical training in the foods industry, recognition from the State Government and the generous philanthropic support from Sir William Angliss ‒ had finally become a reality.
Since then, thousands of students have gone on to successful careers in all aspects of the food, hospitality, events and tourism industries within Australia and worldwide.


Today William Angliss Institute marks its 80th year of providing education excellence.
Staff and alumni were treated to a virtual celebration, hosted by William Angliss Institute Board Chair Dr Anne Astin AM PSM and CEO Mr Nicholas Hunt. In keeping with the traditions of the Institute, a special 80th birthday cake was created for the occasion by William Angliss Institute's professional bakery and patisserie teacher, Greg Williams.
A lot has changed since the Institute first opened its doors in 1940.
The industry is being challenged like never before. The Institute's role is to continue to support the industry to ensure its graduates carry with them innovative thinking, an affinity with technology and comprehensive technical skills into an ever-changing services industry.
CEO Nicholas Hunt said, "Since the first students commenced in 1940, the Institute has supported the industry and maintained its focus as a specialist education provider in foods, tourism, hospitality and events."
The team at William Angliss Institute is committed to ensuring that the vision of Sir William continues and that future leaders of the food, hospitality, events and tourism industries are able to experience what those first students did 80 years ago.
Mr Hunt said, "I am very proud of our incredible team at William Angliss Institute who work across our campus locations, who work in industry and who support our students. I know they are very proud to be part of an organisation that has continued to lead through the provision of high quality training and education across our speciality areas.
"Our strength in vision and mission has held us in good stead over 80 years and will serve to ensure William Angliss Institute can continue its great work for 80 years more," he said.