William Angliss Institute teacher recognised for excellence in training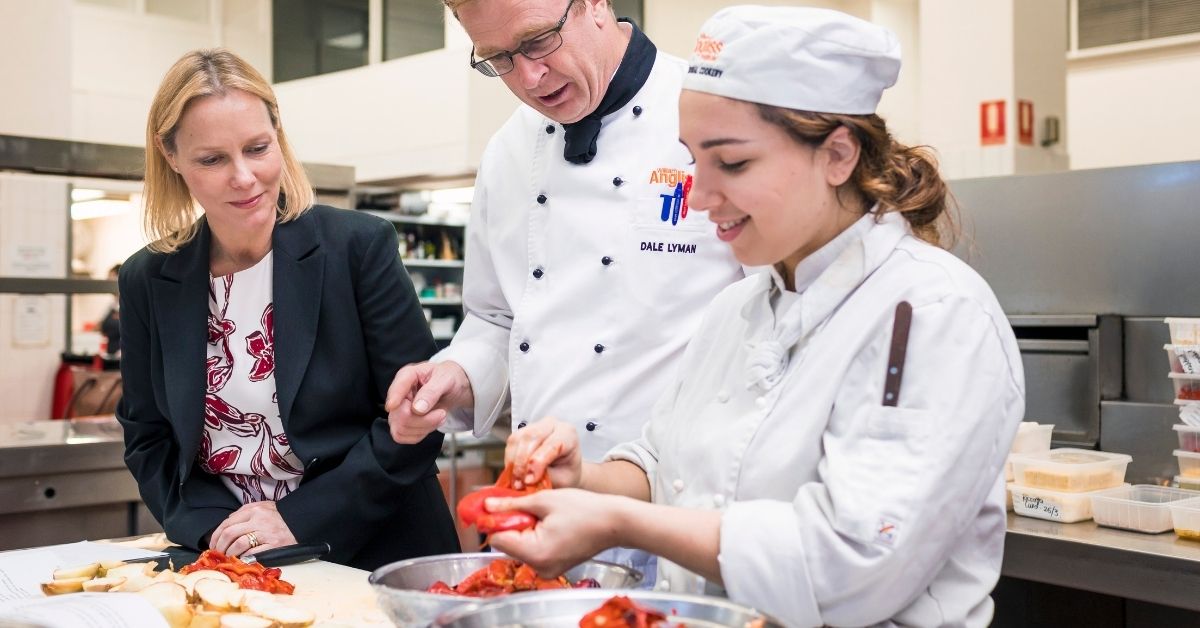 William Angliss Institute is celebrating one of its professional cookery teachers for a very special reason.
Chef Dale Lyman was joint winner of the Tourism Training Australia Teacher/Trainer of the Year 2021, in the category of Trainer in the area of Commercial Cookery, on 6 December 2021.
Nominated for his commitment to teaching, in addition to training young chefs in the classroom, Dale has been mentoring students for competitions including VIC TAFE Challenge, Melbourne Culinary Challenge and AUSTAFE Challenge, for more than 15 years.
To support his students through continuous learning, Dale's approach is to regularly engage with industry to deliver events that provide opportunities for students to encourage their curiosity and problem-solving skills.
"For example, my students enjoyed the dry-aged sheep meat project in collaboration with Melbourne University. Also with Melbourne University, I presented a native ingredient workshop. Sixteen students participated in the project, with four patisserie students assisting in the development of many dishes, giving them first-hand experience with native ingredients beyond the curriculum," explained Dale.
He has been working with the Young Chefs Clubs development, as part of the World Association of Chefs' Societies, to support and mentor young chefs globally with programs about wellbeing in the kitchen.
"Wider wellbeing programs are essential for young chefs – and for teachers to also look after themselves and be able to model this for students," Dale said.
Dale was joint winner with Pierre Wong from Quality Training and Hospitality College.
William Angliss Institute was recently recognised as Large Training Provider of the Year at the 2021 Australian Training Awards, a testament to its excellence and high level performance in all aspects of vocational education and training.
"Our teachers are essential to our students' positive experiences and we are so proud Dale has been recognised for his work, as he embodies the teaching expertise which is integral to enabling education excellence at the Institute," said Chris Harris, Director Education.
The purpose of the Tourism Training Awards is to acknowledge, promote and encourage trainers to excel in a particular area of Vocational Education and Training (VET).
Further information about courses and how to enrol can be found at www.angliss.edu.au

Published 7 December 2021